Inclusive Workplace Practices to Support Mental Health in Higher Education
Recorded on 05/18/2023
Posted in Diversity, Equity, Inclusion, Accessibility (DEIA), Library Leadership and Management
How can higher education stakeholders foster and sustain inclusive workplace practices that consider managers' and employees' mental health?
Summary:
Mental health, DEI, and belonging are invariably linked yet rarely discussed collectively in higher education. Several institutions elevated the need for student-centered mental health support during the COVID-19 global pandemic crisis, persistent exposure to racial trauma, and violence against the LGBTQ+ community. Yet, stigmas and stereotypes about mental health persist to such a degree that many employees and managers often hesitate to seek resources and support for themselves.
Some research suggests employees and managers from marginalized communities feel compelled to minimize their identities and continue working and leading without mentioning traumatic incidents involving race, sexual orientation, and gender to their white peers. These marginalized employees and managers also routinely encounter various forms of workplace discrimination without any specialized and culturally competent mental health care assistance.
This webinar invites those interested in hearing expert advice on how to foster and sustain inclusive workplace practices that consider managers' and employees' mental health. We will provide viewers tips and resources to help everyone in higher education workplaces thrive.
---
Speakers:
Ryan C. Warner, Ph.D.

Founder and Chief Executive OfficerRC Warner Consulting, LLC

Ryan C. Warner, Ph.D. assists teams with creating a culture of inclusion to maximize their potential. Dr. Warner is a globally-recognized speaker, award-winning psychologist, and military Veteran. He has conducted talks and trainings at both national and international levels, has been published in various peer review journals, and has served as a graduate-level instructor.

Dr. Warner currently serves as the Founder and Chief Executive Officer of RC Warner Consulting, LLC where he provides leadership development, diversity training, and wellness enhancement services to boost organizational performance and effectiveness. Dr. Warner utilizes a tailored and interactive approach to accelerate meaningful change when consulting with small and large organizations around the globe.

Dr. Cori Bazemore-James

Assistant Vice Provost, Graduate School Diversity Office and Affiliate Faculty, Higher EducationUniversity of Minnesota-Twin Cities

Dr. Cori Bazemore-James, Seneca Nation, is the Assistant Vice Provost of the Graduate School Diversity Office and Affiliate Faculty in the Higher Education program at the University of Minnesota-Twin Cities.  In her role, she supports a team that specializes in recruitment and retention of domestic BIPOC graduate students and faculty diversity consulting.  Her research is focused on centering Indigenous Knowledge to develop the functional area of Indigenous Student Affairs and supporting Indigenous educators in predominantly white institutions.  She is the founder of the ACPA Indigenous Student Affairs Network, the first national/international professional network of Indigenous Student Affairs educators, and currently serves on the ACPA Governing Board, NCORE National Advisory Council, and the Landback Universities project Advisory Board.  Based on her award-winning research, Dr. Bazemore-James has led the development of the first Council for the Advancement of Standards in Higher Education (CAS) Standards for the Indigenous Student Affairs functional area (released Jan 2021).

Alvin P. Akibar, PhD

Director, Center for Social Justice Research, Policy, and AdvocacyUrban League Twin Cities

Dr. Alvin P. Akibar is a psychologist, researcher, and is the Director of the Center for Social Justice Research, Policy, and Advocacy at Urban League Twin Cities. Dr. Akibar's research has examined how intersectional forces of marginalization and oppression (racism, heterosexism, cissexism) affect well-being, and informs his work advocating for equitable policy in the Twin Cities and beyond.

Alexia Hudson-Ward (Moderator)

Associate Director of Research and LearningMIT Libraries

Alexia Hudson-Ward is Associate Director of Research and Learning, Massachusetts Institute of Technology (MIT) Libraries. Her past roles include: the Azariah Smith Root Director of Libraries for Oberlin College, a Penn State tenured librarian, an award-winning entertainment editor, public radio promotions coordinator, and Coca-Cola Company marketing manager. Alexia holds a MLIS degree from the University of Pittsburgh & BA from Temple University and is currently a Simmons University doctoral candidate in the Managerial Leadership in the Information Professions program.
All Choice webinars offer Zoom's auto-generated AI captioning. If you have any questions, please contact: scofer@ala-choice.org.
---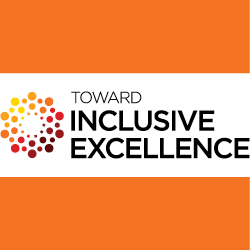 This webinar is part of Choice's Toward Inclusive Excellence content strand, which explores issues of equity, diversity, and inclusion in and outside of higher education.
Related Posts