Equitable Staffing Models in the Current and Post-Pandemic Landscape
Recorded on 05/18/2021
Posted in Diversity, Equity, Inclusion, Accessibility (DEIA)
As students return to campus, how can we create equitable staffing models?
---
Summary:
COVID-19 has reshaped academic library service and staffing models – with many institutions opting for fully remote work or a hybrid staffing schedule for library staff. As we begin to plan for gradual re-entry of an increasing number of students and faculty on campus, academic libraries must determine what staffing models can best achieve high-quality service delivery with often residential student experience. Even institutions that are commuter-centered must grapple with the safe co-location of students and the library workforce. In this webinar, a panel of academic library leaders will discuss their thoughts and plans towards creating equitable staffing models in the current and post-COVID landscape.
---
Speakers:
Alexia Hudson-Ward (Moderator)

Associate Director of Research and Learning MIT Libraries

Alexia Hudson-Ward is Associate Director of Research and Learning, Massachusetts Institute of Technology (MIT) Libraries. Her past roles include: the Azariah Smith Root Director of Libraries for Oberlin College, a Penn State tenured librarian, an award-winning entertainment editor, public radio promotions coordinator, and Coca-Cola Company marketing manager. Alexia holds a MLIS degree from the University of Pittsburgh & BA from Temple University and is currently a Simmons University doctoral candidate in the Managerial Leadership in the Information Professions program.

Dr. Theresa S. Byrd (Panelist)

Dean of the University LibraryHelen K. and James S. Copley Library, University of San Diego

Dr. Byrd previously served as Chief Information Officer and Director of Libraries at Ohio Wesleyan University. She was elected to the Online Computer Library Center's (OCLC) Board of Trustees, a global library cooperative devoted to providing access to information, innovation, and technology to the world's libraries. She is a member on the American Library Association's Committee on Accreditation, the Statewide California Electronic Library Consortium's (SCELC) Board of Directors, and the International Federation of Library Associations and Institutions (IFLA) Multicultural Populations Committee. Dr. Byrd has extensive library consortia experience in California, Ohio, and Virginia.

She is a past Scholarly Publishing and Academic Resources Coalition (SPARC) Steering Committee member. She also led the SCELC Scholarly Communications Committee that is devoted to changing the scholarly publishing landscape in the academy. Her other professional leadership roles have included serving on the Association of College and Research Libraries Board of Directors, and she chaired the Ohionet Board. Dr. Byrd's research interest include mentoring, emotional intelligence, academic library leaders, and other library topics. She is active in local, national, and international library organizations.

Elaine L. Westbrooks (Panelist)

Vice Provost for University Libraries & University LibrarianUniversity of North Carolina at Chapel Hill

Since August 2017, Elaine L. Westbrooks has been the Vice Provost of University Libraries and University Librarian at the University of North Carolina at Chapel Hill.  She is responsible for the leadership and general administration of the University Libraries which includes 9 libraries with approximately 275 librarians, archivists, and staff.

Westbrooks is a member of the Association of Research Libraries Scholars and Scholarship Committee, the Executive Committee of Triangle Research Libraries Network, the Digital Public Library of America Board of Directors, and the HathiTrust Board of Governors.  She has a B.A. in Linguistics and a MLIS from the University of Pittsburgh.

Chris Bourg (Panelist)

Director of MIT LibrariesMassachusetts Institute of Technology

Chris Bourg is the Director of Libraries at Massachusetts Institute of Technology (MIT), where she also has oversight of the MIT Press. She is also the founding director of the Center for Research on Equitable and Open Scholarship (CREOS). Prior to assuming her role at MIT, Chris worked for 12 years in the Stanford University Libraries, most recently as the Associate University Librarian for Public Services. Before Stanford, she spent 10 years as an active duty U.S. Army officer, including three years on the faculty at the United States Military Academy at West Point. She received her BA from Duke University, her MA from the University of Maryland, and her MA and PhD in sociology from Stanford.

Chris has extensive experience promoting equitable and open scholarship, and is an advocate for the role of libraries in promoting social justice and democracy. She is currently co-chair of the MIT Ad Hoc Task Force on Open Access to MIT's Research, and is a member of the National Academies of Science, Engineering and Medicine Roundtable on Aligning Incentives for Open Science. She is also a member of the Steering Committee of SocArXiv, an open access platform for social science research; and a member of the Harvard Board of Overseers Committee to Visit the University Library. She has served on the Board of Directors for the Digital Public Library of America (DPLA), and is past chair of the Committee on Diversity and Inclusion of the Association of Research Libraries. In 2016, Chris co-chaired the MIT Ad Hoc Task Force on the Future of Libraries, which produced a bold vision for research libraries in a computational age.

Terry Snyder (Panelist)

Librarian of the CollegeHaverford College

Since 2011 Terry has served as the chief administrator of the Haverford College Libraries including the Lutnick Library, which houses the internationally important Quaker and Special Collections Library; the Gilbert F. White Science Library; the Astronomy Library; and the Union Music Library. (Read more on Haverford Libraries' program and strategic plan here.)

Prior to coming to Haverford Terry served as the Deputy Director of the Hagley Museum and Library where she was responsible for the leadership, administration, management, and strategic direction of the Library Division, which housed the nation's leading business history libraries. Her role included oversight of all functional areas of the Libraries including Printed Collections, Pictorial Collections, Manuscript and Archives, Digital Collections, Conservation, and the Center for the Study of the History of Business, Technology, and Society. She was also responsible for supervising Information Technology implementation for the campus.

Previous positions included roles as Associate Director of the University Archives and Records Management at the University of Pennsylvania and as Associate Curator of Manuscripts at the Historical Society of Pennsylvania.

Terry's Ph.D. in American Civilization is from the University of Pennsylvania; she holds an M.A (American Civilization, University of Pennsylvania), M.S. (Information Science, Drexel University), M.A. (History and Archival Certification, Duquesne University), and B.A. (History, Rosemont College).

She also teaches or has taught courses at the University of Pennsylvania, the University of Delaware, and at Haverford College. Her courses at Haverford include: Materiality and Spectacle in Nineteenth Century United States; and Old Age in the Modern Age.
---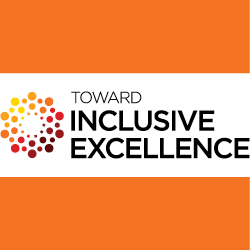 This webinar is part of Choice's Toward Inclusive Excellence initiative, which explores issues of equity, diversity, and inclusion in and outside of the academic library community.
Check out more TIE content here.
---
We gratefully acknowledge GOBI Library Solutions from EBSCO as underwriter of this webinar.
---
More about GOBI Library Solutions:
GOBI® Library Solutions from EBSCO offers more than 17 million print and e-books to academic, research and special libraries worldwide. From streamlining workflows to partnering with library staff, GOBI Library Solutions is committed to providing the best solution for libraries' acquisition, collection development and technical service needs.
Related Posts