"Without Incident": Where Is the Response to White Supremacy Terrorism?
Posted on July 8, 2022 in Blog Posts
Independence Day weekend in the United States proved to be deadly and tense this year. On July 4, a mass shooter killed seven people and injured dozens more in Highland Park, Illinois. He appears to have been radicalized by an online subculture that glorifies violence and was able to obtain firearms with his father's help, despite threatening to kill his family. Not surprisingly, this dangerous murderer was apprehended "without incident" according to law enforcement, continuing a pattern of elevating the humanity of a white male murderer who showed no mercy toward his victims. 
On July 2 in downtown Boston, members of the Patriot Front marched with flags flying and faces covered. It was later discovered that some of the same people arrested for planning to disrupt a peaceful Pride festival in Idaho last month made their way to Boston. There are many questions surrounding this incident, including law enforcement's seemingly tepid response and whether the group had a permit to march and use a megaphone (use of a megaphone requires a separate permit in Boston). A Black man assaulted by some of the marchers is seeking answers about who was arrested for this crime.
Michelle Wu, Boston's first BIPOC and first female mayor, blasted the group in a message on Twitter and recently held a closed-door meeting with the city's law enforcement leadership (paywalled). At the writing of this post, the meeting's outcomes have yet to be shared with the public.
The ramping up of public displays and activities from white supremacist organizations (paywalled) and the most recent mass shooting leave me with some rhetorical questions for the U.S. government:
Where is the declarative stance on white supremacy terrorist behavior in the United States?
When will resources be deployed to profile and identify potential mass shooters to stop them before they kill more innocent people?
To what extent is the U.S. government committed to rooting out proponents of dangerous white supremacist ideologies within the nation's law enforcement ranks?
I am old enough to remember the brutal impact of the "War on Drugs" on Black and brown communities during the 1980s. Growing up in inner-city Philadelphia, we were frequently awakened by the sounds of shattering glass and militarized law enforcement units breaking down doors with battering rams to apprehend drug dealers. Law enforcement overreach extended into my community, resulting in some innocent people being deliberately framed by the police.
I can also recall family members' stories about the war on the Civil Rights and Black Power movements, waged against U.S. citizens from the 1950s through the 1970s. The FBI's Counterintelligence Program (COINTELPRO), carried out from 1956 to 1971, was established to "discredit" and "neutralize" organizations and individuals that were deemed communist and/or working against the best interests of the United States. However, a disproportionate number of COINTELPRO's targets were Black social justice leaders or their white allies like the late actress Jean Seberg (paywalled). Black Panther leader Fred Hampton's murder at the hands of the FBI and the Chicago police directly resulted from subversive COINTELPRO activities.
The disparities regarding who is subjected to the "long arm of the law" versus who is allowed to wreak havoc within American communities are well documented. The U.S. government's seemingly passive response to white supremacist terrorists is disgraceful. The media's willingness to infantilize white male killers while sharing few details about the brutal and excessive force used by law enforcement officials against Black people and youth makes me angry and frustrated.
It is time for higher education researchers (including my colleagues in libraries and archives) to illuminate further the history of and data on the American government's uneven response to addressing white supremacy terrorist movements (paywalled). We are beyond the point of public condemnation. Our lives are at stake.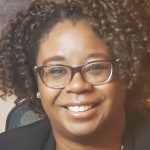 About the author:
Alexia Hudson-Ward is Associate Director of Research and Learning, Massachusetts Institute of Technology (MIT) Libraries.
Sign up for Toward Inclusive Excellence (TIE) new post notifications and updates.
Interested in contributing to TIE? Send an email to Deb V. at Choice dvillavicencio@ala-choice.org with your topic idea.
---
TIE gratefully acknowledges underwriting support from Project MUSE.
At Project MUSE we believe that knowledge is essential to enriching all lives and advancing humanity. Our wide-ranging collections help people address society's most pressing challenges from new angles. Since our beginnings, we've joined with hundreds of diverse partners to reimagine how to grow and share the world's knowledge. Building a community around equitable, inclusive publishing is the best way to ensure that high-quality scholarship reaches the people who need it.
---
Header image is a detail of This is Harlem by Jacob Lawrence. Courtesy of Hirshhorn Museum and Sculpture Garden. © 2021 The Jacob and Gwendolyn Knight Lawrence Foundation, Seattle / Artists Rights Society (ARS), New York. For more information, click here.
Related Posts