Will Smith and the Calculus of Consequences in the Age of Incivility
Posted on March 30, 2022 in Blog Posts
Last week was a "doozy" in terms of bad behavior by powerful men.
The first incidents started with US Senators Lindsey Graham, Josh Hawley, and Ted Cruz's outlandish behavior toward Judge Ketanji Brown Jackson during her Supreme Court confirmation hearings. I won't relitigate what happened (you can read my thoughts here). The three senators were admonished by leaders of both American political parties and members of the press. The spectacle that took place during these hearings is something that I will never forget.
Just when I thought we could catch our breath from the confirmation hearings, we were confronted with another remarkable act of incivility. During the live broadcast of the 94th Academy Awards, actor Will Smith walked on stage and physically assaulted comedian Chris Rock. The assault was allegedly due to Smith believing that Rock had disrespected Smith's wife, actor Jada Pinkett Smith, when Rock made a joke about Pinkett Smith's short-cropped hairstyle (she disclosed that she suffers from alopecia in past media interviews).
At the writing of this blog post, both men have since issued apologies. What actions the Academy of Motion Picture Arts and Sciences will take have yet to be determined as the incident is under investigation. The incident put me in the space of reflective introspection regarding the deeper causes of Smith's actions.
Willard Carroll Smith II grew up in a middle-class enclave of West Philadelphia and attended private school before transferring into one of the city's public high schools. By his account, his childhood was marred by domestic violence in which his father violently battered his mother. Smith shared in his autobiography (paywalled) that he felt like a "coward" for not defending his mother, a guilt that he claims continues to haunt him.
Considered a light-hearted, fun "party rapper" in the early part of his career, Smith became famous for the highly popular situation comedy The Fresh Prince of Bel-Air. Smith went on to have a successful film career starring in box office blockbusters such as Men in Black, Independence Day, and the biopic Ali about boxer Muhammad Ali, a role for which he garnered a Best Actor Oscar nomination in 2002. His portrayal of Richard Williams, father of international tennis phenomena Venus and Serena Williams, in the film King Richard garnered him a Best Actor Oscar award—this should have served as the apex of a storied career.
Yet, Smith's mercurial rise has been dogged by accusations of his alleged poor behavior toward others before the Chris Rock incident. Smith reportedly assaulted his former record producer in 1989. Former Fresh Prince of Bel-Air co-star Janet Hubert sued Smith for alleged career-damaging actions (the two have since reconciled, and Hubert recently defended Smith's assault on Chris Rock).
Despite his triumphs and challenges, what I find most puzzling about Smith's actions is the absence of the calculus of consequences. The notion of if this, then what? Not calculating the cost of his actions is especially peculiar to me, given the fact that Smith and I are peers who grew up in the same dangerous city during the American crack epidemic of the 1980s and 1990s. One's life and livelihood literally depended on the ability to apply "mathematical equations" and decision science principles to survive. Possessing hubris and acting out on it could result in your death.
Mitchell S. Jackson, who is the John O. Whiteman Dean's Distinguished Professor in the Department of English at Arizona State University, lays out these "calculations" in vivid display in his award-winning autobiography Survival Math: Notes on All-American Family (2020). The academy must encourage studying autobiographical accounts such as Jackson's and conduct more research on how past trauma, a legacy of domestic violence, and entitlement may result in some people abandoning personal risk calculations. Some people on social media have argued that Will Smith made a mistake or that he should be celebrated for his actions. While I agree with the assault being a mistake, I do not agree that his actions are in any way heroic. To err is to be human. But age and wisdom should also teach us that being human also means understanding how our actions and conduct can impact others.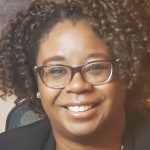 About the author:
Alexia Hudson-Ward is Associate Director of Research and Learning, Massachusetts Institute of Technology (MIT) Libraries.
Sign up for Toward Inclusive Excellence (TIE) new post notifications and updates.
Interested in contributing to TIE? Send an email to Deb V. at Choice dvillavicencio@ala-choice.org with your topic idea.
---
Header image is a detail of This is Harlem by Jacob Lawrence. Courtesy of Hirshhorn Museum and Sculpture Garden. © 2021 The Jacob and Gwendolyn Knight Lawrence Foundation, Seattle / Artists Rights Society (ARS), New York. For more information, click here.
Related Posts