Understanding the "Shadow Pandemic" of Violence Against Women
Posted on September 14, 2023 in Blog Posts
The recent news of NBA basketball star Kevin Porter, Jr., allegedly assaulting his girlfriend, former WNBA player Kysre Gondrezick, prompted me to reflect on what appears to be a persistent rise in violence against women over the past three years.
Since the onset of the COVID-19 pandemic, researchers have tracked two parallel pandemics: the global "infodemic" regarding scientific and health-related information and a racism pandemic with international mental health implications. The Toward Inclusive Excellence team will continue to monitor and distribute insights about the "infodemic" and the global impacts of racism on societies as more research emerges on these topics.
There are also emerging studies within the United States and the United Kingdom about the so-called manhood crisis. This crisis impacts predominantly heterosexual men who succumb to emotional and psychological pressures to fill patriarchal gender roles. These stresses appear to result in adverse health outcomes for men, such as a rise in suicide, and may be fueling the alleged gender wars on social media (paywalled). These behavioral patterns are frequently characterized as "toxic masculinity," but the digital discourse seems to miss how the COVID-19 pandemic may have unintentionally reinforced patriarchy (paywalled) through a frightening outcome: a sharp increase in violence against women at the hands of men internationally. 
Domestic violence (DV) or intimate partner violence (IPV) is classified as a "shadow pandemic." UN Women, which regularly monitors violence against women, developed a series of reports and alarming fact sheets to explain how DV was accelerated by COVID-19. In one report from 2021 a jarring conclusion comes to the fore, with data culled from more than 49 countries: globally, 245 million women ages 15 and older reported being subjected to some form of physical and/or sexual violence from an intimate partner during the first year of the COVID-19 pandemic.This extraordinary statistic means that many of us very likely have a direct connection to someone who is a domestic abuse victim.
UN Women's data maps with anecdotal accounts shared on social media and in the press of violence, harassment, and threats against women. Sometimes, these attacks are enacted by male strangers. Often, they happen in person and are at times technologically facilitated. Across social media platforms, chilling videos have frequently emerged showing women being allegedly stalked and assaulted by men they do not know. There are also multiple accounts of increasing hate crimes  against women of color since 2020, especially Black and Asian women. These stories are so voluminous that I cannot sufficiently chronicle them all in a single blog post.
Since the early 1980s (paywalled), higher education administration has invested in critical resources to address workplace and campus-related sexual harassment. While the higher education sector has a long way to go in remediating sexual harassment on campus, it is equally important to turn our gaze outward in further supporting more research on violence against women. The opportunities are ripe to strengthen computational and big data insights to advance social justice. Higher education leadership must also encourage researchers to apply a culturally competent lens that interrogates the gaps in data collection and methodologies in the study of DV and IPV that inhibit our ability to address this tragic circumstance.
My assertions are not new—researchers have been advancing this vital research agenda for at least three decades (paywalled). Yet, with the advent of generative AI and other technological enhancements, higher education is better positioned to ignite life-saving insights to bring this "shadow pandemic" into the light.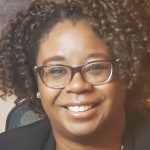 About the author:
Alexia Hudson-Ward is Associate Director of Research and Learning, Massachusetts Institute of Technology (MIT) Libraries.
Sign up for Toward Inclusive Excellence (TIE) new post notifications and updates.
Interested in contributing to TIE? Send an email to Deb V. at Choice dvillavicencio@ala-choice.org with your topic idea.
---
United Nations Publications promotes the work and knowledge of the United Nations through marketing, sales, and distribution of publications, data, and merchandise.
---
Header image is a detail of This is Harlem by Jacob Lawrence. Courtesy of Hirshhorn Museum and Sculpture Garden. © 2021 The Jacob and Gwendolyn Knight Lawrence Foundation, Seattle / Artists Rights Society (ARS), New York. For more information, click here.
Related Posts