Understanding the Impact of Fictive Kinship on Faculty and Staff Wellness
Posted on April 28, 2021 in Blog Posts
Over the weekend, I was watching a video by one of my favorite vloggers and the creator of the Smart Brown Girls Book Club, Jouelzy. She reacquainted me with the concept of fictive kinship, a topic I had not explored since my undergraduate days as an African American studies major. Derived from anthropology, fictive kinship (paywalled) is described as social and emotional ties that are not established by blood relation (consanguineal) or by marriage (affinal). Fictive kinship is different from (yet is often weirdly conflated with) notions of so-called tribalism and ethnic nationalism (terms I struggle with). The delineation between fictive kinship and other "-isms" lies in the fact that fictive kinship is believed to be the invisible bonds that tie and sustain communities with often positive results. Godparenting (paywalled) appears to be one universal multiethnic expression of the power of fictive kinship.
While there are scores of critiques of fictive kinship, there is no denying that it is expressed in BIPOC (paywalled) and LGBTQ (paywalled) communities in multiple important ways. From referring to women held in high esteem as "Auntie," as is the case with Representative Maxine Waters (D-California), to how LGBTQ members form "houses" comprised of "mothers," "fathers," and "families," fictive kinship is real. The psychological bonds formed through fictive kinship are so profound that as one Black friend shared with me off the record, "I cry your tears, celebrate your joy, and feel your anger at times to the point that I not only experience it, but will move out on it if you need me to."
While that assertion may be striking to some readers, many scholars believe that the intense fictive kinship ties among some BIPOC have roots in slavery and colonialism (paywalled). Due to the deliberate fracturing and destruction of BIPOC family units, a survival methodology was created whereby many BIPOC "adopt" each other and form close connections as a means of negotiating a world that is often cruel and dangerous. Fictive kinship also extends into the workplace through diverse populations. The history of employee resource groups (ERGs) as a means of resonance for diverse employee populations is explored in the management literature; yet, it is not an overreach to speculate that ERGs function as workplace versions of fictive kinship.
What does this have to do with diversity in higher education?
There is no denying the pressures people from diverse populations are feeling about the current sociopolitical climate. It is important for white people to understand that, for those of us in the academy from communities where fictive kinship is a norm, nearly every tragic circumstance in which a BIPOC is murdered can feel like the death of a loved one. These feelings are as great as personal safety concerns and expand the invisible labor that comes with mentorship of BIPOC in higher education (paywalled). Many BIPOC faculty and staff are feeling a deep sense of community loss.
At present, higher education administrators are marshaling "restart" plans for fall 2021, transitioning millions of faculty, staff, and students back into brick-and-mortar spaces after the collective trauma of the COVID-19 pandemic. However, it is important for senior-level administrators to intentionally study fictive kinship, group threat theory, and models of community attachments in order to sufficiently plan for faculty and staff support beyond pre-COVID levels. Our emphasis must be on the entire community's wellness, not just that of students.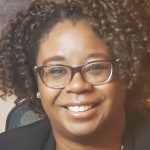 About the author:
Alexia Hudson-Ward is Associate Director of Research and Learning, Massachusetts Institute of Technology (MIT) Libraries.
Sign up for Toward Inclusive Excellence (TIE) new post notifications and updates.
Interested in contributing to TIE? Send an email to Deb V. at Choice dvillavicencio@ala-choice.org with your topic idea.
---
Header image is a detail of This is Harlem by Jacob Lawrence. Courtesy of Hirshhorn Museum and Sculpture Garden. © 2021 The Jacob and Gwendolyn Knight Lawrence Foundation, Seattle / Artists Rights Society (ARS), New York. For more information, click here.
Related Posts