Tucker Carlson Amplified America's Ills: What's Next?
Posted on April 27, 2023 in Blog Posts
The shocking news of Tucker Carlson's abrupt departure from Fox News earlier this week sent the internet ablaze. I do not believe anyone saw this coming.
While Carlson holds the dubious distinction of being terminated from three major news networks (CNN, MSNBC, and Fox News), there is no denying his impact. Depending on the ratings you view, Carlson's TV audience while on Fox was between 3 and 4.5 million viewers, making him the highest-rated cable news host of all time. Regrettably, he used his influence to deliberately undermine American democracy by leveling lies and spreading disinformation about the 2020 U.S. presidential elections and the January 6, 2021, insurrection at the U.S. Capitol. He also contributed quantifiably to a "disinformation pipeline" about COVID-19.
Carlson was the TV equivalent of past radio shock jocks, repeatedly spewing racist bile (paywalled) such as the Great Replacement "theory," attacking the Black Lives Matter movement, and alleging that immigration from Black and brown nations increases crime in the United States. Carlson also pretended to support former President Donald Trump while secretly despising him. Moreover, Carlson spread lies about Dominion Voting Systems to the point that the company (along with Smartmatic) sued Fox News for defamation. It does not get more egregious than a prominent news pundit deliberately leaning into grievance culture politics for capitalistic pursuits. And yet, according to The Wall Street Journal, Carlson made approximately $20 million annually (paywalled). It is remarkable that he was "platformed" for six years, as we now know he did not believe any of the lies he repeated on air.
---
---
Several hypotheses are swirling about what led to Carlson's swift exit from Fox News. It is speculated that the nearly $800 million settlement against Fox in favor of Dominion Voting Systems may have strongly influenced his leaving. Another theory is that the pending sex discrimination and harassment suit against Carlson by his former booking producer is the primary reason behind his release. There is also the rumor that Carlson demanded more money in a contract renegotiation and was denied.
In the aftermath of Carlson's removal, we must reflect on one critical fact: the ills that plague America, as amplified by Tucker Carlson, will not dissolve because he is no longer (currently) on television. Some scholars have begun to explore the "Tucker Carlson effect" and I hope this work continues. Carlson and Fox News flourished by propagating a version of destructive political entrepreneurism never before seen in American history. Higher education must further examine the circumstances that gave rise and ongoing lift to Carlson's one-person campaign of disseminating racist statements and disinformation given the inherent danger associated with his behavior, especially when enabled by a major news network. Supporting democracy requires research-enabled strategy to continuously uplift truth against those who seek to wield divisiveness for personal gain.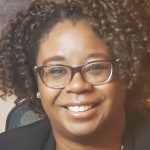 About the author:
Alexia Hudson-Ward is Associate Director of Research and Learning, Massachusetts Institute of Technology (MIT) Libraries.
Sign up for Toward Inclusive Excellence (TIE) new post notifications and updates.
Interested in contributing to TIE? Send an email to Deb V. at Choice dvillavicencio@ala-choice.org with your topic idea.
---
Rowman & Littlefield publishes high-quality college texts, entertaining and informative books for general readers, and professional and scholarly books in the humanities and social sciences.
---
Header image is a detail of This is Harlem by Jacob Lawrence. Courtesy of Hirshhorn Museum and Sculpture Garden. © 2021 The Jacob and Gwendolyn Knight Lawrence Foundation, Seattle / Artists Rights Society (ARS), New York. For more information, click here.
Related Posts