TIE Blog Content Centered on Democracy and Disinformation for Election Day
Posted on November 8, 2023 in Blog Posts
In honor of election day this week, the Toward Inclusive Excellence (TIE) team has compiled some of our previously published posts to aid readers in navigating the current political landscape. Topics span voting rights, the constitution implicit bias, disinformation, and threats to democracy. As we gear up for the 2024 presidential election in the coming year, it will become even more crucial to reflect on these topics, and our hope is for these sources to serve as guide posts.
---
Resource Lists
"DEIA Resources on Voting Rights: Spring 2022 Edition"
April 19, 2022
As part of TIE's plan to curate and publish quarterly resource lists, we are developing more thematically focused reading lists to join our existing library of DEIA resources. For Spring 2022, we turn to look at the contentious issue of voting rights. The following books and essays explore who has the right to vote freely, for whom this right is restricted, the myriad ways in which certain politicians and their donors are working to limit this right further, and the responses by many Americans to fight back and preserve our democracy. As always, we owe many thanks to our contributors for these recommendations. Download the PDF.
---
"Resources for Understanding the Constitution from a DEIA Perspective: Fall 2022 Edition"
November 2, 2022
The Toward Inclusive Excellence editorial team is excited to share a frequently requested resource guide on the United States Constitution. Assembled by eight outstanding experts in the field, readers have first-time access to a wealth of knowledge exploring a wide range of Constitutionally centered topics from a DEIA perspective. Many thanks to our contributors for developing this powerful and essential resource for our community.
---
Featured Reviews
"A Vicious Cycle: Wesley Lowery Analyzes the Resurgence of White Identity Politics"
November 8, 2023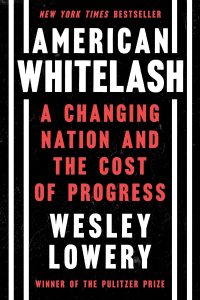 Barack Obama's election as president of the United States in 2008 and subsequent re-election in 2012 marked a historic turning point in the nation's centuries-long struggle against racism. However, this soon ignited a "whitelash": a hostile backlash to Obama's presidency from white supremacists, anti-immigration activists, neo-Nazis, and nativists who saw in his presidency not racial progress but evidence of racial replacement by a multicultural society that threatened to upend the long history of the United States as a white, Anglo-Saxon, Protestant nation.
In this important book, Wesley Lowery (American Univ.; Craig Newmark Graduate School of Journalism, CUNY), a Pulitzer Prize–winning journalist, charts how the rhetoric of white power divided the country and remains a powerful force as the 2024 presidential election approaches. Lowery builds on the work of such scholars as Ibram X. Kendi, Erika Lee, Carol Anderson, and the authors of The 1619 Project (CH, May'22, 59-2690), among many other scholarly sources, and complements his sources with profiles of perpetrators of racist violence and their victims.
---
Podcasts
"The TIE Podcast Fall Session Preview: A Conversation with Martha S. Jones"
September 8, 2021
In this episode, TIE editor in chief Alexia Hudson-Ward speaks with Dr. Jones about her critically acclaimed book. Dr. Jones talks about voter rights and voter suppression efforts as companion stories in the US. She also recounts her experience of having her book banned by a Louisiana public library board. (Here's ALA's response.)
---
Blog Posts
"Political Entrepreneurship Is Damaging American Democracy"
August 19, 2021
Political encroachment into the education sector appears to be at an all-time high. We are inundated with stories of trustees, parents, and school boards influencing and advancing votes and curtailing faculty's ability to manage course design independently. The notion of shared governance seems to be waning as a small yet vocal (and sometimes powerful) subset is drawing hard lines in the sand about their limited vision of how educators should teach. It seems like many people are perfectly okay teaching educators what to do, when to do it, and how to do it, despite educators spending decades cultivating core competencies to do their jobs well.
---
"Are Higher Education Institutions Responsible for Upholding Democratic Principles?"
November 19, 2021
This week's post was difficult to write.
Like many TIE readers, this year has me flat-out exhausted and deeply concerned about the future of American democracy. And, as someone who has dedicated nearly half my life to working in higher education, my weariness has pushed me to contemplate our collective role in supporting the American democratic experiment.
---
"Implicit Bias Against Vice President Kamala Harris and Other Women Politicians Is Shameful"
March 22, 2023
Women's History Month is a time when a multitude of stories, research, and statistics are shared about the condition of women in the United States and internationally. I imagine some of you look forward to receiving this information and, like me, dive right into the details. One recently released and noteworthy research report addresses a phenomenon entitled "Tall Poppy Syndrome," in which women are attacked, resented, and cut down for their professional achievements and success. Another research report outlines how women are more likely to be subjected to a toxic workplace culture than their male counterparts.
---
"Tucker Carlson Amplified America's Ills: What's Next?"
April 27, 2023
The shocking news of Tucker Carlson's abrupt departure from Fox News earlier this week sent the internet ablaze. I do not believe anyone saw this coming.
While Carlson holds the dubious distinction of being terminated from three major news networks (CNN, MSNBC, and Fox News), there is no denying his impact. Depending on the ratings you view, Carlson's TV audience while on Fox was between 3 and 4.5 million viewers, making him the highest-rated cable news host of all time. Regrettably, he used his influence to deliberately undermine American democracy by leveling lies and spreading disinformation about the 2020 U.S. presidential elections and the January 6, 2021, insurrection at the U.S. Capitol. He also contributed quantifiably to a "disinformation pipeline" about COVID-19.
---
"Disinformation Compromises Fundamental Human Rights"
September 7, 2023
For more than two decades, scholars have tracked and amplified the damaging influence of disinformation. We have seen its detrimental impact internationally with challenges to election results, climate change denialism, false characterizations of critical race theory, unprecedented book bannings, lies about prominent politicians' involvement in human trafficking, and scores of inaccurate claims about COVID-19 and its vaccines.
---
Read more Toward Inclusive Excellence blog posts!
Interested in contributing to TIE? Send an email to Deb V. at Choice dvillavicencio@ala-choice.org with your topic idea.
---
Header image is a detail of This is Harlem by Jacob Lawrence. Courtesy of Hirshhorn Museum and Sculpture Garden. © 2021 The Jacob and Gwendolyn Knight Lawrence Foundation, Seattle / Artists Rights Society (ARS), New York. For more information, click here.
Related Posts