The Saga of a Black Family's Stolen Beach Resort Could Spark Meaningful Restorative Justice
Posted on August 3, 2022 in Blog Posts
One of the most remarkable stories of the 21st century was the Los Angeles County of Supervisors' unanimous vote to return beach property to the descendants of Charles and Willa Bruce in June 2022. The family had been locked in a century-long battle to have the land, which was stripped from their ancestors, returned to them. Their story is sadly far too common, emblematic of how the arc of the law is bent and distorted to privilege some white people while dishonoring Black people.
Charles and Willa Bruce of Albuquerque, New Mexico, relocated to Los Angeles, California, between 1900 and 1904. Charles Bruce worked as a cook while Willa appeared to be a stay-at-home mom, raising the couple's one son. Charles later landed a position as a chef on a Union Pacific train while Willa exercised her entrepreneurial muscle. She negotiated the purchase of a lot of beach land in 1912 for a little more than $1200 USD (approximately $37,000 today). The land became leverage for Willa's dream of creating a hotel resort.
Charles and Willa Bruce
Untitled (Wedding Portrait), n.d.
Photographer unknown
Digital photo
Courtesy of the California African American Museum
Starting with a pop-up shop selling cool beverages, Willa and Charles took the proceeds from Willa's venture and savings from Charles's job to purchase adjoining land plots. These land acquisitions provided the couple with enough space to create Bruce's Beach Lodge for Black vacationers. By all accounts, the lodge was popular, drawing Black West Coast visitors to a safe place where they could enjoy the beach and dine without the indignities of racism and segregation.
As the lodge's clientele grew, so did white fear and resentment. The Bruce's property was frequently vandalized and they were often threatened with bodily harm. When these tactics failed to scare the Bruces away from their business and land, county officials enacted eminent domain to seize the property in 1924, paying the family only a small amount of money. The property seizure financially ruined the Bruces, who spent the rest of their lives as cooks.
Two African American couples standing on a walkway at Bruce's Beach, Manhattan Beach, circa 1920.
Credit: Miriam Matthews Photograph Collection / OpenUCLA Collections
Years of advocacy by the Bruces' descendants and the NAACP were stonewalled. Then, in 2007, former Manhattan Beach Mayor Mitch Ward unveiled a plaque commemorating "Bruce's Beach." That one act seemingly resurrected the Bruce family's call for justice. Last year, California Governor Gavin Newsom signed a law allowing ownership of the beach property to be transferred back to Charles and Willa Bruce's descendants. In an emotional ceremony on Bruce's Beach, the family received the deed and outlined their agreement to allow the city to lease a part of the land for a lifeguard training station built several years ago. The family also has the option to sell the land at will. The Bruce family's lost generational wealth due to the land seizure is estimated to be approximately $75 million USD.
As Steven S. Rogers, author of A letter to My White Friends and Colleagues (2021), discussed in a TIE podcast interview, land seizures and redlining are two of several issues at the root of the persistent Black/white racial wealth gap in the United States. Examining racial inequality begins with chronicling stories like that of the Bruce family. Theirs is one of several documented incidents of generational wealth legally stolen from Black American families via eminent domain (paywalled) and other means. The continuum of racial inequities perpetuated through a cycle of eminent domain, redlining, and gentrification requires more study and research support within higher education. To ensure equity and inclusion, we must first confront America's complex history of systemic racism regarding land and property ownership.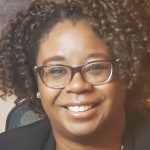 About the author:
Alexia Hudson-Ward is Associate Director of Research and Learning, Massachusetts Institute of Technology (MIT) Libraries.
Sign up for Toward Inclusive Excellence (TIE) new post notifications and updates.
Interested in contributing to TIE? Send an email to Deb V. at Choice dvillavicencio@ala-choice.org with your topic idea.
---
Header image is a detail of This is Harlem by Jacob Lawrence. Courtesy of Hirshhorn Museum and Sculpture Garden. © 2021 The Jacob and Gwendolyn Knight Lawrence Foundation, Seattle / Artists Rights Society (ARS), New York. For more information, click here.
Related Posts