The NFL Operates Like a Monopoly Which Fortifies Systemic Racism
Posted on February 9, 2023 in Blog Posts
The world is preparing to witness history this Super Bowl Sunday.
Two young Black quarterbacks—Jalen Hurts of the Philadelphia Eagles and Patrick Mahomes of the Kansas City Chiefs—will go head-to-head in what is predicted to be an exciting game for football fans. Eagles assistant coach Autumn Lockwood is the first Black woman to coach in the Super Bowl. Additionally, the halftime show starring Rihanna has created significant social media buzz, as her decision to perform sharply contradicts her previous anti-NFL stance.
But—and loyal TIE community members know where this is going—my excitement about professional football has waned significantly. The series of recent controversial incidents coupled with the mistreatment of former NFL quarterback Colin Kaepernick, allegedly at the hands of several NFL team owners, pushed me over the proverbial edge with this league.
And yes, I feel this way despite being a lifelong Steelers fan (former team owner Dan Rooney created the Rooney Rule to help advance diversity within the NFL).
Whether or not the so-called Kaepernick effect was driving the NFL's three-year downward trends in attendance and viewership (2018–21) is up for debate, though it is interesting to note that Kaepernick played his last NFL game in January 2017. The downward attendance trend at least appears to have reversed recently according to Sports Business Journal, with the league now reporting positive numbers. However, the league maintains difficulty attracting and retaining viewers in the elusive 18–49-year-old demographic, particularly as the median age of TV watchers is around 60.
In a New York Times article from September 8, 2022, Travis Vogan, a professor at the University of Iowa who researches sports, media, and American culture, notes that "the N.F.L. in particular can accommodate contradiction and scandal and seems to maybe not be impervious, but certainly is very good at deflecting it and recovering" (paywalled). In the same article, Vogan also states that he believes the NFL's public relations strategy has been to "individualize" scandals but contends that the frequency with which scandals arise "suggests … a systemic element."
And there we have it, folks—the NFL's systemic issues.
Space and time will not allow me to write on the plethora of unbelievable scandals and utterly unethical nonsense that have emerged from the NFL over the past five years (e.g., players accused of rape and assault and one owner attempting to manipulate the outcomes of games). Therefore, I have decided to focus on the notion of the NFL as a monopoly and how its monopolistic tendencies prevent the league from addressing systemic racism organizationally.
In pondering how to approach this piece, I delved into approximately 35 years of legal literature spanning 1987–2022 (paywalled) on how the NFL operates as a so-called legal monopoly. There is a case to be made on this point (pun intended).
As a potential monopoly, the NFL has no significant regulatory authority like other multibillion-dollar industries (although some antitrust litigation has happened). Consequently, league subunits (teams) appear to engage in a wide range of alleged activities, such as discrimination, racial bias, conspiracy, lack of workplace safety, and data suppression, that would raise monumental red flags within other sectors.
These activities include two critical issues that continue to play out in court:
Owners allegedly attempting to intimidate scientists into participating in a massive CTE (chronic traumatic encephalopathy) research and data coverup to deny injured players necessary medical benefits and pensions.
Given these examples, I must ask a couple questions:
Why would any nation be comfortable with an entity that has a decades-long record of inflicting emotional and unnecessary physical injuries on its predominately Black workforce?
What regulatory measures must be implemented to address and eliminate the ongoing racism in the NFL?
From a research perspective, there is more to explore to understand Americans' odd relationship with the NFL. I believe (and hope!) that a transdisciplinary study led by scholars of law, sports, entertainment, American studies, urban studies, and African American studies will explore a solutions-based approach to tackle (yes, a pun here, too) the persistent nature of the league's issues with racism.
The NFL must be included in conversations about Big Tech and other industries that fail to diversify and are marred by worker mistreatment accusations. I have grown weary of the league "playing in our faces" (read: to make a mockery of and/or openly disrespect us) while not exercising good corporate citizenship and engaging in performative social justice activities.
Sweeping reform within the NFL is necessary if the league intends to "live" beyond the next two decades. I will wait to see how they plan to figure out what to do to ensure equitable treatment for all. Until then, my football jerseys will remain in the closet for a bit longer.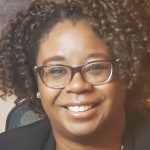 About the author:
Alexia Hudson-Ward is Associate Director of Research and Learning, Massachusetts Institute of Technology (MIT) Libraries.
Sign up for Toward Inclusive Excellence (TIE) new post notifications and updates.
Interested in contributing to TIE? Send an email to Deb V. at Choice dvillavicencio@ala-choice.org with your topic idea.
---
Header image is a detail of This is Harlem by Jacob Lawrence. Courtesy of Hirshhorn Museum and Sculpture Garden. © 2021 The Jacob and Gwendolyn Knight Lawrence Foundation, Seattle / Artists Rights Society (ARS), New York. For more information, click here.
Related Posts