The Future Is African, but Some Continue to Struggle with This Fact
Posted on May 11, 2022 in Blog Posts
The recent announcement that Rwanda-Scottish actor Ncuti Gatwa will play the new lead Time Lord on the popular BBC series Dr. Who has been met with both celebration and the usual racist commentary (paywalled). That some people were upset about a Black first on the show is not new. The racist rage that emerges when Black and Brown people (and BIPOC storylines) are situated at the forefront of fantasy and science fiction narratives is all too familiar, and I refuse to expend emotional energy on it. It is what it is.
A tweet celebrating Ncuti Gatwa's casting as the new Dr. Who
I am far more interested in exploring why we keep having this circular discourse on why diverse characters matter without grounding the dialogue in evidence. The evidence I am referencing is a report released by the World Economic Forum in May 2017. It was the first time I recall reading the phrase "the future is African" in a document with predictive analysis that appears to be on track. According to the data, one out of every five people on Earth will be of African descent by 2030, and the continent is estimated to add more than one billion people (1.3 billion estimated) to the global population in less than thirty years. African women have risen and continue to rise into positions of political power in multiple African nations. Africa also has the world's youngest inhabitants, with a median age of 19–20 years old, depending on the data one reviews.
Given these facts, it would be a huge miss for any enterprise—be it profit or nonprofit—to not incorporate more African representation if the objective is to foster new audiences and consumers. It makes sense mathematically speaking, which brings me back to the digital discourse around Gatwa's selection as the 14th Dr. Who. I view the move to cast this actor in this role at this moment in history as strategically on point, especially if one has the tremendous professional burden of serving as showrunner or executive producer for a multi-decade franchise.
Moreover, it is crucial for us in the academy to agree on the data as presented about the future being African and to strive to scale toward this rapidly encroaching reality. Agreeing on the data of a rising African population means that we must advance plans as quickly as possible to support a demographically changing student body, staff, and professorate more representative of the global majority. We must also contend with the fact that higher education problematizes decentering whiteness while reinforcing and supporting the reproduction of white racial privilege. Higher education remains constrained by dominant white minority practices—such as the devaluation of digital scholarship and social media impact analytics in promotion and tenure—that appear to stall and disable important international endeavors such as the development of more open access scholarship infrastructures.
When I mention the phrase "the future is African" to some white colleagues, I can see their discomfort with this statement in their body language. Some of these colleagues draw in details about other nations that they perceive to have growing populations, such as China, asserting that we must focus on all growing continents and countries. I understand why some people choose to take that path, but it is not rooted in evidence. World population data suggests that China's population will peak in 2030, the same year Africa's population is anticipated to explode.
We all need to contend with the change now facing us of a growing African population. If this fact makes anyone uncomfortable, they need to wrestle with their concern. The only way we can apply meaningful actions to address systemic racism and non-inclusive practices is to confront our discomfort when we feel the urge to ignore the facts.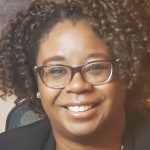 About the author:
Alexia Hudson-Ward is Associate Director of Research and Learning, Massachusetts Institute of Technology (MIT) Libraries.
Sign up for Toward Inclusive Excellence (TIE) new post notifications and updates.
Interested in contributing to TIE? Send an email to Deb V. at Choice dvillavicencio@ala-choice.org with your topic idea.
---
TIE gratefully acknowledges underwriting support from Accessible Archives.
Accessible Archives databases are comprised of diverse 18th, 19th, and early 20th century American history primary source content, including newspapers, periodicals, and books. The collections are used by universities, historical societies, middle/secondary schools, individuals, and research libraries throughout the world and include eyewitness accounts of historical events, vivid descriptions of daily life, editorial observations, commerce as seen through advertisements, and genealogical records available in a user-friendly digital interface. Collections include African American Newspapers, American County Histories, Women's Suffrage, America and World War I, the Civil War, Colonial Era newspapers, Frank Leslie's Weekly, Godey's Lady's Book and more. Unlimited Priorities LLC® is the exclusive sales, marketing, customer service, product, and technology agent for Accessible Archives.
---
Header image is a detail of This is Harlem by Jacob Lawrence. Courtesy of Hirshhorn Museum and Sculpture Garden. © 2021 The Jacob and Gwendolyn Knight Lawrence Foundation, Seattle / Artists Rights Society (ARS), New York. For more information, click here.
Related Posts