Safe Campuses Are a DEI Imperative
Posted on September 1, 2023 in Blog Posts
I had a completely different plan for this week's post.
Yet, writing about anything other than the two recent shootings on or near two college campuses did not seem right. Rather than revisit issues like the need for the US to address the threat of white supremacy indoctrination or the media's infantilization of male shooters, I have elected to address the necessity of different approaches to campus safety and well-being as a DEI imperative for higher education leaders.
Since the tragedy at Virginia Tech on April 16, 2007, which resulted in the death of 32 people, there has been ongoing dialogue about the need to strengthen campus safety. Scores of articles, conferences, and symposia have been dedicated to all forms of campus safety including psychological safety. And while the US continues to grapple with the politicization around assault weapons bans and gun control, several college campuses have been reduced to war zones at one time or another, often at the hands of mass shooters. Regrettably, the response to such incidents is often "thoughts and prayers" platitudes with little meaningful change.
Requests for more campus policing to thwart these violent acts are met with important critique, and rightfully so. There is documented evidence of campus and community constituencies—especially those from marginalized communities (paywalled)—being mistreated by campus police. Over the past decade, some progress has been made to situate campus law enforcement as partners rather than enactors of harsh policing.
Concurrently, many colleges and universities report high increases in students accessing mental health services. However, the increased demand for services is often not accompanied by adequate staffing, resources, and support from senior-level administration. Since the crisis phase of the COVID-19 pandemic, more student affairs professionals report feeling burned out and overwhelmed, with more than one-third seeking to leave their roles, according to a 2022 research study.
A hallmark of inclusion is ensuring that individuals are afforded the best opportunities to learn and thrive. Therefore, higher education must champion safety and well-being as vital to the institution's academic and administrative enterprises. This critical work entails better equipping student affairs professionals with more human and financial resources to administer more mental health services and early interventions.
We must also balance the desire for campuses open to the public with provisions to protect vulnerable staff and students. These provisions should include more eagle-eyed safety training (as exhibited by security officer Lt. Antonio Bailey at Edward Waters University) to quickly identify, redirect, or apprehend individuals who enter campuses with nefarious intentions. Furthermore, special mission institutions like Historically Black Colleges and Universities and Tribal Colleges and Universities are owed long-requested funding to bolster campus safety efforts.
There are no easy solutions regarding campus safety and community well-being. Yet, if higher education remains committed to belonging and achievement, we must reorganize ourselves to support the communities we serve on and off campus. Situating campus safety and community well-being as a DEI imperative is crucial if we are genuinely committed to whole student and employee development.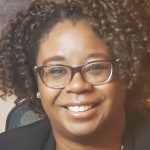 About the author:
Alexia Hudson-Ward is Associate Director of Research and Learning, Massachusetts Institute of Technology (MIT) Libraries.
Sign up for Toward Inclusive Excellence (TIE) new post notifications and updates.
Interested in contributing to TIE? Send an email to Deb V. at Choice dvillavicencio@ala-choice.org with your topic idea.
---
Header image is a detail of This is Harlem by Jacob Lawrence. Courtesy of Hirshhorn Museum and Sculpture Garden. © 2021 The Jacob and Gwendolyn Knight Lawrence Foundation, Seattle / Artists Rights Society (ARS), New York. For more information, click here.
Related Posts