"Queen Charlotte" Illuminates Mental Health and Racial Marginalization
Posted on May 11, 2023 in Blog Posts
I binge-watched Queen Charlotte: A Bridgerton Story (a prequel to Bridgerton) on Netflix last weekend as a respite from the bad news flooding my social media feeds. I had only viewed one or two episodes of Bridgerton previously, so I had very little knowledge of how the Queen Charlotte character is presented within that story arc. Yet, I was intrigued by the prequel and am glad that I gave it a chance. I recommend the series for a few reasons I detail below.
Race remains a divisive topic internationally, so I am very aware that some people were upset with producer Shonda Rhimes for deciding to portray a fictional multicultural and nearly race-neutral Regency-era British aristocracy with prominent Black characters. Situating Black people as lead characters in science fiction, historical fiction, and fantasy triggers some individuals.
Those of us following what happened to lead actors in the Star Wars franchise, Dr. Who, and The Little Mermaid have seen this ugliness repeatedly rear its head. Rhimes chooses to unapologetically lean into a centuries-old controversy about Queen Charlotte's ethnicity by twice depicting her as a woman of African descent. At the opening of Queen Charlotte, Rhimes offers a disclaimer that makes her intentions clear:
"This is the story of Queen Charlotte from Bridgerton. It is not a history lesson. It is fiction inspired by fact. All liberties taken by the author are quite intentional. Enjoy."
I deeply relate to the justification fatigue Rhimes must be experiencing in having to repeatedly explain her agency and creative license for the program and characters she designed as inspired by Julia Quinn's book series and British history. Queen Charlotte's race has been debated for decades. Some scholars believe there is sufficient evidence to prove her African lineage (paywalled). Conversely, other scholars are not convinced, pointing to the fact that modern understandings of "Black" and "African" are not the same as they were in the Regency era. In addition, some scholars argue that historical portraiture is not an accurate measure for determining historical figures' features.
---
---
However, relying solely on the written record can be tricky as it discounts oral histories and the stories of marginalized people who are frequently erased from historical accounts. The story of Dido Elizabeth Belle and other identified Black British aristocrats of the 1700s and 1800s makes the possibility of a biracial British queen a topic for further exploration.
The focus on whether Queen Charlotte is Black or not has in some ways supplanted another point of interest regarding the Queen Charlotte series on social media—what I believe is the first humane portrayal of King George III's mental health struggles. Past depictions of King George III lacked sympathy for his difficulties, even though modern medical scholars believe he suffered from bipolar disorder (paywalled).
Rhimes and/or some of her writers crafted a new portrayal of King George through the lens of someone with the lived experience of loving a family member with severe mental health complications. Without spoiling too much of the show for those interested in viewing it, there are subtle and not-so-subtle ways in which King George's illness presents itself. Throughout, the Queen Charlotte character exercises love and patience toward the King, which I found touching.
The Queen Charlotte character is deeply committed to her husband, which may reflect the actual dynamics between the real king and queen. The couple had 15 children, of which 13 lived into adulthood. Since their first child was a healthy male heir, Queen Charlotte's "obligations" to the throne were complete. Therefore, some researchers suggest that the royal couple sharing a bedroom and having many children, with no evidence of King George III ever having a mistress, proves they had a loving relationship. The series' final scene is a powerful tear-jerker as the Queen Charlotte character makes a loving gesture toward the King George character to maintain his dignity.
It is unclear whether it was a conscious decision on behalf of Shonda Rhimes and Netflix to release Queen Charlotte during Mental Health Awareness Month. Regardless, I hope more people appreciate how this story illuminates the challenges of caretakers and the complexities of those stricken with mental health challenges. Higher education scholars must undergo more study on the life and lineage of the real Queen Charlotte and King George III to shed light on marginalized experiences, King George III's anti-slavery stance, and the multiracial British aristocracy in the early 1800s.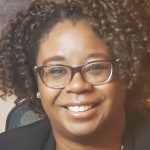 About the author:
Alexia Hudson-Ward is Associate Director of Research and Learning, Massachusetts Institute of Technology (MIT) Libraries.
Sign up for Toward Inclusive Excellence (TIE) new post notifications and updates.
Interested in contributing to TIE? Send an email to Deb V. at Choice dvillavicencio@ala-choice.org with your topic idea.
---
World Scientific develops the highest quality knowledge-based products and services for the academic, scientific, professional and research communities worldwide. With a publication history of over 12,000 titles, World Scientific releases approximately 600 new titles per annum and publishes more than 170 journals across multiple fields.
---
Header image is a detail of This is Harlem by Jacob Lawrence. Courtesy of Hirshhorn Museum and Sculpture Garden. © 2021 The Jacob and Gwendolyn Knight Lawrence Foundation, Seattle / Artists Rights Society (ARS), New York. For more information, click here.
Related Posts