Preserving the Indigenous and African American Heritage of Martha's Vineyard
Posted on August 9, 2022 in Blog Posts
Each summer, the population of Martha's Vineyard, a small island off the coast of Cape Cod, Massachusetts, swells from a modest 17,000 people to more than 200,000 visitors and residents. August boasts the island's highest occupancy rate, as it brings several activities and traditions, including the annual Grand Illumination night, the Black women's Polar Bear plunge (paywalled), and the Martha's Vineyard African American Film Festival. Celebrities and political luminaries such as former President Bill Clinton and comedian Larry David are frequently spotted enjoying island life in towns like Vineyard Haven, Oak Bluffs, and Edgartown. Former President Barack Obama and his family loved visiting Martha's Vineyard so much while he was in office that they purchased a 29-acre compound in Edgartown.
The island has an interesting and difficult history, though it has made strides toward instilling inclusive practices despite its ugly early colonialist encroachment. The island was originally inhabited by the Wampanoag people, a very large, unified confederation of no less than 24 separate tribes. Before the extensive colonization of Martha's Vineyard, the Wampanoag were estimated to be around 3,000 people in the 1640s. Less than a century later, the group's numbers were cut down to approximately 300, the result of English settlers' brutality. We still do not know the "Martha" for whom the island was named, although its original name is Noepe. But, it is safe to assume that she was one of two Marthas related to early English explorer Bartholomew Gosnold, who arrived in the area in or around 1602.
There is evidence that enslaved Africans were sold and probated on Martha's Vineyard (paywalled), leading to the island's first infusion of Black residents, and in 2020, Edgartown Harbor was designated an Underground Railroad site. Yet, Martha's Vineyard is primarily known as a summer enclave for many of America's so-called Black elites. The tradition of Black middle-class and upper-middle-class families vacationing on the island began in the 1800s and continues today, with the largest percentage congregating in Oak Bluffs.
Among the reasons for Martha's Vineyard's sustained popularity among the Black middle class and upper middle class are the long-standing traditions of retaining property ownership and seasonal rental rights within family and friend circles. The island is also an emotional retreat for a statistically small yet influential group of Black professionals who suffer racial battle fatigue and feeling isolated at work and within political circles. Others cite the feeling of safety on the island, as they are not interrogated or "policed" by white people during their leisure time, as paramount to their enjoyment.
The island's enduring allure, however, has also resulted in massive gentrification and the displacement of many Martha's Vineyard residents and visitors. The average home price soared to $1 million USD for the first time in history last year, and a weekly August rental for a studio apartment averages $4,100 USD. Further, the town of Vineyard Haven is listed as one of the most expensive small towns in the United States, according to a recent study by LendingTree. Capitalism, exacerbated by the COVID-19 pandemic, has meant the dismantling of traditions and historical erasure, including an attempt to rebrand the meaning behind the name of Inkwell Beach—a pejoratively named segregated Black beach during the Jim Crow era—into something more acceptable symbolizing a writer's retreat (an inaccurate depiction as labeling Black beaches "Ink Wells" was proven a national phenomenon across the United States).
An Afro-Indigenous community member's recently released TikTok video highlights the challenges mixed-race Indigenous communities face on Martha's Vineyard, sparking much discussion online. Her initial and subsequent videos challenge the notion of Martha's Vineyard's exclusivity, pointing out how dominant voices and experiences quickly reshape narratives. I think about reshaped narratives concerning spaces frequented by Black people as my husband and I prepare to make our trek to Martha's Vineyard this month. I hope to influence higher education's broader support for research and scholarship on leisure as a means of survival for Black communities and preservation of the Black past, which is quickly being dissolved right before this generation's eyes.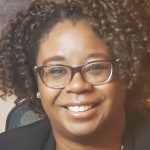 About the author:
Alexia Hudson-Ward is Associate Director of Research and Learning, Massachusetts Institute of Technology (MIT) Libraries.
Sign up for Toward Inclusive Excellence (TIE) new post notifications and updates.
Interested in contributing to TIE? Send an email to Deb V. at Choice dvillavicencio@ala-choice.org with your topic idea.
---
Header image is a detail of This is Harlem by Jacob Lawrence. Courtesy of Hirshhorn Museum and Sculpture Garden. © 2021 The Jacob and Gwendolyn Knight Lawrence Foundation, Seattle / Artists Rights Society (ARS), New York. For more information, click here.
Related Posts