Politicians' Attacks on AP African American Studies Are Anti-Democratic
Posted on February 1, 2023 in Blog Posts
Here we are at the beginning of Black History Month 2023, discussing the value of an Advanced Placement (AP) course on African American studies (paywalled).
Why?
Because Florida Governor Ron DeSantis decided to launch an attack on an African American Studies curriculum, elevating this topic to a national conversation. His focus on dismantling the AP African American Studies pilot program is striking to me for three primary reasons.
First, there are scores of qualified individuals whose professional roles center on curriculum design, deployment, and assessment. While Florida's governor holds degrees from Yale University and Harvard Law School, magna cum laude and cum laude, respectively, neither of those degrees affords him the necessary expertise to make informed critiques of an African American studies curriculum. Secondly, after two recent hurricanes, it seems that Florida's governor would better serve his state by seeking national attention for recovery efforts. Third, by many accounts, although Florida's economy appears to be strong on the jobs front, the state is experiencing rising foreclosure rates.
Why Governor DeSantis elects to pursue racialized and socioeconomic grievance politics to advance a national platform is an important yet unanswered question.
According to Governor DeSantis's family history, all of his great-grandparents immigrated to the United States from Italy (paywalled). And yet, he sanctioned the transport of several undocumented migrants to Martha's Vineyard in 2022. In 2019, Governor DeSantis posthumously pardoned the Groveland Four, four Black men falsely convinced of rape in 1949, a move that some believed to be a step toward restorative justice. However, in successive years, Governor DeSantis ramped up rhetorical and legal actions against teaching and learning about Black history.
Governor DeSantis spread falsehoods about critical race theory (CRT) being taught in K–12 schools (there is no evidence of this) and found a willing partner in the Florida Board of Education, which approved a ban on teaching CRT in June 2021. Recently, a Florida judge partially blocked his "Stop the Wrongs to Our Kids and Employees" (W.O.K.E.) act (a swipe at diversity-centered training and education) for violating the First Amendment.
The dichotomy of Governor DeSantis does not end with his racially toned efforts. In the past he has also leaned heavily into socioeconomic grievance politics despite earning degrees from two Ivy League institutions. While frequently railing against America's so-called elites, DeSantis excitedly hobnobbed with some of Philadelphia's corporate and political leaders last week at two of the city's most exclusive membership clubs: the Union League and the Acorn Club. During his visit, DeSantis received a prestigious award and allegedly attended a fundraiser in his honor (paywalled), further fueling speculation that he is gearing up for a 2024 presidential run.
It is easy to discount the governor's actions—especially involving the move to block the AP African American Studies pilot program—as political theater. But Governor DeSantis's maneuvers must not be discounted as pure pandering to an angry electorate. Discrediting his efforts only serves to oversimplify what I perceive as a broader anti-democracy strategy.
The anti-democracy strategy currently unfolding in the United States picks apart academic freedom within K–12 and higher education institutions, creating false narratives that operationalize racial threat. Alleging that educators and library professionals are seeking to "groom" or "indoctrinate" children and do irreparable harm to white people is dangerous.
Some higher education institutions, faculty, and administrators are actively working to address these anti-democratic practices, as evidenced by this article and this op-ed.
Yet, there is more work to be done.
We must harden our commitment to research, writing, and presenting the facts against the onslaught of attempts to eliminate any group's history. A full-frontal attack on access to knowledge warrants a strategic counter-defense.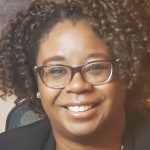 About the author:
Alexia Hudson-Ward is Associate Director of Research and Learning, Massachusetts Institute of Technology (MIT) Libraries.
Sign up for Toward Inclusive Excellence (TIE) new post notifications and updates.
Interested in contributing to TIE? Send an email to Deb V. at Choice dvillavicencio@ala-choice.org with your topic idea.
---
Header image is a detail of This is Harlem by Jacob Lawrence. Courtesy of Hirshhorn Museum and Sculpture Garden. © 2021 The Jacob and Gwendolyn Knight Lawrence Foundation, Seattle / Artists Rights Society (ARS), New York. For more information, click here.
Related Posts