Monsters, Mortgages, and Housing Angst During Economic Uncertainty
Horror Films as a Reflection of Societal Anxieties
Posted on October 20, 2022 in Blog Posts
Like millions of people, I recently watched the popular Netflix limited series The Watcher. If I am being honest, the last episode "watched" me as I fell asleep during the program. Yet, I know what happened and promise not to provide any spoilers.
The story of The Watcher follows a standard theme in the "house of horrors" subgenre. A heterosexual upper-middle-class or wealthy white couple with children (and often a dog) moves into their dream house in the suburbs. Very quickly, however, the "dream" becomes a nightmare as an evil entity consumes the family's existence in a fight for their lives. The family dynamic is compromised and frayed by the ordeal.
The evil entity presents itself in different forms within this subgenre. Sometimes the entity is a deranged person or people. Other times, it is a supernatural force. Yet the entity's objective remains the same: to do significant harm to or murder the family. The home, meant to be the family's quintessential safe space, is rendered categorically unsafe. If the family survives, they flee the home, never to return.
The concept of the white suburban family under attack at home has been a consistent theme in horror movies for at least 50 years. The Others (2001), Our Home (2018), Poltergeist (1982), and The Amityville Horror (1979) are a few films that fit this genre. The formulaic aspects are all there, often including the tropes of the wife as a prolific screamer, the husband and children yelling, and the dog barking. Yet, despite their repetitive aspect, these films tend to perform well among audiences and, before the COVID-19 pandemic, were box-office blockbusters. In thinking about why these types of films are so popular, I stumbled upon some interesting research findings.
The research that inspired this posting was authored by Garry Leonard, Professor of English at the University of Toronto, in 2010. Leonard examines how horror movies, particularly those in which the family home is the center of activity and attack, are prime economic indicators. He hypothesizes, in other words, that house-centric horror films are released and become popularized during times of economic uncertainty. The Financial Times similarly explored this phenomenon in 2014, yet approached it as commentary on societal anxieties (paywalled).
What was absent from research on the house of horrors subgenre until the past decade was an interdisciplinary examination of this theme from a DEIA perspective. BIPOC representation in similarly prescribed films was nonexistent until films like His House (2020) and Us (2019). Another compelling aspect to explore is how BIPOC middle-class or upper-middle-class strivers are portrayed. BIPOCs are either in horror-comedy cinema (there are far too many of these films to list) or predators who victimize the BIPOC community, like Blacula, Candyman, or Dr. Hess Green in Ganja & Hess (1973), which was somewhat recently restored by the Museum of Modern Art and remade by Spike Lee as Da Sweet Blood of Jesus in 2014.
Several film historians, documentarians, and scholars across multiple disciplines are examining the interconnectedness of societal and economic angst with the production of certain types of horror films. Yet, I feel that there are more elements to explore. We should also consider why upwardly mobile white people are portrayed sympathetically and why BIPOC characters are predominately comedic or predatory figures in house-centered horror films.
I believe these film portrayals not only reflect societal fears but also expose how we generally perceive who "deserves" the accouterments of upward economic mobility and who pays the price for striving to acquire those benefits within the BIPOC community.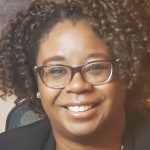 About the author:
Alexia Hudson-Ward is Associate Director of Research and Learning, Massachusetts Institute of Technology (MIT) Libraries.
Sign up for Toward Inclusive Excellence (TIE) new post notifications and updates.
Interested in contributing to TIE? Send an email to Deb V. at Choice dvillavicencio@ala-choice.org with your topic idea.
---
Other Toward Inclusive Excellence blog posts you may enjoy:
---
Header image is a detail of This is Harlem by Jacob Lawrence. Courtesy of Hirshhorn Museum and Sculpture Garden. © 2021 The Jacob and Gwendolyn Knight Lawrence Foundation, Seattle / Artists Rights Society (ARS), New York. For more information, click here.
Related Posts