Legislators Are Not Authorized to Randomly Change Constitutions
Posted on April 13, 2023 in Blog Posts
I imagine that many of you were as surprised as I was when two Black, male Tennessee state representatives, Justin Jones and Justin J. Pearson, were expelled from their seats last week by Republican representatives. To avoid rehashing all the issues, you can read more about this shocking incident here and here.
We must make no mistake about what is unfolding in the United States. The fragile condition of American democracy has been raised multiple times in some of our blog posts and several TIE podcast interviews. Without question, we are seeing more blatant attacks on civil liberties and civil rights, including increased book bannings, the harassment and removal of librarians from their jobs, the proposed elimination of some public libraries, and gubernatorial intervention in curriculum and college-level DEI efforts. These undemocratic activities are orchestrated and supported by a well-resourced caucus of individuals who seemingly aspire to push the United States toward authoritarian rule.
However, last week's shenanigans in Tennessee took the proverbial cake. Watching the majority party overwhelmingly vote to expel two legally elected state representatives for exercising their right to free speech was mind-boggling. The move was essentially set to disenfranchise more than 140,000 voters. Luckily, people fought back, resulting in Justin Jones being reappointed to his seat by a unanimous vote of the Memphis City Council on April 10. The reappointment was possible because of a stipulation in Nashville that allows the city council to appoint a representative in the case of a state legislator's seat vacancy. At the writing of this post, county commissioners also voted to reappoint Justin J. Pearson.
Those of us in the information professions, academia, and education must be loud and clear on two points. First, American legislators do not have the authority to arbitrarily change constitutions to suit their political goals at the city, state, or federal levels. All constitutional changes must undergo multiple votes and administrative processes before those changes are officially conferred. For example, some people may be unaware that the National Archivist (often referred to as AOTUS) plays a crucial role in administering the ratification process for the U.S. Constitution. We have these necessary checks and balances in place to prevent inappropriate power grabs from any political party.
Second, addressing the encroachment on civil rights and civil liberties requires paying attention to governance, policies, and procedures. One of the reasons I have come to appreciate participating in governance practices, including policy creation, is that I believe illuminating the how and why matters for equitable treatment. I also know from elders who participated in the Civil Rights Movement that those who seek to disenfranchise BIPOC tend to make up or bend the rules to suit their objectives, especially at the state level (paywalled). 
What is happening in Tennessee should serve as a clarion call to us all to acquire copies of our municipal charters, state constitutions (paywalled), and the US Constitution as soon as possible. We must read them thoroughly. Being surprised, shocked, or angry is a natural reaction to the current political chaos. Yet, as people committed to building a fair and just society through information access, we must be willing to engage in the battle of a lifetime to uphold democratic principles, liberties, and rights afforded to us through our constitutions and local charters.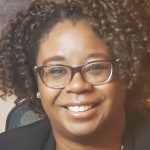 About the author:
Alexia Hudson-Ward is Associate Director of Research and Learning, Massachusetts Institute of Technology (MIT) Libraries.
Sign up for Toward Inclusive Excellence (TIE) new post notifications and updates.
Interested in contributing to TIE? Send an email to Deb V. at Choice dvillavicencio@ala-choice.org with your topic idea.
---
Rowman & Littlefield publishes high-quality college texts, entertaining and informative books for general readers, and professional and scholarly books in the humanities and social sciences.
---
Header image is a detail of This is Harlem by Jacob Lawrence. Courtesy of Hirshhorn Museum and Sculpture Garden. © 2021 The Jacob and Gwendolyn Knight Lawrence Foundation, Seattle / Artists Rights Society (ARS), New York. For more information, click here.
Related Posts