King Charles Has The Power to Enact Sweeping Restorative Justice Efforts. The Question Is Will He?
Posted on May 4, 2023 in Blog Posts
Leadership changes allow us to reflect on the past with degrees of intentionality. Those of us committed to inclusion look to new leaders to advance efforts to create a more equitable and just environment for all under their jurisdiction. This leadership standard should be applied to King Charles III, who takes the reins of the British monarchy at a time of unprecedented change globally. The meta-crises of climate change, AI reshaping the technological landscape, and social justice issues are among several high-impact issues the world will look to the British king to address. Yet, no other problem is more pronounced than correcting the historical wrongs and persistent inequalities stemming from British colonialism.
While the British monarchy is constitutional, this status does not lessen its influence internationally. One only has to look at the press coverage the British royal family receives regarding, for example, their fashions and internal family discord. I remain surprised at how deeply many Americans appear invested in the saga of the Sussexes and their strained relationship with the "working members" of the British royal family. However, given the size of the modern British Commonwealth, it is perhaps understandable that interest in what is happening with and enacted by the British royal family remains high. It is therefore essential to examine the history of the British Empire and its shift to Commonwealth status to understand why the British monarchy must seize this unique moment in history to implement inclusive change.
---
---
The British Empire enlarged its wealth, population, and land mass throughout the 18th and 19th centuries. Some scholars estimate that the British Empire's reach expanded to one-fifth of the world's population and one-quarter of the world's land surface during Queen Victoria's reign (1837–1901). The British Empire did not expand peacefully—it was characterized by massive bloodshed and the pillaging of various countries' natural resources. While the British government's record-keeping on the resulting death toll is deeply fragmented, it is estimated that more than 100 million Indian people died due to Britain's explorative practices from 1881 to 1920. Data about how many lives were sacrificed during the transatlantic slave trade to support Britain's capitalistic gains remains incomplete (paywalled).
Today, 56 nations comprise the modern Commonwealth of Nations, which was constituted in 1949, supplanting an earlier iteration. Forming the Commonwealth meant providing member nations more governmental autonomy, removing "British" or "British Empire" from country names, and shedding the requirement of allegiance to the crown. An estimated 2.5 billion people currently reside within the Commonwealth (out of a global population of 8 billion people), including one-third of the world's population between the ages 15–29. This group is frequently considered a blended microgeneration of younger millennials and Gen Zers, sometimes referred to as "Zoomers" or "Zillennials." As a collective, they are passionate about environmental protection and social justice.
It is striking to think of King Charles III as the de facto leader of the world's largest youth population—a population with high expectations of dismantling systemic racism and all forms of discrimination. This youthful generation's expectations align with the 16 core values delineated in the Commonwealth Charter, including respect for human rights, gender equality, and freedom of speech. Now, the actions of the British monarchy must go beyond noble rhetoric and platitudes to bring forth the change agenda demanded by its sizable youth population.
The literature over the past decade has been somewhat lacking of explorations of the economic and sociocultural development of the collective Commonwealth and its relation to the British monarchy. Before any restorative justice efforts can proceed during King Charles's reign, higher education scholars must be supported in more deeply researching the legacy of the former British Empire. Producing economic development opportunities for marginalized people within the Commonwealth is the most crucial action the new king should undertake.
Read our latest TIE post: "Queen Charlotte" Illuminates Mental Health and Racial Marginalization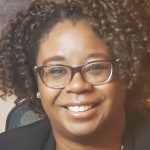 About the author:
Alexia Hudson-Ward is Associate Director of Research and Learning, Massachusetts Institute of Technology (MIT) Libraries.
Sign up for Toward Inclusive Excellence (TIE) new post notifications and updates.
Interested in contributing to TIE? Send an email to Deb V. at Choice dvillavicencio@ala-choice.org with your topic idea.
---
World Scientific develops the highest quality knowledge-based products and services for the academic, scientific, professional and research communities worldwide. With a publication history of over 12,000 titles, World Scientific releases approximately 600 new titles per annum and publishes more than 170 journals across multiple fields.
---
Header image is a detail of This is Harlem by Jacob Lawrence. Courtesy of Hirshhorn Museum and Sculpture Garden. © 2021 The Jacob and Gwendolyn Knight Lawrence Foundation, Seattle / Artists Rights Society (ARS), New York. For more information, click here.
Related Posts