Inequities Within Side Hustle Culture Must Be Addressed
Posted on January 26, 2022 in Blog Posts
If you are like me, you may be hearing the phrase "side hustle" (paywalled) a lot—I mean almost every day.
This is not a figment of your imagination.
A quick Google News search of "side hustle" I conducted while writing this post netted a startling 3.5 million hits in less than a minute. Within January 2022 alone, no less than 200,000 mentions of the terms "hustling" or "side hustle" appeared in multiple news outlets. Publications like Forbes, The Wall Street Journal (paywalled), Business Insider, and the Financial Post are providing tips for "side hustlers" while all but abandoning the pre-pandemic term du jour "gig economy" (remember that phrase?) (paywalled).
Before I delve into my concerns about the appropriation of the terms "side hustle" or "hustling" in the United States, I will share a brief history of these terms for additional context. "Hustling" or having "side hustles" are used in tandem to describe the interconnected circumstances of balancing a full-time job while supplementing one's income with multiple freelance ventures, and the frenetic lifestyle that comes from balancing multiple jobs. Both terms—"hustling" and "side hustles"—are rooted in African American urban culture, with a documented history of appearing in various U.S. Black newspapers going back to at least the 1940s.
These terms have simultaneous positive and negative connotations. "Hustling" and having "side hustles" are "remixed" slang that transforms an adverse circumstance (job insecurity and financial vulnerability) into a necessary and sometimes heroic effort. Conversely, to be a "hustler" or to "hustle" can also be meant as a slur or to identify an individual involved in illicit and illegal behavior. One's vocal tone is usually the verbal cue used to determine whether any of these phrases are considered positive or negative.
It appears that at some point in the late 20th century, the phrase "side hustle" began to be appropriated by dominant white culture in the United States. I suspect this because the phrase is a far more compelling way to explain freelance work than its predecessor "gig economy." Yet, as with all appropriation efforts, side hustling has been sanitized into celebratory efforts featuring majority-white upper-middle-class and wealthy individuals.
This celebratory entrée of side hustling into the digital discourse completely disregards the fact that the majority of "side hustlers" are individuals who need extra freelance income to stay afloat financially. Moreover, the U.S. government, via the Internal Revenue Service, is now allegedly cracking down on "side hustle" income to trace and tax any transactions over $600 through cash management apps like CashApp and PayPal.
However, at the writing of this post, it appears that the U.S. government has yet to completely formulate an effective plan to address those who bypassed income tax liabilities by funneling their income into non-traceable assets like cryptocurrency.
Side hustle culture is sharply divided between who is celebrated and incentivized for freelance work and who is penalized. The academy is primed to engage our communities (on campus and beyond) in critical conversations about the rise of the "side hustle" and its impact on advancing inclusive financial sustainability for all freelance workers—not just an exclusive minority.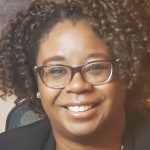 About the author:
Alexia Hudson-Ward is Associate Director of Research and Learning, Massachusetts Institute of Technology (MIT) Libraries.
Sign up for Toward Inclusive Excellence (TIE) new post notifications and updates.
Interested in contributing to TIE? Send an email to Deb V. at Choice dvillavicencio@ala-choice.org with your topic idea.
---
Header image is a detail of This is Harlem by Jacob Lawrence. Courtesy of Hirshhorn Museum and Sculpture Garden. © 2021 The Jacob and Gwendolyn Knight Lawrence Foundation, Seattle / Artists Rights Society (ARS), New York. For more information, click here.
Related Posts