How the New "Interview with the Vampire" Series Shifts the Elegant Black Man as Predator Trope
Posted on October 27, 2022 in Blog Posts
For nearly 50 years, a certain portrayal of Black men in horror films (when the man is the central character) has remained relatively consistent: that of the elegant predator. This elegant predator is typically handsome, financially successful, well-spoken to an almost poetic extent, and impeccably dressed. His character's transformation is often catalyzed by some racially tinged injustice that then propels him into a predatory state.
The origin of this Black "boogeyman" trope (paywalled) originated in 1940 with the release of Son of Ingagi. However, the commercial success of the Blaxploitation film Blacula (1972), starring classically trained Shakespearean actor William Marshall, invited a litany of analyses. Blacula is an African prince attempting to end the transatlantic slave trade when he is condemned to a life of vampirism by racist Count Dracula. His wife murdered, Blacula begins roaming the streets of Los Angeles hundreds of years later, looking for her descendant. He kills BIPOC and LGBTQ people along the way. The following year, Ganja and Hess (1973) was released, starring Duane Jones of Night of the Living Dead (1968) fame, chronicling the story of a Black male anthropologist who becomes a vampire after being stabbed by an ancient cursed dagger and then feeds on the Black community.
Dr. Black, Mr. Hyde (1976), a Blaxploitation take on Dr. Jekyll and Mr. Hyde, stars Bernie Casey and features the layered themes of unethical medical experimentation on Black people and class tensions within the Black community. The Candyman film series starring Tony Todd consists of four films: Candyman (1992), Candyman: Farewell to the Flesh (1995), Candyman: Day of the Dead (1999), and Candyman (2021). The central story depicts the wealthy Black male main character's brutal lynching in the 19th century due to a forbidden interracial love affair. He returns as "Candyman," murdering Black people in Chicago's former Cabrini-Green Housing Development. Some viewed the film series as a commentary on how the city's Black elite left lower-income Black residents behind.
Research on this topic suggests that the Black male monsters preying on BIPOC communities are meant to serve as social and political commentary about racism and societal oppression. Another theme prevalent within this subgenre is the prevailing notion of the Black professional class's or Black elite's attitude of indifference and disdain toward BIPOC communities. One can draw these connections by examining the above-referenced films.
Yet, the recent reboot of Interview with the Vampire released on AMC has added a new dimension to the depiction of the elegant Black male predator. The new portrayal of Louis by Jacob Anderson, of Game of Thrones fame, centers on a dashing gay creole Black man in early 20th-century New Orleans. Not dissimilar to other characters in the elegant Black male predator subgenre, this version of Louis is also a striver whose wealth comes at the expense of a vulnerable population. However, rather than preying on the BIPOC and LGBTQ communities, he attempts to protect the people and the history of the historic Storyville community. Louis cautions the vampire Lestat not to disrespect Black musicians and jazz music, articulating his own oppression and encounters with overt racism. In an almost anti-hero fashion, he targets racists who transgress against him.
After reviewing the research for this post and last week's post, I am convinced that there are at least two horror film subgenres that cast socioeconomic striving as harmful and predatory. Attempts to transcend one's prescribed "station in life" result in haunted houses for white families and, in the case of Black men, the grave repercussions of becoming monstrous.
As much as I enjoy these films, I am compelled to further interrogate what horror means for different people and cultures. I do not think many of us will disagree that art can imitate life in all dimensions, including our fears. Higher education needs to support more research that peels back the layers of intention within horror movies to address how they serve as social commentary while reinforcing stereotypes and tropes.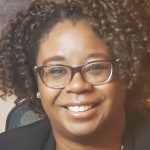 About the author:
Alexia Hudson-Ward is Associate Director of Research and Learning, Massachusetts Institute of Technology (MIT) Libraries.
Sign up for Toward Inclusive Excellence (TIE) new post notifications and updates.
Interested in contributing to TIE? Send an email to Deb V. at Choice dvillavicencio@ala-choice.org with your topic idea.
---
Other Toward Inclusive Excellence blog posts you may enjoy:
---
Header image is a detail of This is Harlem by Jacob Lawrence. Courtesy of Hirshhorn Museum and Sculpture Garden. © 2021 The Jacob and Gwendolyn Knight Lawrence Foundation, Seattle / Artists Rights Society (ARS), New York. For more information, click here.
Related Posts