Hip-Hop Has Matured in Age Only
Posted on September 21, 2023 in Blog Posts
This year marks the 50th anniversary of hip-hop, arguably the most influential music genre in history. While some may assert that classical, jazz, rock and roll, blues, R&B, and country and western could equally lay similar claims, there is no denying how hip-hop as music and a cultural expression has shaped language, fashion, art, business, and culture internationally.
Hip-hop—a term coined by the late Robert Keith Wiggins, also known as Cowboy of Grandmaster Flash and the Furious Five—was born in the South Bronx in New York City during the early 1970s at African American social events and block parties as a nearly traditional instrument-less musical expression. Young people used their voices to mimic various instruments and remix songs and deliberately scratched vinyl records on turntables to develop new and exciting sound extensions.
The rapping component of the genre doubled down on many West African storytelling traditions with creative embellishment, heavy percussive drumbeats, and call-and-response engagement with a live audience. The musical expression of hip-hop was complemented by graffiti art, deejaying, and breakdancing. Unfortunately, many of hip-hop's early days were not chronicled or preserved, which, coupled with racism, has resulted in roughly a decade's worth of documentation deficit. 
I embody hip-hop. I grew up alongside the genre and many legendary hip-hop figures like Rakim, Queen Latifah, MC Lyte, Nas, Talib Kweli, and Jay-Z are my contemporaries. Hip-hop, as a way of being, shapes my spoken cadence, confidence, expressiveness, and dress style.
As a Black girl and woman growing up in the 1970s, 1980s, and 1990s, many verses and songs resonated with my frustrations, anger, joy, and sensemaking of the times, becoming trusted companions. To be an undergraduate and cub entertainment reporter during the golden age of hip-hop, when there was stylistic balance and extraordinary creativity that gave rise to party, conscious, and jazz- and Southern-influenced hip-hop and gangsta rap, was remarkable.
Over the past year, I have spent some time reflecting on the highs and lows of hip-hop music and culture. While I love the rich dynamism of hip-hop culture, there are artists and circumstances (far too many to list) that have sometimes made my relationship with the genre extremely complicated.
Some of these complications mirror eight difficulties the genre faces at its half-century mark, which stand to mar what should be a celebratory occasion:
My list of eight difficulties facing hip-hop is not meant to be exhaustive. I hope this blog post inspires others to apply a critical lens to how hip-hop has further to go before fully maturing, despite its advanced age.
Chronicling approaches to problematizing hip-hop would take volumes of material and countless pages of text. Many institutions are embarking on this work. Yet, on hip-hop's 50th anniversary, higher education must pursue a more unified public scholarship-facing, interdisciplinary effort to preserve hip-hop's history and culture for another 50 years and beyond.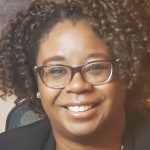 About the author:
Alexia Hudson-Ward is Associate Director of Research and Learning, Massachusetts Institute of Technology (MIT) Libraries.
Sign up for Toward Inclusive Excellence (TIE) new post notifications and updates.
Interested in contributing to TIE? Send an email to Deb V. at Choice dvillavicencio@ala-choice.org with your topic idea.
---
United Nations Publications promotes the work and knowledge of the United Nations through marketing, sales, and distribution of publications, data, and merchandise.
---
Header image is a detail of This is Harlem by Jacob Lawrence. Courtesy of Hirshhorn Museum and Sculpture Garden. © 2021 The Jacob and Gwendolyn Knight Lawrence Foundation, Seattle / Artists Rights Society (ARS), New York. For more information, click here.
Related Posts