Here We Go Again: The Scrutiny of Yet Another Highly Qualified Black Woman Calls Higher Education to Action
Posted on March 24, 2022 in Blog Posts
Supreme Court nominee Judge Ketanji Brown Jackson is an award-winning jurist and attorney who has worked as a public defender and in private practice. Her professional credentials are stellar. She is the proverbial American dream personified, having attended public school in Miami, Florida, and later graduating magna cum laude from Harvard University. She went on to attend Harvard Law School, where she graduated cum laude and was an editor of the Harvard Law Review.
Yet, her nomination has brought forth a litany of falsehoods, deliberate mischaracterization of her positions, childish performances, and blatant lies against her by some members of the US Senate Judiciary Committee. The media addressed some of these brazen attacks on Judge Jackson, such as the bizarre questioning about whether Judge Jackson believes in incorporating critical race theory into the legal system, her work as a public defender for some Guantanamo Bay detention camp detainees, and if babies have the propensity to be racist.
One of the strangest circumstances I have ever witnessed through social media is seeing conservative dark money groups complain about other dark money groups allegedly supporting Judge Jackson. This messiness earned an "upside down Pinocchio" from the Washington Post to represent a very clear but unacknowledged shift in position from a previously held stance.
ICYMI: JCN launched a $2.5M campaign calling out the liberal dark money network led by Arabella Advisors that helped get Joe Biden elected, pressured Justice Breyer to retire, and is now seeking to replace him with a rubber stamp for their unpopular and far-left political agenda. pic.twitter.com/Ivh3d2DBNZ

— JCN (@judicialnetwork) February 4, 2022
Not surprisingly, the scrutiny of Judge Ketanji Brown Jackson has had a triggering effect on many women of color (paywalled), evidenced by tweets and other social media postings. The circumstances present in the nationally televised Supreme Court confirmation hearings resurrect flashbacks of mistreatment and abuses at the hands of managers and leaders. What we are witnessing in Judge Jackson's confirmation hearing is another ugly chapter in the long, wearisome history of attempts to diminish Black women's achievements and ambitions.
The commonalities in mistreatment toward Black women achievers must be examined as a pattern that plays itself out in extremes and in the daily subtleties of racism and sexism. Most heartbreaking is that racist and sexist attacks on Black girls start at an early age, making them the most at-risk group among American K–12 youth (paywalled). This pattern is exemplified by Judge Jackson's ascendance to the Supreme Court nomination, which was first marked by discouragement from a high school guidance counselor who told her that she was setting her sights too high by aspiring to attend Harvard. Former First Lady Michelle Obama chronicles similar experiences in her biography.
These negative patterns of mistreating Black women must be disrupted and eliminated. Those of us who are serious about advancing inclusive excellence must start by holding those who participate in these outlandish, disrespectful shenanigans accountable. We must condemn this behavior with frequency, just as "Big Lie" practices should be treated as attacks on democracy and deliberate attempts to spread disinformation.
Going further, the academy must engage in more research on the phenomena of the "double burden" (paywalled) and gendered racism (paywalled). While the Supreme Court confirmation hearings are, from my vantage point, an extreme display of gendered racism, let us not forget that millions of BIPOC employees resist working in offices full time due to years of poor treatment from white peers. And to be clear, self-described liberals do not score much higher than self-described conservatives in participating in negative behaviors toward Black women.
This is the time for heart-to-heart discourse and action. The days of "whisper-support" for Black women are over. Active allyship calls for action and introspection means we all must contribute to abolishing dreadful practices of attempting to taint a Black woman's achievement under the false guise of scrutiny.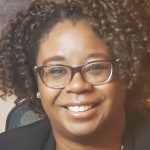 About the author:
Alexia Hudson-Ward is Associate Director of Research and Learning, Massachusetts Institute of Technology (MIT) Libraries.
Sign up for Toward Inclusive Excellence (TIE) new post notifications and updates.
Interested in contributing to TIE? Send an email to Deb V. at Choice dvillavicencio@ala-choice.org with your topic idea.
---
We gratefully acknowledge underwriting support from Rowman & Littlefield.
Rowman & Littlefield publishes high-quality college texts, entertaining and informative books for general readers, and professional and scholarly books in the humanities and social sciences.
---
Header image is a detail of This is Harlem by Jacob Lawrence. Courtesy of Hirshhorn Museum and Sculpture Garden. © 2021 The Jacob and Gwendolyn Knight Lawrence Foundation, Seattle / Artists Rights Society (ARS), New York. For more information, click here.
Related Posts