Frightful Librarians: How Knowledgeable Women Are Portrayed as Problematic Horror Tropes
Posted on November 1, 2023 in Blog Posts
I can probably guess what some of you were thinking when you saw the words "frightful librarians," especially given this blog's scope and the ongoing DEI-related issues we face in the profession (paywalled). While it is true that many of our colleagues report real-life horrific circumstances within their respective libraries, this piece is not centered on that topic (although, TIE will continue to address persistent diversity issues within libraries). Instead, this week's post covers the persistence of the frightening and dangerous librarian trope in horror and science fiction.
Jennifer Snoek-Brown, OER librarian at Tacoma Community College and editor of the Reel Librarians blog, is the first person to my knowledge to identify the dangerous, problematic librarian trope in horror and mystery films and to classify a grouping of films over six decades that reinforce this image. Her listing is best to conduct further study on this topic. It provides the grounding for my post on how roles predominately populated by women (like librarians) are often problematized when featured in horror and science fiction and what such depictions might mean for us as a society.
Librarians in these depictions are knowledgeable and dangerous, resulting in a lethal combination that reshapes the arc of the horror or science fiction story. More often than not, the librarian characters within these genres fit the standard stereotype of an introverted, repressed, and angry white woman. These women either wield their power negatively or become embroiled in a negative plot due to their desire to become more knowledgeable (i.e., more powerful).
Recently, the depiction of the dangerous librarian has broadened to include BIPOC leads in Apple TV+'s popular series The Changeling and LGBTQ+ leads in AMC+'s A Discovery of Witches (the primary female character being a tenured historian, librarian, and witch with a PhD). Yet, the stereotype of a dangerous and knowledgeable woman librarian largely remains intact in these programs.
However, when the lead librarian is male—such as in Marvel Comics's Doctor Strange, the TNT series The Librarians, and some portrayals of Dracula's Jonathan Harker as a rare book librarian—there is a change in how he is depicted. These male librarians are viewed as powerful and important leaders in their stories. This is a compelling notion to examine as a study on male librarians from the late 1800s through the early 1900s highlights how these men intended to take on "administrative" roles despite the profession becoming "femininized" over time (paywalled).
While some literature contextualizes the troublesome depiction of female librarians in horror (paywalled) as commentary on librarians as social actors within society at large, a larger body of studies draws correlations between feminist consciousness and so-called wicked witches (paywalled). According to some scholars, these mystical women can only be tamed (or destroyed) by the patriarchy or a dominant male character. In films with female librarians, a similar pattern emerges wherein women require "balance" from a dominant male figure. Consequently, this trope may be rooted in systemic and societal discomfort with educated women.
Some research asserts that horror and science fiction reflect society's projected fears and the terror of uncertainty (paywalled). Having viewed a century's worth of horror films, I agree with this idea. I can neatly plot social anxieties within the broader society with the rise and persistence of certain horror tropes and stereotypes. And what appears clear is persistent societal discomfort with women as keepers, stewards, and curators of knowledge.
We must ask ourselves some critical questions about why this is the case. Why has this stereotype of women librarians been upheld for decades in horror and science fiction? What self-commentary emerges about our society when we normalize negative depictions of women librarians on screen?
British philosopher John Stuart Mill, who supported women's equality, wrote in 1861 that "women who read, much more women who write, are, in the existing constitution of things, a contradiction and a disturbing element [to men]" (paywalled). More than a century and a half later, cultural patriarchy and its expression within film continues to present educated women as a "disturbing element." This is one of many reasons why higher education leadership must support and promote gender studies research. It is vital that we interrogate why the same imagery of women librarians repeatedly crops up in horror and science fiction.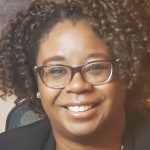 About the author:
Alexia Hudson-Ward is Associate Director of Research, Learning, and Strategic Partnerships, Massachusetts Institute of Technology (MIT) Libraries.
Sign up for Toward Inclusive Excellence (TIE) new post notifications and updates.
Interested in contributing to TIE? Send an email to Deb V. at Choice dvillavicencio@ala-choice.org with your topic idea.
---
Header image is a detail of This is Harlem by Jacob Lawrence. Courtesy of Hirshhorn Museum and Sculpture Garden. © 2021 The Jacob and Gwendolyn Knight Lawrence Foundation, Seattle / Artists Rights Society (ARS), New York. For more information, click here.
Related Posts