Elon Musk's Acquisition of Twitter May Reshape #BlackTwitter
Posted on April 28, 2022 in Blog Posts
Social media has been aflutter with the news of billionaire Elon Musk's potential acquisition of Twitter for $44 billion. Reactions to this news were mixed, with what appears to be a divide based on political ideologies within the United States.
Individuals and entities who self-identify as "Republican" or "Conservative" gleefully celebrated the news as a welcome return for "free speech." Self-described "Liberals" and "Independents" were less excited. Several individuals expressed concerns about growing technocratic control of outlets from which many Americans receive their news, given Jeff Bezos's ownership of The Washington Post and Mark Zuckerberg's ownership of Facebook.
Some American politicians raised red flags about Elon Musk's Twitter acquisition. Senator Elizabeth Warren stated on Twitter that Musk's ownership of the platform, with a plan to transform the company back into being privately held, is "dangerous for our democracy." Musk, a known provocateur, shared in a recent tweet that "For Twitter to deserve public trust, it must be politically neutral, which effectively means upsetting the far right and the far left equally."
What has been compelling to track are the people and accounts who are "voting" for or against the Musk Twitter acquisition with their digital footprints. A mass exodus resulting in the deactivation of possibly millions of accounts from Twitter took place in the days after Musk's acquisition was announced. Concurrently, some accounts saw their user base swell in numbers. Twitter (while acknowledging that account fluctuations have taken place) refuses to release the data on account growth and deactivations.
It is doubtful that we will ever understand Musk's intention for acquiring Twitter. Relative to other highly trafficked social media platforms such as Meta (which owns Facebook and Instagram), YouTube, Pinterest, and LinkedIn, Twitter's active daily usage accounts are small and niche at approximately 206–330 million a day (in comparison to Meta's approximately 2.9 billion daily users). One could eloquently argue that Twitter's real influence stems more from corporate media along with GenX and Boomer celebrities signaling its importance, rather than from any actual capacity to shape societal outcomes.
We know that BIPOC adoption of all social media sites (especially among Black and Hispanic individuals) continues to steadily increase annually—with these groups indicating that they use social media as a political outlet. #BlackTwitter is a real and quantifiable phenomenon with traceable social impact since 2014.
But as I comb the internet for information on how Musk's Twitter acquisition may impact BIPOC use of the social media site for information gathering, sharing, and impact, I find little to no timely iterations on this essential point.
The tradition of Toward Inclusive Excellence is to implore academics to rise to the challenges of today with action-oriented elements by applying a DEIA lens. This post falls squarely within this framework by leveling this topic as a call to action. The implications of Elon Musk's acquisition of Twitter must be examined for how it may reshape diversity-centered discourse, BIPOC site usage, and the reception of non-Western culture scholars and scholarship. Scholars engaging in this research (paywalled) must be supported with more resources and general encouragement.
I completely understand and support the decampment from social media, especially if the site no longer aligns with one's principles and standards. But, with each social media decampment decision comes the reality that we will leave many BIPOC people behind. Given the critical nature of the times and the information-seeking patterns of BIPOC social media users, we in higher education must do more than simply lament the rising "techno-archy."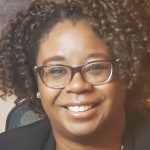 About the author:
Alexia Hudson-Ward is Associate Director of Research and Learning, Massachusetts Institute of Technology (MIT) Libraries.
Sign up for Toward Inclusive Excellence (TIE) new post notifications and updates.
Interested in contributing to TIE? Send an email to Deb V. at Choice dvillavicencio@ala-choice.org with your topic idea.
---
TIE gratefully acknowledges underwriting support from Springer Nature.
At Springer Nature, our mission is to open doors to discovery, enabling millions of researchers, educators, clinicians and other professionals to access, trust and make sense of the latest insights so together we can improve and enrich lives and help to protect our planet for future generations. We believe that diversity, equity and inclusion are essential to achieving this mission.
---
Header image is a detail of This is Harlem by Jacob Lawrence. Courtesy of Hirshhorn Museum and Sculpture Garden. © 2021 The Jacob and Gwendolyn Knight Lawrence Foundation, Seattle / Artists Rights Society (ARS), New York. For more information, click here.
Related Posts