Don't Worry About Losing #BlackTwitter. It Has "Ancestry" and Will Have "Descendants"
Posted on November 17, 2022 in Blog Posts
If I had five dollars for every tweet and social media posting lamenting the departure of Black people from Twitter, I am convinced I could underwrite some of the quarterly operational costs for Toward Inclusive Excellence. The messages took me off guard because we all knew this day was coming. In a post earlier this year, I predicted that that Elon Musk's acquisition of the financially troubled Twitter had the potential to reshape #BlackTwitter.
My prediction was based on the fact that privileged people often rue the loss of "free speech" but are rarely on the receiving side of psychologically damaging verbal and written attacks. Within days of Musk's acquisition of Twitter, there was an alarming 500 percent increase in use of the N-word according to analysis from The Center for Countering Digital Hate, via the Washington Post (paywalled). I can speak to this horrific circumstance personally. Despite my filters and blockers, I received an extremely vulgar sexual harassment message on Twitter—something I had not encountered in almost seven years. Many site users saw the message and partnered with me to get the account banned.
The harassment I encountered, and that possibly thousands of other users have encountered, is one example of how quickly Twitter appears to be circling the proverbial drain. Scores of key staff people were laid off and took to Twitter to tell users goodbye—only to receive letters stating that some of their layoffs had been a mistake. Musk himself elected to endorse a political party for the midterm elections despite previous statements of neutrality. The blue check mark account verification system for celebrities, politicians, high-profile intellectuals, media members, and thought leaders quickly became unreliable and was cheapened by Musk. When the billionaire posted that the previously free verification would now cost $8 per month, some fraudsters jumped on the opportunity immediately. A fake Eli Lilly account caused a major stock plunge, and an account named "Jesus Christ" was officially verified without any indicators that it is a parody.
These circumstances—increased racial harassment and fake verified accounts—coupled with a sharp decline in user accounts indicate an uncertain future for the #BlackTwitter phenomenon. Seemingly out of fear, frustration, and concerns, the #BlackTwitter hashtag was trending on Twitter for at least three consecutive weeks. It has been interesting to track tweets from some prominent white scholars, writers, and leaders imploring "Black Twitter" to stay on Twitter and to "fight" (whatever that means).
There is a lot wrong with self-identified white people asking Black people to remain on Twitter for some white people's enrichment and knowledge. Those urging #BlackTwitter to stay on the app understand that the interface has reverted to allowing more racial harassment (paywalled). Yet, I have not seen one commitment made from any of these people to advocate for meaningful change to ensure #BlackTwitter's participants are protected.
Please understand my point.
Cross-cultural enrichment is essential to increase our collective understanding and action toward inclusive excellence (pun intended). However, enrichment for one group must not sacrifice the safety of another group. This should never be a suggestion.
I want to alleviate some people's concerns about the future of any Black-specific digital discourse with an essential point—#BlackTwitter has an "ancestor" and will have "descendants."
BlackPlanet.com is one of the oldest continuing social media platforms and, in my mind, ranks as the "ancestor" of #BlackTwitter (and several other social media sites). Launched in 2001 by Omar Wasow, now an assistant professor of political science at UC Berkeley, BlackPlanet.com predates Friendster, MySpace, and Facebook. BlackPlanet is owned by Urban One and recently tweeted an invitation to #BlackTwitter to rejoin the site.
Given that Black identity is often linked to persistent identity-focused social media usage (paywalled), there are arguably millions of Black people who desire digital connection to each other and are committed to amplifying Black issues on social media. What is now known as #BlackTwitter will transition to another social media site. We can look to Facebook for this example as it was, at one time, the highest utilized social media site among Black people. Now on the decline, Meta (Facebook's parent company) recently announced layoffs.
To keep up with these changing paradigms and shifting priorities in internet use, higher education must support more research regarding BIPOC social media usage. More research on this topic will better inform emerging and evolving definitions of BIPOC advocacy, activism, community, and social impact.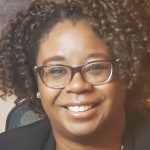 About the author:
Alexia Hudson-Ward is Associate Director of Research and Learning, Massachusetts Institute of Technology (MIT) Libraries.
Sign up for Toward Inclusive Excellence (TIE) new post notifications and updates.
Interested in contributing to TIE? Send an email to Deb V. at Choice dvillavicencio@ala-choice.org with your topic idea.
---
Other Toward Inclusive Excellence blog posts you may enjoy:
---
Header image is a detail of This is Harlem by Jacob Lawrence. Courtesy of Hirshhorn Museum and Sculpture Garden. © 2021 The Jacob and Gwendolyn Knight Lawrence Foundation, Seattle / Artists Rights Society (ARS), New York. For more information, click here.
Related Posts