Does the Supreme Court Affirmative Action Ruling Sweep Away Higher Education's "Personhood" Rights to Self-Determine Its Admissions "Destiny"?
Posted on June 30, 2023 in Blog Posts
**Disclaimer: The opinions expressed in this piece are the author's own and do not represent MIT Libraries or ACRL.**
The United States seemed to be holding its collective breath while awaiting the Supreme Court ruling on affirmative action in higher education. Given the ideological opinions of the majority of the justices, I do not believe that many people were surprised by the 6–3 ruling, which struck down race-conscious admission practices at the University of North Carolina and Harvard University as unconstitutional and illegal. By several accounts, this decision strikes a blow to institutional autonomy for higher education.
Chief Justice John G. Roberts, Jr., who wrote the majority opinion, outlined an interesting "both sides" argument (below) regarding the illegality of race-conscious admissions while also indicating that the Supreme Court does not prohibit an applicant's right to discuss how race affects one's life.
The Harvard and UNC admissions programs cannot be reconciled with the guarantees of the equal protection clause. Both programs lack sufficiently focused and measurable objectives warranting the use of race, unavoidably employ race in a negative manner, involve racial stereotyping, and lack meaningful endpoints. We have never permitted admissions programs to work in that way, and we will not do so today. At the same time, as all parties agree, nothing in this opinion should be construed as prohibiting universities from considering an applicant's discussion of how race affected his or her life, be it through discrimination, inspiration or otherwise.
The Supreme Court ruling aligns with the conclusions of a recent Pew Research poll on race-conscious admissions, which found that half of U.S. adults disapprove of race and ethnicity being used as an admission determinant. And yet, according to information submitted by Harvard University for this case, approximately forty percent (40%) of American colleges and universities use race-conscious admissions practices. What I have yet to come across are equivalent studies or polling about legacy admissions at American colleges—an equally divisive topic.
In her dissent, Justice Sonia Sotomayor wrote that "the devastating impact of this decision cannot be overstated. The majority's vision of race neutrality will entrench racial segregation in higher education because racial inequality will persist so long as it is ignored."
Justice Ketanji Brown Jackson wrote her own scathing dissent, noting that "The best that can be said of the majority's perspective is that it proceeds (ostrich-like) from the hope that preventing consideration of race will end racism. But if that is its motivation, the majority proceeds in vain. If the colleges of this country are required to ignore a thing that matters, it will not just go away. It will take longer for racism to leave us." She added that "with let-them-eat-cake obliviousness, today, the majority pulls the ripcord and announces 'colorblindness for all' by legal fiat."
I cannot help but stand in suspended animation as I watch the ongoing encroachment into educational leadership's decision-making within the current national political climate. I find it compelling that this political intrusion into reshaping the higher education landscape appears, to my understanding, to go against principles of corporate personhood, which are upheld by the law.
In other words, if a corporation has personhood rights according to the law, do those rights include self-determination? In the realm of international law, self-determination rights assert that a group has the agency to set forth a way of being that allows them to choose their destiny and enact policies that align with their beliefs. Given the concept of corporate personhood, are personhood clauses not also applicable to higher education institutions?
There will be much to unpack over the next several weeks and months regarding the impact of this ruling, and how it stands to compromise decades of efforts to achieve inclusive excellence within higher education.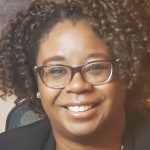 About the author:
Alexia Hudson-Ward is Associate Director of Research and Learning, Massachusetts Institute of Technology (MIT) Libraries.
Sign up for Toward Inclusive Excellence (TIE) new post notifications and updates.
Interested in contributing to TIE? Send an email to Deb V. at Choice dvillavicencio@ala-choice.org with your topic idea.
---
AM's digital collections and technology platforms enrich the study, research and teaching of primary sources. AM works with libraries, archives and heritage institutions to digitise the world's historical and cultural knowledge. With AM, customers can discover award-winning archival collections, learn how to use them, or create their own.
---
Header image is a detail of This is Harlem by Jacob Lawrence. Courtesy of Hirshhorn Museum and Sculpture Garden. © 2021 The Jacob and Gwendolyn Knight Lawrence Foundation, Seattle / Artists Rights Society (ARS), New York. For more information, click here.
Related Posts