Disinformation Compromises Fundamental Human Rights
Posted on September 7, 2023 in Blog Posts
For more than two decades, scholars have tracked and amplified the damaging influence of disinformation. We have seen its detrimental impact internationally with challenges to election results, climate change denialism, false characterizations of critical race theory, unprecedented book bannings, lies about prominent politicians' involvement in human trafficking, and scores of inaccurate claims about COVID-19 and its vaccines.
The most shocking incident to take place as a direct result of disinformation was the January 6, 2021, insurrection at the United States Capitol. This exceptionally violent melee resulted in five deaths and scores of injuries, as well as an estimated $2.7 billion in property damages, enhanced security measures and new policies enacted by federal agencies according to the Government Accountability Office. Some of those held responsible for their part in this deadly coup attempt are serving prison time while others await trials or sentencing.
How do we find ourselves within this infodemic? And who is to blame?
Partisanship is often viewed as the "oil" of disinformation's "engine." Yet, today's infodemic appears to have its origins in 2001, taking flight with the severe acute respiratory syndrome coronavirus 1 (referred to as SARS) outbreak of 2002–04.
Two horrific circumstances occurred in the United States in September 2001: the 9/11 terrorist attacks and the anthrax mailings. In the aftermath of the deadliest terrorist attack on American soil, public health resources were deployed to assist survivors and their families while a brokenhearted country tried to heal after 9/11. The government was thus unprepared to manage communications about another sinister attack on its citizens.
Days following the 9/11 attacks, anthrax was mailed to several news organizations; the offices of Senators Tom Daschle and Patrick Leahy; and detected in the mail of the United States Department of State, the Federal Reserve, and the Supreme Court. Some private citizens were poisoned from mail they received through the United States Postal Service. The anthrax mailings ultimately resulted in the deaths of five people, with seventeen being critically infected.
The government's decision to focus on rebuilding Americans' confidence in safety and security after 9/11 and the anthrax mailings meant the absence of data transparency and a sweeping expansion of executive power according to some scholars. This lack of transparency, coupled with the mass adoption of the internet and broader access to the so-called "information superhighway" through mobile devices, brought forth rumors that the United States was engaged in biological warfare with foreign enemies.
The timing of the SARS pandemic (approximately one year after the 9/11 attack and the anthrax mailings) helped fuel disinformation and distrust in the government. While several Western countries, including the United States, were primarily shielded from the damaging impact and death toll of SARS, the pandemic was in year two (2003) when a woman died from the disease in Canada. This death appeared to heighten concerns about growing viral vectors and spread within the United States and other countries. SARS-related fear gained traction with travel and conference cancellations to Canada. The American Library Association, citing data and scientific detail, issued a statement of intent to continue hosting its 2003 Annual Conference in Toronto while giving registrants the option to cancel. 
Fast forward twenty-two years, the chaos of disinformation continues to infiltrate many people's homes and minds, despite international focus on best practices to address it. The adoption of easy-to-use, unregulated social media platforms like Facebook and X (formerly known as Twitter) by millions of people has resulted in massive distribution of disinformation. Some of this distribution was orchestrated to shape political outcomes, while other sharing is purely generated by people seeking to spread what they believe to be accurate information. However, disinformation's consequences have proven deadly.
Much of the world's attention is on how artificial intelligence (AI) will reshape human existence and work. Yet, very little discourse situates AI's role in spreading disinformation that compromises human dignity, emotional peace, and democracy. Additionally, disinformation's impact on law, ethics, research, librarianship, information science, journalism, and social justice activism infringes on one's ability to live an existence informed by fact and not fury.
It is time for higher education to address disinformation as a human rights issue. Pursuing a critical disinformation studies imperative through a human rights framework (paywalled) has great potential to further humanize this complex issue.
There are devastating consequences to ignoring the continued traction of disinformation. Those consequences are far too great for higher education not to enact new truth-telling strategies grounded in research-driven insights that will educate and inform our communities. We must commit to combatting all forms of disinformation as our lives and collective well-being depend on it.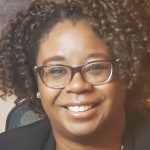 About the author:
Alexia Hudson-Ward is Associate Director of Research and Learning, Massachusetts Institute of Technology (MIT) Libraries.
Sign up for Toward Inclusive Excellence (TIE) new post notifications and updates.
Interested in contributing to TIE? Send an email to Deb V. at Choice dvillavicencio@ala-choice.org with your topic idea.
---
United Nations Publications promotes the work and knowledge of the United Nations through marketing, sales, and distribution of publications, data, and merchandise.
---
Header image is a detail of This is Harlem by Jacob Lawrence. Courtesy of Hirshhorn Museum and Sculpture Garden. © 2021 The Jacob and Gwendolyn Knight Lawrence Foundation, Seattle / Artists Rights Society (ARS), New York. For more information, click here.
Related Posts