Diminishing BIPOCs' Opinions Is Common Practice among Many White People
Posted on May 5, 2022 in Blog Posts
Each time I prepare to write for TIE, some doozy of a news story pops up that completely changes my well-outlined plans. At some point, I would love a break from the craziness. Its persistent intensity is a lot for those of us committed to DEIA. But I would be remiss if I did not address timely matters of concern and urge higher education to thoughtfully and strategically leverage its capacity to serve the common good.
This week, the leaked Roe v. Wade Supreme Court draft ruling had the entire internet riled up. The revelation that the Supreme Court is entertaining the reversal of five decades of federally protected rights shocked many abortion-rights advocates and those who believe in a woman's right to choose what to do with her body.
However, one demographic on the internet was not surprised by the course reversal—many BIPOCs. Adding another critical point to the social media discourse, several BIPOCs noted that the majority culture has ignored their warning signals about encroachments on personal freedom and rights. This key point merits further exploration.
The different reactions to the potential Roe v. Wade reversal made me reflect on the banter between Black and white people during the 2015–2016 U.S. presidential election cycle (paywalled). The data show a sharp divide between these two groups. While more than 95 percent of Black women voted for former Secretary of State and First Lady Hillary Clinton, by contrast, more than 50 percent of white women voted for former President Donald Trump. The pattern remained largely unchanged during the 2020 U.S. presidential election cycle.
Organizations such as the NAACP and the African American Policy Forum, and multiple scholars across various disciplines hosted conferences, symposia, meet-ups, and various live events on different social media sites to highlight the existential threat to democracy looming in the United States for several years. Rather than leaning into these discussions, it appeared that many white people elected to opt-out. Moreover, several BIPOCs indicated that they have been referred to as "overly dramatic" and "alarmist" by white people (paywalled). This is a relatively common experience for many BIPOCs, especially BIPOC women.
The academy has not explored with any degree of corrective intentionality why white people are comfortable diminishing BIPOCs' lived experiences and opinions (paywalled). The pattern that many white people (from all ideological backgrounds) engage in with BIPOCs goes as follows:
My cycle-model of deny-diminish-dismiss-devalue is a conceptual framework for anti-racism practices based on scores of multi-discipline literature. It is time to call a thing, a thing, and the "thing" is the persistence of white people's dismissiveness of BIPOC people. Higher education must support more research and exploration of the multi-tiered phenomena of white dismissiveness. It is also critical to address the harmful systemic practices that inhibit our ability to grow as a nation, as individuals, and as professional colleagues. By doing so, insights can be catalyzed into meaningful action beyond expending precious emotional energy on the week's trauma.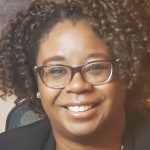 About the author:
Alexia Hudson-Ward is Associate Director of Research and Learning, Massachusetts Institute of Technology (MIT) Libraries.
Sign up for Toward Inclusive Excellence (TIE) new post notifications and updates.
Interested in contributing to TIE? Send an email to Deb V. at Choice dvillavicencio@ala-choice.org with your topic idea.
---
TIE gratefully acknowledges underwriting support from Accessible Archives.
Accessible Archives databases are comprised of diverse 18th, 19th, and early 20th century American history primary source content, including newspapers, periodicals, and books. The collections are used by universities, historical societies, middle/secondary schools, individuals, and research libraries throughout the world and include eyewitness accounts of historical events, vivid descriptions of daily life, editorial observations, commerce as seen through advertisements, and genealogical records available in a user-friendly digital interface. Collections include African American Newspapers, American County Histories, Women's Suffrage, America and World War I, the Civil War, Colonial Era newspapers, Frank Leslie's Weekly, Godey's Lady's Book and more. Unlimited Priorities LLC® is the exclusive sales, marketing, customer service, product, and technology agent for Accessible Archives.
---
Header image is a detail of This is Harlem by Jacob Lawrence. Courtesy of Hirshhorn Museum and Sculpture Garden. © 2021 The Jacob and Gwendolyn Knight Lawrence Foundation, Seattle / Artists Rights Society (ARS), New York. For more information, click here.
Related Posts