Celebrating Black History Month with Noteworthy TIE Content
Part One
Posted on February 14, 2023 in Blog Posts
In honor of Black History Month, the Toward Inclusive Excellence (TIE) team has pulled together some of our most relevant and poignant pieces that explore the intricacies of what it means to be Black in the United States. We hope that this collection can serve as a useful resource for all looking to learn more this Black History Month.
Featured Review
By Kevin Anderson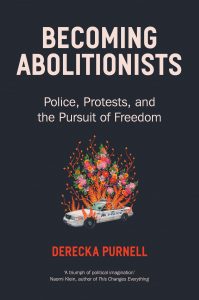 How do Americans create a secure, equal society in which citizens can be protected from crime, violence, and the other negative aspects of life? Purnell, a human rights lawyer, writer, and organizer who earned her JD from Harvard Law School, asks this much larger question in Becoming Abolitionists. She begins with an analysis of policing in minority communities and the rise of Black Lives Matter as a modern political movement before pushing the conversation further into a thought-provoking, nuanced argument for a new society. In service to her argument, she explores and elevates all elements of life—housing, education, good jobs, mental and physical health care, and economic empowerment—as essential to peace in the twenty-first century.
---
Interviews and Podcasts
TIE's Editor in Chief Alexia Hudson-Ward conducted a compelling interview with retired Harvard Business School Professor Steven S. Rogers to discuss his new book, A Letter to My White Friends and Colleagues (2021). Their timely discussion last week (given President Biden's June 1st speech announcing his plan to narrow the racial wealth gap) covered peer educational strategies, the systemic roots of the Black-white wealth gap, "Black Wall Street," and what white people can do now to support the Black community. Rogers will join TIE later this summer for our Summer Session podcast to discuss reparations for Black people in the US. This interview was edited.
---
The TIE Podcast series rolls on with our latest Fall Session episode: A Conversation with Martha S. Jones, author of Vanguard: How Black Women Broke Barriers, Won the Vote, and Insisted on Equality for All (Basic Books, 2020).
In this episode, TIE editor in chief Alexia Hudson-Ward speaks with Dr. Jones about her critically acclaimed book. Dr. Jones talks about voter rights and voter suppression efforts as companion stories in the US. She also recounts her experience of having her book banned by a Louisiana public library board. (Here's ALA's response.)
---
The arrival of fall heralds a return to college and university campuses for students, faculty, and staff across the United States and with that comes the recognition of these institutions' vast urban reach. While institutions of higher learning are often bastions of positive change and innovations, the "entangled" relationship between urban life and higher education also nets more complicated outcomes for urban dwellers, which TIE's latest Fall Semester podcast explores. In this episode, TIE Editor in Chief Alexia Hudson-Ward sits down with Dr. Davarian L. Baldwin, a leading urbanist, historian, and cultural critic, to discuss how this relationship impacts city residents who live in the shadows of these ivory towers.
---
Blog posts
The past few weeks have been exceptionally intense for many of us in higher education. While working and taking care of families through the pandemic, many of us also tuned into the murder trial of former police officer Derek Chauvin. His brazenly public murder of George Floyd in Minneapolis, Minnesota, on May 25, 2020 (recorded by a 17-year-old bystander who posted the video on Facebook) is credited with transforming Black Lives Matter into an international movement. Almost a year later, Chauvin was convicted on second-and third-degree murder and manslaughter charges on April 20, 2021.
---
Our latest higher education-centered saga involves the recent tenure denial of the prominent Black, award-winning journalist and lead writer for The 1619 Project, Nikole Hannah-Jones. Her denial follows the tenure denial of Cornel West, resulting in his transition from Harvard University to Union Theological Seminary. The Jones and West denial cases are part of an alarming, multi-year pattern of tenure denials to people of color chronicled in news articles and via the Twitter hashtag #BlackInTheIvory.
---
One of my hobbies is watching reality TV shows that orchestrate frivolous drama and highlight emerging talent.
I know, I know.
There are many reasons why I should not watch these shows, but I do. I enjoy the artistic creativity and fashions that are frequently on display. Plus, as a child of the 1970s, I grew up watching soap operas with my late grandmother (she referred to them as "the stories").
I recall asking my grandmother why she was so committed to watching these programs and she shared something that stuck with me. "Child," she started, "life is hard on us as Black people and there is rarely any good news shared on the news. I like the escapism of my stories. It lets my mind rest on something fun and gives me and the ladies something light to talk about while we play pinochle."
---
Several Olympic athletes have willingly discussed their mental health challenges recently, bringing this critical topic to the forefront of discussion. What is compelling to me is that the people leading the charge to raise awareness and encouraging vital conversations about mental health are women of color: Sha'carri Richardson, Naomi Osaka, and Simone Biles.
What is not surprising, yet aggravating to me nonetheless, is the outrageous criticism these women have received, primarily from non-athletic white men.
---
WARNING: Please be advised that some of the details in this story may evoke an emotionally triggering effect on some readers.
As the US grapples with the ongoing COVID-19 crisis, I have watched #AcademicTwitter weigh into the digital discourse about vaccine hesitancy and other public health mandates. From my perspective, the statements and exchanges have been more judgmental than instructive toward those electing not to take the COVID-19 vaccine.
Some exchanges have digressed into frustration. Higher education faculty and staff are worried. They are concerned about themselves, each other, and their families.
---
Recently, I was on Martha's Vineyard for a much-needed weekend retreat with friends. After the Labor Day holiday, visiting the island is a good time to explore and enjoy the island without the large crowds. The idea of being on a small island with more than 200,000 people in August was not anything I was interested in this year, given the ongoing COVID pandemic crisis.
---
This week, the US mourned the unexpected death of General Colin Powell from COVID-19 complications. Not surprisingly, scores of individuals took the occasion of his death to reflect upon his professional and personal legacy. While some chose to elevate General Powell's life as a shining example of excellence, others elected to pursue a more critical route—listing a series of complications with honoring him given his role in spreading misinformation about Iraq (paywalled), which helped launch the subsequent war against that nation.
---
*Special Note: Alexia Hudson-Ward is a member of Alpha Kappa Alpha Sorority, Incorporated. This post focuses on the matter of honoring Black women content creators and cultural heritage stewards.
Last weekend, HBO's Insecure kicked off its fifth and final season in exuberant fashion. For months, fans of the show bantered with the show's creator and producer, Issa Rae, about the fate of some of the characters and their relationships. The celebratory moment of concluding one of the most influential shows ever produced was dampened, however, by a Twitter firestorm that raged so fiercely that actress Amanda Seales, executive producer Melina Matsoukas, and Rae weighed in with various opinions on social media.
---
Social media was aflutter this week with reactions to several elections throughout the nation. While celebrations erupted about the historic ascension of BIPOC mayor-elects in Boston, Pittsburgh, Cincinnati, and Cleveland, America's attention was on the Virginia governor race. Glenn Youngkin (R), who doubled down on false anti-critical race theory rhetoric, claimed victory in a close race. For some scholars, this shift in the electorate signals a shift back to retrenchment on racial reform efforts.
---
Supreme Court nominee Judge Ketanji Brown Jackson is an award-winning jurist and attorney who has worked as a public defender and in private practice. Her professional credentials are stellar. She is the proverbial American dream personified, having attended public school in Miami, Florida, and later graduating magna cum laude from Harvard University. She went on to attend Harvard Law School, where she graduated cum laude and was an editor of the Harvard Law Review.
---
Social media has been aflutter with the news of billionaire Elon Musk's potential acquisition of Twitter for $44 billion. Reactions to this news were mixed, with what appears to be a divide based on political ideologies within the United States.
Individuals and entities who self-identify as "Republican" or "Conservative" gleefully celebrated the news as a welcome return for "free speech." Self-described "Liberals" and "Independents" were less excited. Several individuals expressed concerns about growing technocratic control of outlets from which many Americans receive their news, given Jeff Bezos's ownership of The Washington Post and Mark Zuckerberg's ownership of Facebook.
---
Sign up for Toward Inclusive Excellence (TIE) new post notifications and updates.
Interested in contributing to TIE? Send an email to Deb V. at Choice dvillavicencio@ala-choice.org with your topic idea.
---
Header image is a detail of This is Harlem by Jacob Lawrence. Courtesy of Hirshhorn Museum and Sculpture Garden. © 2021 The Jacob and Gwendolyn Knight Lawrence Foundation, Seattle / Artists Rights Society (ARS), New York. For more information, click here.
Related Posts