Billionaire Women Are Advancing Diversity-Centered Philanthropy in the Second Gilded Age
Posted on March 2, 2022 in Blog Posts
I have spent the past several weeks engulfed in HBO's popular new series, The Gilded Age. With glittering costumes and opulence, the show brings all the soapy drama reminiscent of the 1980s "nighttime soap operas" like Dynasty and Dallas. I enjoy researching the historical detail and the principal characters (or the individuals that inspired them). The cast includes Broadway theater and television favorites such as 15-time Emmy Award nominee Christine Baranski, six-time Tony Award winner Audra McDonald, Emmy and Tony Award nominee Carrie Coon, and two-time Emmy and Tony Award winner Cynthia Nixon.
The show's release hits at a time when a diversion from the world's difficulties is in order.
I am not ashamed to share that I am all in.
In addition to the stunning costume design, I am also struck by how the show situates the narrative of women and the rise of America's Black professional class as central themes. Erica Armstrong Dunbar, Charles and Mary Beard Distinguished Professor of History at Rutgers University and a co-executive producer on the show, is to be credited for elevating the frequently overlooked stories of women's philanthropic leadership and Black professionals during an era in which the dominant figures were all white men. Dunbar's revisitation and revitalization of the historical text and its figures for a cable television program is an excellent example of public history to be replicated in future generations.
Despite enjoying The Gilded Age, I have very mixed sentiments about the billionaire class (centered in the show), like many of you. On the one hand, I believe people should absolutely enjoy the fruits of their hard labor, innovative services, and products. On the other hand, their wealth and privilege are often gained at the cost of workers' rights and fair pricing. In the United States, the wealthy pay a tiny tax percent, which is exceptionally unfair.
Recently, I have come across some thought pieces and emerging research that juxtapose the modern rise of oligarchs, vast income inequality, high inflation, and the rising cost of living with the Gilded Age of roughly 1870 to 1900. Some scholars question if we are living in the Second Gilded Age (a historical interrogation being revisited due to the HBO show).
The matter of whether today is the Gilded Age 2.0 is not a question in my mind, especially when viewing the social media feeds of billionaires Jeff Bezos, Mark Zuckerberg, and David Geffen. Yet, there is a different nuance to this Gilded Age. Five women billionaires in the United States (Sheila Johnson, Melinda French Gates, MacKenzie Scott, Oprah Winfrey, and Laurene Powell Jobs) appear to use their wealth to shape philanthropic activities aligned with social justice efforts. This diverse set of self-made billionaires defines themselves on their terms, not vis-à-vis their partners or ex-spouses.
These women of the Gilded Age 2.0 are markedly different from the original Gilded Age luminaries. Unlike their late-19th-century counterparts, new Gilded Age philanthropists did not acquire their wealth through slavery, family participation in early opium smuggling, or the absence of regulatory standards in the United States. Like their female counterparts from the 19th century, though, new Gilded Age philanthropists place their imprints on education, cultural heritage organizations, and feminism activities (paywalled). These women are making transformational financial gifts to Historically Black Colleges and Universities (HBCUs), promoting the need to diversify the C-suite and the cultural heritage sector, funding digital initiatives to promote Black women leaders in the suffrage movement, contributing to the Smithsonian African American History and Culture, and investing in efforts to address the climate crisis.
More examination of the contributions of new and past Gilded Age women philanthropists is overdue as a cross-disciplinary endeavor. It is critical to conduct ongoing study and data collection to determine the long-range impact of these women's efforts on American and international culture.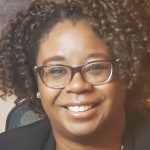 About the author:
Alexia Hudson-Ward is Associate Director of Research and Learning, Massachusetts Institute of Technology (MIT) Libraries.
Sign up for Toward Inclusive Excellence (TIE) new post notifications and updates.
Interested in contributing to TIE? Send an email to Deb V. at Choice dvillavicencio@ala-choice.org with your topic idea.
---
We gratefully acknowledge underwriting support from Rowman & Littlefield.
Rowman & Littlefield publishes high-quality college texts, entertaining and informative books for general readers, and professional and scholarly books in the humanities and social sciences.
---
Header image is a detail of This is Harlem by Jacob Lawrence. Courtesy of Hirshhorn Museum and Sculpture Garden. © 2021 The Jacob and Gwendolyn Knight Lawrence Foundation, Seattle / Artists Rights Society (ARS), New York. For more information, click here.
Related Posts