Addressing Academia's Hidden Curriculum of Unspoken "Norms"
Posted on April 6, 2021 in Blog Posts
It has been interesting and rather heartbreaking to read digital discourse over the past several months regarding diversity-centered disagreements between colleagues in the academy concerning what constitutes "norms." It is interesting to observe because most DEIA-related conversations intrigue me. Yet, it is painful to see relationships and trust between colleagues damaged over these matters.
In the past several years, I have witnessed reputational losses and broken relationships over uncommunicated cultural "norms." This has happened in the academy and within entities that I describe as academy-adjacent (entities that are primarily populated and managed by volunteer leaders from higher education, such as professional associations and communities of practice). Sometimes these disagreements bubble up outside of workplaces, conferences, and symposia and spill over onto social media.
Among the most significant uncommunicated cultural "norms" we keep tripping over in academia are professionalism standards. Having reviewed scores of organizational policies and procedures while writing this piece, I noticed that professionalism is rarely described or operationalized as an institutional or organizational policy for faculty and staff. Rather, professionalism as a concept appears to broadly present itself in "Code of Conduct" standards for graduate students. Institutions also seem to delineate "professionalism" from "professional standards" and probably for good reasons.
Professional standards are understood as the basic policies and principles that are considered normative in any workplace and within any employee group, such as established working hours and required meeting attendance. Professionalism is a whole other tangled ball of yarn. Professionalism as a concept has a complicated history rooted in Western traditions of sociability, respectability, and social stratification. Scholars across multiple disciplines generally view professionalism as a set of behaviors assigned to the "credential society" (a class of individuals with advanced degrees, certifications, and/or managerial titles).
This so-called credential society (like many societies) is inundated with unspoken rules. Individuals not bought up in these ways frequently find themselves labeled as difficult, disruptive, not a team player, individualistic, or cloistered, for enacting behavior supposedly unbecoming to the profession. Lack of knowledge on how to successfully navigate the tricky terrain of the credential society within academia can bring once-promising careers to a swift halt.
There are so many mind-boggling examples of damaging uncommunicated professionalism "norms" in the academy. One case I am following with great interest is that of a University of Tennessee graduate student who was temporarily expelled for posting rap lyrics and her cleavage on her personal social media accounts in celebration of Black women's sexuality. The student's lawsuit points out that students are held to standards that are not documented institutional policy, according to which her postings were labeled "crude" and "vulgar."
Within the past few months, at least three self-described groups on Twitter (humanities faculty, diversity practitioners, and librarians/library workers) deliberated the use of profanity in professional settings, which has been a powder-keg topic for decades. There are opinion pieces and research (paywalled) on whether or not one should engage in such practice. In a few situations, individuals communicated on social media that they were held to hidden professionalism standards when they were criticized or otherwise penalized for profanity usage in professional settings.
This is unfair. Everyone deserves to have fair and reasonable expectations for engagement and those expectations should be made very clear to avoid confusion and hurt as much as possible.
The academy and academy-adjacent entities are notorious for their inability to inform faculty and staff about ever-evolving cultural and organizational expectations. The only notable exception that comes to mind are divisions that develop college success courses and seminars for first-generation and lower-income students. These divisions (frequently housed in student life or student affairs) have created "hidden curriculum" sessions to teach disadvantaged students how to understand and maximize campus resources like career services and office hours with faculty. This approach to thinking about the many unspoken "norms" as a systematized curriculum, which one can learn to negotiate with some guidance, seems effective.
Authors William H. Bergquist and Kenneth Pawlak took one of the most admirable cracks at attempting to decode the academy for faculty, administrators, and staff in their seminal work Engaging the Six Cultures of the Academy (2008). The authors make "containing" and "reducing" anxiety a central goal of their work by outlining "cultural polarities" within academia. It is a worthwhile read for those interested in organizational culture and psychology.
Some TIE readers, who rightfully want to immediately dismantle all vestiges of white supremacy and heteronormative practices in the academy, could care less about how to negotiate academia's hidden curriculum successfully. They want all of the ugliness gone yesterday.
I completely understand this feeling.
Yet, if we agree that the academy's issues are systemic, with uncommunicated cultural "norms" being one of many matters to tackle, our approaches to successfully addressing these circumstances may need to be sweeping and incremental.
I believe we can start by identifying the uncommunicated cultural "norms" enacted by academia's credential society as highly deleterious—full stop. Very few people benefit from opaque expectations in professional settings. Instead, gather some trusted colleagues and brainstorm how to level the proverbial playing field and how to garner support in your efforts.
Let us stop capriciously and arbitrarily throwing around phrases like "this is a safe space" in professional settings when those in power really mean "it is a safe space for those norms that I/people like me agree with." Now is the time for people in positions of power to be frank about how committed they are to DEIA.
Individuals seeking to participate in professional associations or in the job market should feel comfortable asking conference convenors and employers about cultural norms, and asking for assistance in navigating organizational landmines. Cultural shifts in higher education happen at a quick turn and often come with changes in leadership. We must all be prepared to frequently ask for expectations to be clearly outlined.
Those in power must summon the courage to acknowledge and address uncommunicated cultural "norms" by creating transparent and fair policies. Policy work is not always fun or out-front, but it certainly aids in advancing DEIA efforts in the workplace and in professional associations. People in power positions must also brace for impact when uncommunicated cultural "norms" are disrupted and not allow themselves to fall susceptible to what I call complaint choirs who function as morality arbiters.
We have a long, winding road ahead of us in dismantling academia's hidden curriculum for staff and faculty. It will only happen through our commitment to endure massive growing pains inherent to any significant societal shift and to produce new systems that center true diversity, equity, and inclusion—not just the parts of DEIA that we personally like best.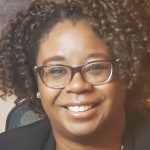 About the author:
Alexia Hudson-Ward is Associate Director of Research and Learning, Massachusetts Institute of Technology (MIT) Libraries.
Sign up for Toward Inclusive Excellence (TIE) new post notifications and updates.
Interested in contributing to TIE? Send an email to Deb V. at Choice dvillavicencio@ala-choice.org with your topic idea.
---
Header image is a detail of This is Harlem by Jacob Lawrence. Courtesy of Hirshhorn Museum and Sculpture Garden. © 2021 The Jacob and Gwendolyn Knight Lawrence Foundation, Seattle / Artists Rights Society (ARS), New York. For more information, click here.
Related Posts