Dr. Sarah Derbew on Untangling Blackness in Greek Antiquity
Recorded on 02/13/2023
Posted in The Authority File
Episode 301
As librarians, faculty, and researchers look to diversify their collections and curricula, the Classics provide unique challenges. Centered on ancient Greek and Roman civilizations, the discipline has diminished other ancient studies, often highlighting Greek and Roman entanglements with Egypt, but sidelining additional groups or contributions in Africa. Fortunately, Classicists today are looking beyond traditional modes of study to broaden and modernize the subject. Strategies include focusing on marginalized or ignored perspectives, and incorporating an ethics of care and anti-racist lens to shed new light on the past and today.
In this two-part series, Dr. Sarah Derbew, assistant professor of Classics at Stanford University, joins the program to discuss the future of Classical Studies and her book, Untangling Blackness in Greek Antiquity. The title works to separate ancient and modern depictions of Blackness, taking care to demonstrate how a modern understanding of race can lead to reductive and harmful categorizations of ancient people; modern, socially-constructed terms can't—and shouldn't—apply to those in the past. Despite this distinction, Sarah's fascinating work also manages to tie together the ancient and the present, acknowledging the interdisciplinary scholarship that has informed her research, and revealing nuanced connections between the Classics and Black Studies.
In this first episode, Sarah introduces us to her research area and provides an overview of her book. She explains why she differentiated between "black" (with a lowercase) and "Black" (with an uppercase) to dissuade readers from perceiving skin color in ancient times the same way we do today—removing the modern ramifications of race allows for new social markers to break through, such as clothing, language, accessories, and more. She also explains how framing her book as an anti-racist study informed her research, how Classicists have historically approached ancient depictions of Blackness, and why addressing a researcher's own experience and subjectivity creates a more rigorous and ethical work than falsely claiming objectivity.
---
About the guest: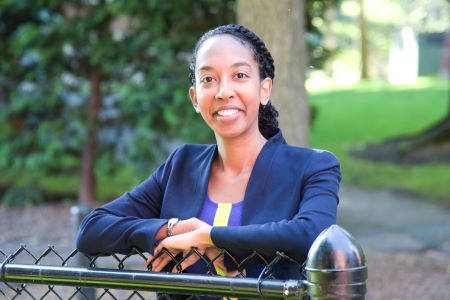 Sarah F. Derbew
Assistant Professor of Classics
Stanford University
Sarah Derbew is an Assistant Professor of Classics at Stanford University, where she is affiliated with the Center for Comparative Studies in Race and Ethnicity and the Center for African Studies. She received her PhD in Classics from Yale University and was a Junior Fellow at the Harvard Society of Fellows.
Her research focuses on the literary and artistic representations of black people in ancient Greece. She also examines artistic renderings of black people in Greek antiquity, focusing on both the objects themselves and the museums in which they are displayed. Her interests extend to the twenty-first century; she has written about the reception of Greco-Roman antiquity in Africa and the African diaspora.
She recently finished her first book, titled Untangling Blackness in Greek Antiquity (Cambridge University Press, 2022), in which she used critical race theory and performance theory to untangle ancient formulations of blackness. She is currently researching the intersections between Greek and African antiquity, focusing on northeast Africa; in addition, she is co-editing the forthcoming volume Classics and Race: A Historical Reader with Dr. Daniel Orrells and Dr. Phiroze Vasunia.
---
---
Missed an episode? We've got you covered:
Check out the Authority File Round-Up on our blog, Open Stacks!
Related Posts