Three Polling Applications to Consider for Your Instruction
Enhancing a proven way to improve student engagement
Posted on October 2, 2023 in Blog Posts
When every student in your classroom has an almost endless capacity for distraction, a library educator must be prepared to use every tool at their disposal to capture each learner's attention. In the article "3 Ways to Keep Your Audience Focused During a Presentation," Matt Abrahams speaks to the value of polling as a "triple-whammy of activity" because it engages people physically, mentally, and linguistically all at once. How so? They engage thrice by contemplating a response to an open-ended question, articulating a response, and then typing that answer.
Research supports the value of student audience response systems. A systematic review published in 2020 found that across six dimensions (engagement, interaction, anonymity, questioning, instant feedback, technological benefits), the outcome of 20 studies supported that using student response, or polling, systems improves or enhances student learning.
Anecdotally, instructors who use this education technology point to various ways that polling enhances the classroom learning experience:
Empowers all students to anonymously respond to questions by removing the fear of giving wrong answers;
Increases student participation, engagement, and learning;
Provides instructors with immediate feedback that informs the extent to which students are comprehending and internalizing course content;
Integrates polling into web-based slide presentations for ease of use;
Connects polling responses to a learning management system, where possible, to track aggregate student success.
In 2021, my institution created a polling application evaluation team to identify a single supported application to offer campus wide. Given the number of options, it was no easy task. Two applications rose to the top of our ranking, Poll Everywhere (PE) and Mentimeter (MM). This initiative provided me the opportunity to participate in the pilot tests, enabling me to dive deep into each application. While Slido (SL) failed to make our final cut, I lobbied vigorously to include it owing to its ease of use and well-designed integration with slide presentation applications.
In this article, I'll profile these three popular polling applications available to librarians and those whose instruction they support. I focus on applications whose primary function is polling, work best on smartphones, and also facilitate web-based, slide integration. If your institution has yet to offer an institutionally supported, campus-wide polling solution for instructors, your library might take the lead in promoting the benefits of adding a polling application to existing supported software.
Mac–Windows Analogy
In the 2000s, Apple Computer developed a clever marketing campaign known as "Get a Mac" to compare themselves, favorably of course, to Microsoft-powered personal computers. Two actors played the roles of the Mac and the PC. The difference between the two platforms was simple and glaringly obvious. PC, a guy in a business suit, was rules-bound, rigid, complex, completely lacking in spontaneity or creativity, and totally uncool. Mac, in complete contrast, was laidback, rules-averse, nonconformist, had simple solutions to problems, and always cool in demeanor. There are no polling guys, but when it comes to comparing the three applications, Figure 1 shows how I would position them using the Mac–PC spectrum.
Just as both PCs and Macs appeal to different people for different reasons, with their relative strengths and weaknesses, I find the same is true for these polling applications. MM is most like the Mac guy. In addition to taking a completely un-polling-like approach to its operation, it appeals to those who want to add creative flair to their polling and are less concerned about having access to numerous features. Keeping it simple works.
PE, in contrast, offers less in the way of creative polling, but there's no comparison when it comes to features, customizations, and doing a best-in-class job of supporting full-featured slide design in the web-integration space. If an application is going to offer more robust features and a steeper learning curve, it needs to have first-class support. PE does not disappoint when help is needed.
Then there is SL, and it falls somewhere between the two. It's got enough good features but is unlikely to overwhelm. It's not on par with MM when it comes to design creativity, but the two are more alike when it comes to learning curve and functionality.
Evaluators can get a better sense of all three when more closely examining their relative strengths and weakness.
---
🌟 Subscribe to the LibTech Insights newsletter for more great posts, including:
---
Poll Everywhere: Steeper learning curve but gives educators what they want
Whether or not PE is the optimal choice depends on the intended population. For individuals and small numbers of librarians, PE may be more than is needed for effective polling. If the goal is acquiring a campus-wide polling application or software for a substantial number of users, it has some distinct advantages:
Likely your institution, like my own, already has a good number of Poll Everywhere free account holders. Transitioning to a premium version would be a smoother experience than migrating to a completely new polling application.


Instructors tend to prefer a polling application that integrates into their existing course management software. Poll Everywhere does this better than most.


Poll Everywhere is best when it comes to integrating into Google Slides and both the PC and the Mac versions of PowerPoint.
Tutorial: Integrating PE with Google Slides
As I said, it's easy to integrate a PE account into your existing Google Slides account or PowerPoint software. Go to PE's site to add the Chrome extension to your browser. This adds a new tab to Google Slides, shown in Figure 2. Then use this new tab to log into PE. Now you are ready to start adding PE polls anywhere in your presentation. But as with all good things, moderation is best. Poll fatigue is a problem.
While it is possible to create polls directly in Google Slides, my recommendation is to create them on PE's website. It is easier to organize all your polls and use all the available features. Then, when creating your slide deck in Google, use the PE tab to simply insert your available polls where desired. For those new to web-integrated polling, simply go into slideshow mode (remember to log into PE), and when you get to your polls, they'll appear seamlessly to the audience, who can then participate on their phones, tablets, or computers. Poll Everywhere offers a conveniently placed QR code on the poll screen to allow those with phones to easily access the poll. Results appear in real time, and this works equally well for in-person and online presentations with Zoom or similar platforms.
Slido: Best in class for Google Slides integration
Though it caters more to a corporate audience, I've been using Slido for years owing to its seamless integration into Google Slides. What keeps me coming back, even with my institution offering PE, is the tight and simple integration between the two. If I need to whip up some basic polls fast, SL is my go-to option. When it's more important to have a greater range of question types from which to choose, then PE is the better choice.

PE's poll choice screen offers 20+ question, quiz, and activity types. SL presents only 6 types. Only PE offers a 2×2 Matrix poll which is excellent for taking your audience through a quick Eisenhower Quadrant exercise. On the surface, SL appears to be lacking the clickable image poll type, useful for testing the audience's knowledge with a graphic (e.g., show a graphic with three different citation formats and ask students to click on APA format). However, a search of SL's knowledge base does provide instructions for adding an image to one of their other poll types. This illustrates the importance of delving into the support documentation if you need more than basics, e.g., multiple choice, word clouds, and true/false poll types.
Here's what to like:
It has a slightly more limited range of polling question types but provides all the basics plus a gamification capability.


It has a reasonably priced education package that offers single-sign-on capability, Q&A moderation, and data analytics.


While Slido is great with Google Slides, it can also satisfy your PowerPoint users. However, for now, it only integrates into the Windows version (sorry, no Mac version).
Tutorial: Integrating Slido into Google Slides
Similar to PE, begin by following the instructions to install the SL add-on into the Chrome browser. As shown in Figure 3, this will add "Slido for Google Slides" to the Add-Ons menu. Click to open the SL sidebar, as shown in Figure 4.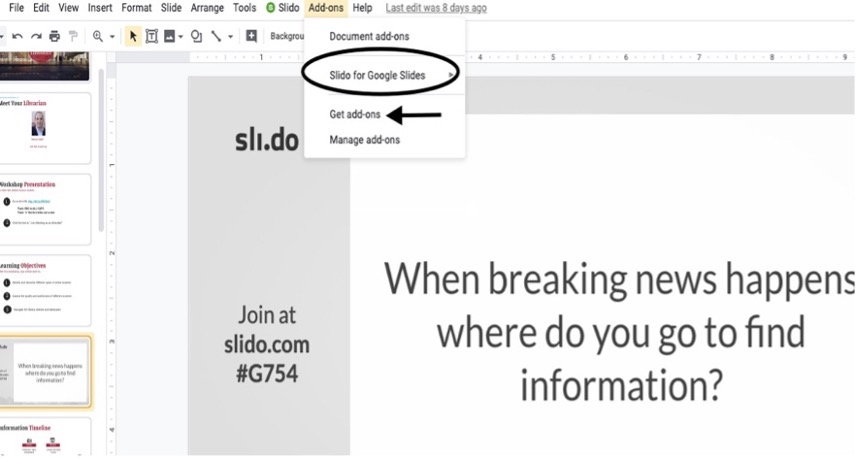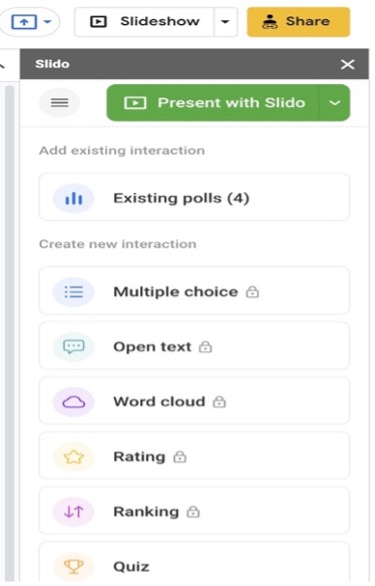 Because the sidebar is integrated into the Google Slides workspace, creating polls becomes as easy as adding the next slide to the deck. Like PE, the audience can be guided to polls with QR Codes.
Where I've found SL particularly useful is with on-the-fly polling. Let's say I'm teaching an instruction session and I want to obtain immediate feedback on whether students are understanding how to use the advanced search interface. I can ask if everyone thinks they can use the advanced search. The likely response is stares and head nods. Not so useful. Alternatively, I can create a new poll within 30 seconds that uses a multi-choice question to test students on their ability to differentiate basic and advanced search features.
I've also asked students to use the advanced and basic search for a specific topic, and then have them submit their optimally retrieved citation to an open-ended, short-answer poll.
MentiMeter: Combines polling and slides in one application
Despite my personal preference for PE and SL, I still enjoy being a participant when someone else is using MM. It's just fun. This is the application for unleashing your creativity, and poll responses display in novel ways. As shown in Figure 5, poll creators can have some fun with their favorite images or GIFs by adding them to illustrate and accompany poll options. Break the ice with a poll asking your audience how they're feeling or to name their favorite animal. I never cease to be amazed by the response these image-enhanced polls get.
For some folks, this is enough to make MM their preferred polling option. What makes MM special, though, is that its creators probably asked, "Why should we create a polling application for integration into Google Slides or PowerPoint when we can offer the slides as well as the polling?"
That's exactly what they did. What differentiates MM from PE and SL is that it has the capacity to create both the presentation slides and the poll questions. That makes for a presentation that has the polls seamlessly integrated into the slides. Here are some considerations for MM:
Strong on design features and options, with both slides and polls options, and has definite appeal for those looking for an application with a creative flair.


Single sign-on is available with a more costly enterprise educational plan, but no LMS integration is offered.


Virtually no learning curve compared to PE and SL; you'll pick the basics up quickly.


Best-of-class poll response display screens add to participant engagement.


No Google Slide integration and confusing PowerPoint integration—but MM mostly eliminates the need for integration with slide applications.


Fewer slide design features than Google Slides or PowerPoint, so animations and transitions, for example, are not available. It is possible to import PowerPoint slides into MM, but some features may not work.
Tutorial: Developing slides in MM
So how exactly does MM eliminate the need for slide integration? The interface speaks for itself on that matter. As with other slide software, start off with a cover slide. MM's slide and poll tools are on a dashboard on the right side of the screen, shown in Figure 6. Choose the layout, templates, designs, and more, though the options tend to be more limited than full-scale slide software.
To my way of thinking, this is why it's useful for librarians to be adept at more than one slide or polling application. Sometimes you can go without a particular slide function if it's more important to emphasize the polling—or vice versa. Being versatile with these applications gives you more options to achieve your presentation learning outcomes.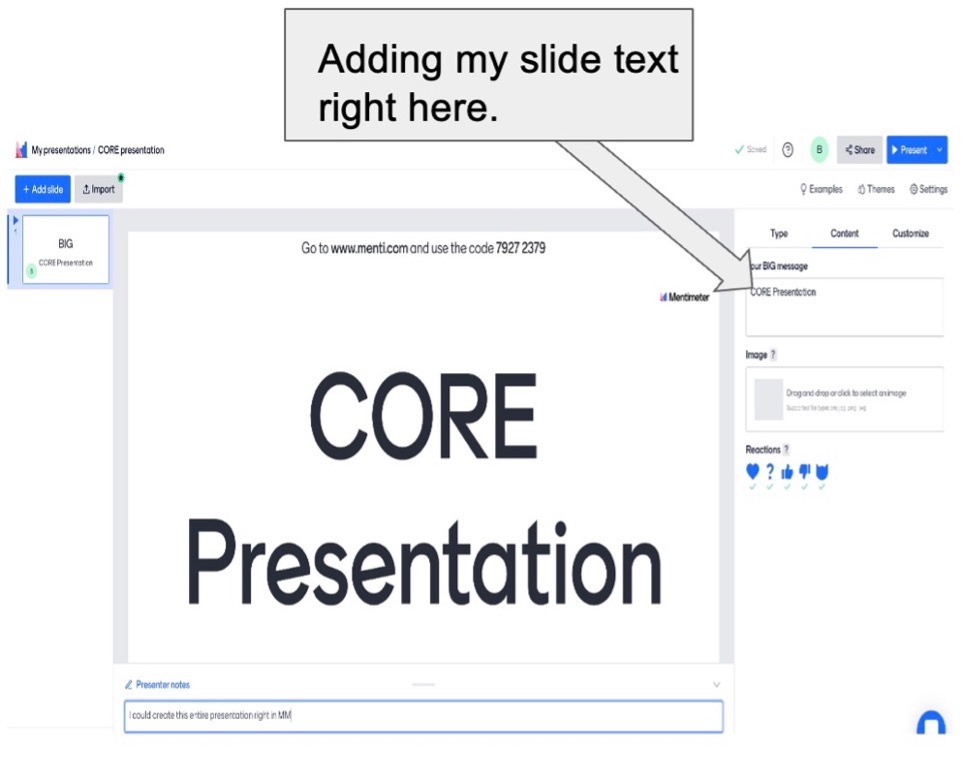 Once your slides are under development, shown on the left side of the MM screen in Figure 6, it's time to start strategically adding polls. Below the slide building option are the polling options, shown in Figure 7. MM compares well to PE and SL with plenty of poll types from which to choose. As each poll is added, it appears in the order it will show during the presentation. As with the PE and SL, users have multiple options for participating in the polling and can go directly to a web location or find the poll with a QR code. Once participants join the polling, each new poll will automatically appear on their display screen.
As a presentation slide tool, MM lacks some features that you might otherwise find useful, particularly if you're accustomed to PowerPoint or Google Slides. Both transitions and animations are unavailable. There's no built-in accessibility checker. You'll find fewer options for setting up combinations of text and images for slides. If your main goal is an engaging and impressive polling experience and all that's needed are a few basic slides, MM will nicely meet this need.
Final comparison
So how well do these three polling applications measure up against each other? In Figure 8, I compare them on five dimensions: ease of use, which includes considers the steepness of the learning curve; slide integration; how robust the design features are; how well it is likely to appeal to instructors; and presence or lack of advanced features. For me, it's a first-place tie between PE and MM. Either one would be a great choice, but it ultimately comes down to what you look for in an application. Where are you on the Mac–PC spectrum?
When it comes to computers, I'm Mac all the way. When it comes to polling however, I want more advanced features, along with my slide design. If you want more simplicity and elevated design in one package, MM may be your best option. For those who've never tried MM, especially long-time PE users, I commend you to at least spend some time with MM. You might like it better. If you currently do all or most of your slide presentations with Google Slides, then you owe it to yourself to give SL a try. You'll discover the benefits of its tightly integrated sidebar for polling applications.
If you'd like to learn more, please visit this virtual presentation I gave at the 2023 TLTCon. I also recommend visiting the basic overview or how-to pages offered by Poll Everywhere, Slido, and Mentimeter.
I hope this has inspired you to start integrating polling into your library instruction or to take your current polling to the next level. Your students, your presentation audience, your colleagues, or whoever you are trying to reach with your message is counting on you to more deeply engage them in a learning experience. It's up to you to adopt the tools to make that happen.
---
🔥 Sign up for LibTech Insights (LTI) new post notifications and updates.
✍️ Interested in contributing to LTI? Send an email to Deb V. at Choice with your topic idea.
Related Posts