LibGuides, Resources, and Takeaways from LTI's ChatGPT Webinar
Our list of user-submitted AI resources
Posted on September 27, 2023 in Blog Posts
Last week, Choice and LibTech Insights had the pleasure of welcoming Dr. Leo Lo to give an excellent webinar on generative AI and ChatGPT, "CLEARer Dialogues with AI: Unpacking Prompt Engineering for Librarians." Without giving too much away, we have future webinars planned on this topic, so be sure to subscribe to our webinar newsletter.
But before we look too far into the future, we want to recap the webinar and provide a list of the cool resources attendees dropped into the Q&A so we don't lose track of them. Part of the reason we started LibTech Insights was that we realized this field is too large for any single librarian or library to go it alone. We share these resources in the spirit of collective investigation and collaboration, and hope you find them useful in your own learning and endeavors.
🎥 Webinar recording
For those of you who missed the webinar or want to revisit it, you're in luck, because we uploaded the recording to our YouTube channel. Dr. Lo graciously provided us with a copy of the slides. 
📊 Audience polls on ChatGPT usage and familiarity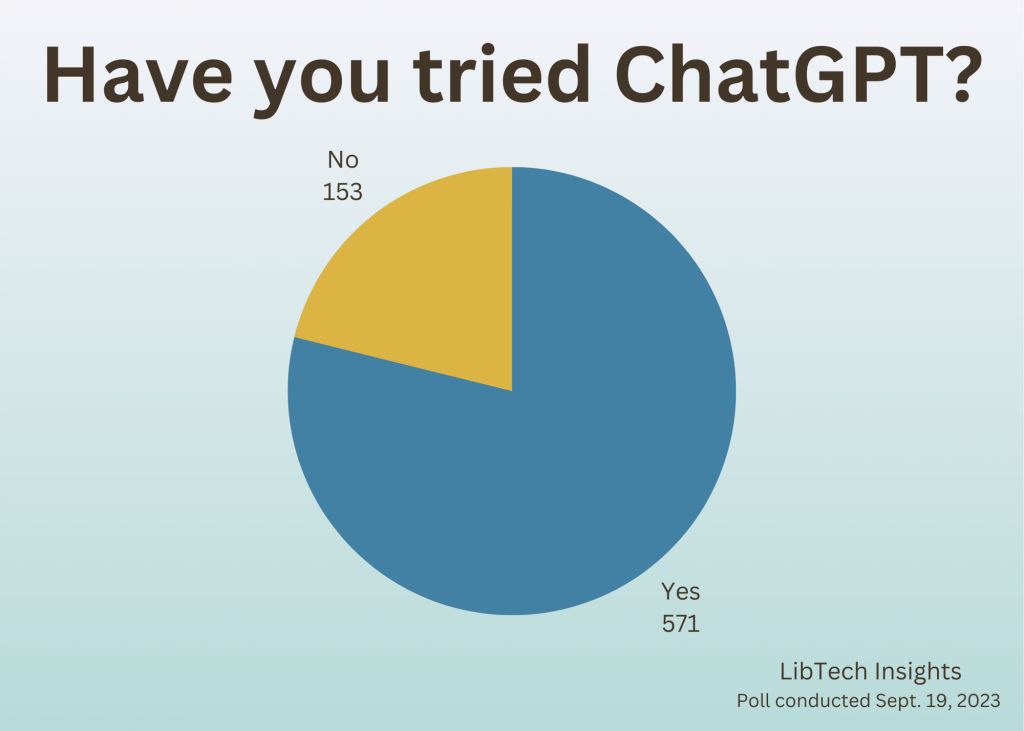 During the course of the talk, we conducted two quick polls, the first on ChatGPT usage and the second on familiarity with prompt engineering. The polls found that the majority of viewers had experimented with ChatGPT and, unsurprisingly given the purpose of the webinar, that most had less comfort with "prompt engineering," that is, using specific commands to tailor generative AI outputs. The CLEAR framework Dr. Lo outlines hopefully boosted comfort levels by the end of the talk and will guide further engagement with AI tools.
📚 Resources on ChatGPT and generative AI
Prompt engineering and generative AI resources
Legislation on AI
LibGuides on ChatGPT and AI
If you'd like a LibGuide added to this list, just email us. And if you're developing a LibGuide on ChatGPT and generative AI, we have some articles of our own to humbly suggest for your inclusion.
Thank you everyone who came, viewed, and participated in the webinar. We hope you can make use of these excellent resources.
---
🔥 Sign up for LibTech Insights (LTI) new post notifications, updates, and bonus content.
✍️ Interested in contributing to LTI? Send an email to Deb V. at Choice with your topic idea.
Related Posts