Introducing LibTech Insights
The latest content channel from Choice about using, building, and implementing library technology.
Posted on January 18, 2023 in Blog Posts
Welcome to the inaugural post of LibTech Insights—or LTI for short. Like Choice's other multimedia blog, Toward Inclusive Excellence, LTI is a topic-specific hub featuring a variety of content formats including blog posts and, soon, podcasts and webinars.
LTI will examine the day-to-day impact of library technology on librarians and the library community. Now, technology is an enormous field, of course, and our little channel here can't hope to cover it all. But we can say that you won't find hot-takes and speculation about futuristic tech trends. Rather, we aspire to provide content in this space that is helpful and instructional.
We are committed to offering advice and direction that address real-life tech challenges from efficiency hacks to product reviews to large-scale implementations. Accordingly, contributors to LTI are practitioners in the library field—from a variety of institution types—who are sharing their expertise and guidance on technology trends and products that they have worked on and researched themselves. If you're wondering how your colleagues across the academy are creating, buying, and installing solutions for productivity, accessibility, discovery, operations, and content management—among others—then visit this site often.
Coming up, we have posts addressing topics such as making the move to Mastodon, rethinking web design through UX, using serverless computing, increasing your team's productivity in Microsoft 365, implementing collaborative tools for library instruction, and much more! To stay updated on new posts to this site, you can sign up for the LTI newsletter here.
I should note that we're not simply generating content in a vacuum. As we were strategizing this site at Choice, we conducted an audience survey in 2022 that asked about, among other things, specific technology concerns. Below is what we learned: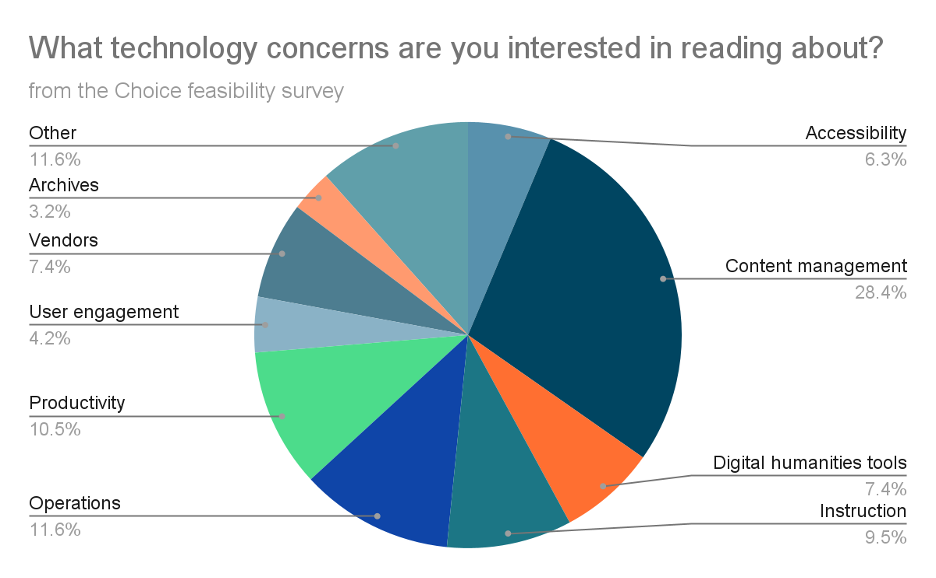 We know there are many sources for learning about technology applications, but we hope to make LTI a destination that offers a straightforward repository of content that showcases solutions and ideas unique to libraries. Technology is central to workflow, services, and student and faculty success. And it is a crucial bridge to equity and inclusivity—an important part of LTI's editorial mission is to address tech issues through DEIA practices by centering a diversity of voices and perspectives.
We are excited to share that LTI receives guidance from an Editorial Advisory Group that includes:
Lisa Carlucci, Executive Director, Equinox Open Library Initiative
Salwa Ismail, Associate University Librarian for Digital Initiatives and Information Technology, University of California, Berkeley
Beth Sandore Namachchivaya, University Librarian, University of Waterloo
Lastly, if you're interested in contributing to the site, participating as a webinar presenter, or telling your tech story as a podcast guest, email us! And yes, we'll pay you for your work and time.
Sincerely,
Bill Mickey
Editorial Director, Choice
---
LTI gratefully acknowledges underwriting support from our launch sponsor Dimensions.
Dimensions is a modern, innovative, linked-research-knowledge system that re-imagines discovery and access to research. Developed by Digital Science in collaboration with over 100 research organizations around the world, Dimensions brings together grants, publications, citations, alternative metrics, clinical trials, patents and datasets to deliver a platform that enables users to find and access the most relevant information faster, analyze the academic and broader outcomes of research, and gather insights to inform future strategy. [Learn More]
---
Related Posts