Digital Collections and Digital Preservation: One and the Same, Right?
An important distinction with room for collaboration
Posted on September 25, 2023 in Blog Posts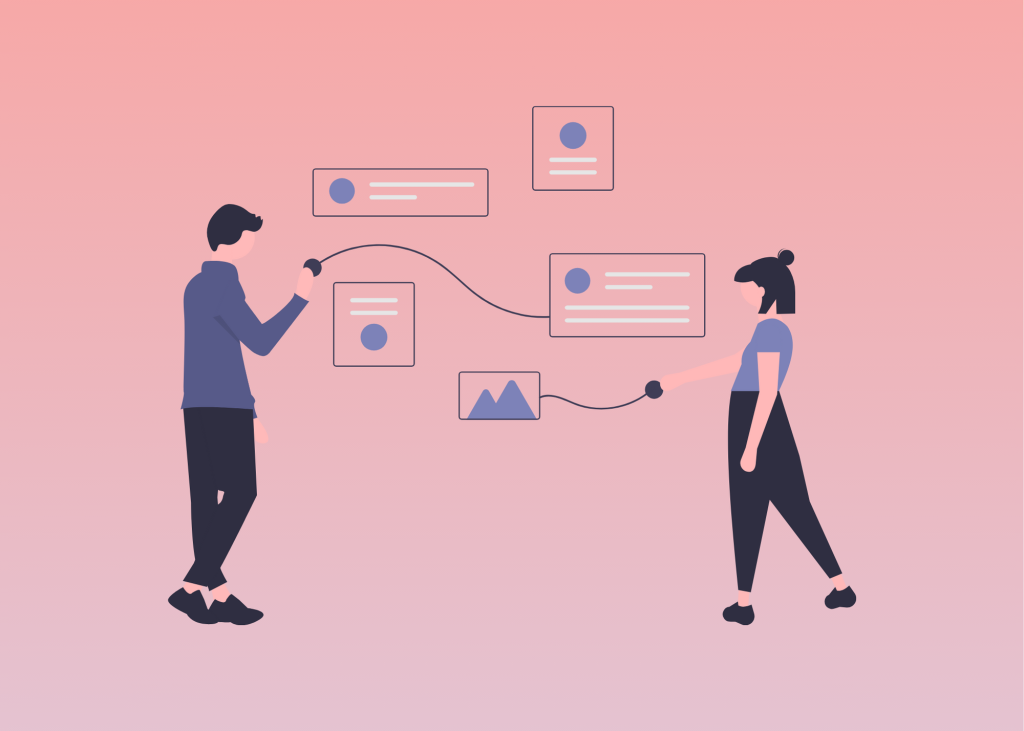 Let's say you have a question about whether or not digitized collections will be accessible to patrons through the library's platform within the next few months. Who would you go to within your library to answer this question? Now, let's expand this. You want to inquire about the accessibility of these exact digitized collections 20 years or 200 years in the future after multiple library platform migrations, technological innovations, and societal changes. Would you still go to the same person? If your answer is "no," then you must already know about digital preservation, but if your answer is "yes," then this post is for you!
Historically, digital library research has had a large focus on enhancing access to digital collections, but only recently has the long-term sustainability of digital preservation been making headlines. These subfields have largely coexisted for a long time, which has created confusion around what these subfields do and how they differ. Digital collections and digital preservation, while similar, also have many differences in everyday practice. Both fields strive for long-term, sustainable, and reliable access to digital objects, making it difficult to discern between the two at times.
These are conversations I frequently find myself having with professionals in both realms. Digital collections and digital preservation positions frequently get misconstrued, misunderstood, and misclassified. The problems this blurred distinction causes are not just limited to work environments, but also filter through the greater library community, vendors, and other organizations. Confusion on both the micro and macro levels can greatly affect many aspects of this work. Furthermore, this confusion can lead to difficulty for others, outside of these fields, in discerning whether to come to the Digital Collections Librarian or the Digital Preservation Librarian for their queries.
While librarians in digital collections and digital preservation work closely together, they have great distinctions in their theories, practices, technology, standards, and workflows. This is precisely why it is instrumental to understand and be able to parse these differences.
Key terms
To start, I want to define some key terms.
Digital Curation: "Maintaining, preserving, and adding value to digital research data throughout its lifecycle" (DCC, 2023).
Digital Preservation: "Digital preservation combines policies, strategies and actions to ensure the accurate rendering of authenticated content over time, regardless of the challenges of media failure and technological change. Digital preservation applies to both born digital and reformatted content" (ALA, 2023). This is not just about preserving the object itself, but the meaning and context surrounding it and so much more.
Digital Stewardship: "[B]rings digital curation and preservation together in one big happy package, pulling in the lifecycle approach" (Xie & Matusiak, 2016).
Digital Collections Management: Managing "a logical grouping of related digital content that is organized by collection-level metadata, whether they are digitized or born digital" (LOC, 2023). This can also be known as digital library management, digital content management, or digital asset management within the library field.
---
🌟 Like what you're reading? Subscribe for more from LibTech Insights:
---
Definition of "access": Digital Collections vs. Digital Preservation
Based on these terms, I am sure you can see many similarities, but the biggest difference is how the subfields use the term access. "Access" in digital preservation refers to the ability to access digital objects in the long term and focuses on the integrity and reusability of the digital objects in the future. In digital collections (or digital libraries), "access" focuses only on the ability to make digital objects accessible to the current community of users. This difference in access drastically affects how library professionals within these subfields operate, manage the objects, and establish their role in the Digital Curation Lifecycle.
The Digital Curation Lifecycle by the Digital Curation Centre [republished under a CC-BY 4.0 license]
The Digital Curation Lifecycle represents digital materials at all stages from creation to future reuse. Due to the continuous nature of digital curation, a lifecycle model approach is necessary to capture the continuity of "active management and appraisal of digital information over its entire life cycle" (Pennock, 2007). Additionally, this lifecycle model above (from Digital Curation Centre) takes into account the fragile and rapidly evolving nature of technology, the variation of activities at each stage, and how reliability of reuse is based on the integrity of the digital objects.
Now, how the previously defined terms all come together within the Digital Curation Lifecycle is crucial for better understanding both of these fields. According to this lifecycle model, digital collections would fall under "access and use," which "ensures that designated users can easily access digital objects on a day-to-day basis" (DCC, 2023). Within this process, the creation of the digital objects is followed by the creation of metadata, which is then ingested into the digital library or digital collections repository for user access. Concurrently, these steps occur with digital preservation in mind to evaluate which digital objects will be preserved for the long term.
Once digital objects are chosen for digital preservation (based on documented guidance, policies, or legal requirements), ingestion will occur into a preservation archive, repository, or data center. These archives, repositories, or data centers for preservation do not always function like user-focused platforms, because they are meant for safekeeping and are not likely to have users interacting with them. In both digital collections and digital preservation, similar terms like archives, repositories, and platforms are used to describe the systems that these information professionals work with. Due to this, some repository vendors will claim to do both digital collections management and preservation under the same platform or system, but this a huge misconception that many librarians should be on the lookout for if you are looking for either type of repository! The confusion across these subfields is highly prevalent, not only in the physical space of the library, but also in product development, sales, and marketing.
These digitally preserved objects will be actively maintained and stored for access and reuse in the future. Continuously throughout the lifecycle, "description and representation of information," "preservation planning," "community watch and participation," and "curation and preservation" occur. Sequentially, conceptualization and creation follow, which lead to the appraisal, ingestion, preservation action storage, transformation, and then access and reuse (shown in red in the life cycle model). Occasionally, digital objects may need to be disposed of, reappraised, or migrated, which the model notes with arrows. Digital collection management and digital preservation occur at the same time as a conjoined theory of practice, but the priorities and standards are extremely different.
I will not go through and explain the different standards between preservation files (sometimes called master files) and the derivative files (sometimes called access or viewing files) that users access in digital collections (Section 2.5.2 of Federal Agencies Digital Guidelines Initiative) for day-to-day interactions, but I implore you all to check it out! These standards for file format, technology, and digital object handling account for the different uses, functions, practices, and priorities that the subfields need to fulfill their role within the library ecosystem, further distinguishing these fields.
Coexisting in harmony: Digital Collections and Digital Preservation
Overall, both of these distinct, yet interactive areas, are crucial within librarianship. With the ever-changing technological landscape within society, digital collections and preservation often collaborate to adapt to these changes, whether it be a digital collections repository migration or the implementation of digital preservation software. Frequently, these subfields work together to create and maintain digitization workflows, policies, practices, and procedures for all departments within the library, but their differences change their respective needs, perspectives, and immediate concerns.
An example where collaboration can occur even with differing perspectives is a situation where I often find myself, as a Digital Collections Manager, asking for assistance from digital preservation for the master files of digital objects that need to be replaced in the digital library. If I do not have a backup, then I have to make a derivative copy from the preservation copies. Without these preservation files, I may not be able to replace the file, resulting in the end of the lifecycle for a digital object, but with both digital collections and digital preservation coexisting and interacting harmoniously, despite fundamental differences, a digital object's lifecycle will continue for current and future users.
So remember, next time you want suggestions on the best file formats to combat how fast technology changes, make sure to contact digital preservation, but if you need to find a digitized collection for a patron right now, you will want to contact digital collections!
---
🔥 Sign up for LibTech Insights (LTI) new post notifications and updates.
✍️ Interested in contributing to LTI? Send an email to Deb V. at Choice with your topic idea.
Related Posts