Women's Worlds in Qajar Iran
A Conversation with Archivist Azadeh Tajpour
Posted on August 24, 2022 in Ask an Archivist
In this interview, Choice sits down with Azadeh Tajpour, the project manager and digital archivist for Women's Worlds in Qajar Iran (WWQI), to discuss the digital archive's efforts to capture the daily realities of women's lives in Iran during the Qajar period. As Tajpour notes, many previous histories of Qajar Iran have typically focused on men's lives and contributions, leaving a glaring gap in the literature regarding women, despite the fact that Iranian women experienced a major cultural and intellectual flourishing during this period. WWQI seeks to fill this lacuna, encompassing the multiplicity and richness of Iranian women's lives in the Qajar era through primary source material that spans photographs, everyday objects, legal documents, writings, artwork, and oral histories.
---
How would you describe this collection to a perfect stranger?
Women's Worlds in Qajar Iran (WWQI) centers on collecting and making available digital images of Qajar-era (1796–1925) primary source materials that were created by, or are relevant to, the lives of women or that address issues of gender during this period.
Who is the intended audience for Women's Worlds in Qajar Iran? How do you envision undergraduates or researchers using the materials?
WWQI's goal has been to ensure broadest access possible to our materials in order to promote WWQI to scholarly audiences, enable other digital humanities initiatives to benefit from our experience, and open a window onto this fascinating and important portion of Iran's history for a more general audience.
The WWQI website is often listed as a research resource for courses in anthropology and gender and sexuality studies and as part of university libraries' research resources. The site is also referenced as a major resource in articles and dissertations by scholars and students, and WWQI material has even appeared in exhibitions and documentaries.
What was the impetus behind this project? A stated goal of the collection "is to address a gap in scholarship and understanding of the lives of women during the Qajar era (1786 – 1925) in Iran," as "to date, the vast majority of Qajar social histories have focused almost exclusively on the struggles, achievements, and day-to-day realities of the men of that period." Was there a seminal moment, perhaps in the course of Principal Investigator Dr. Afsaneh Najmabadi's research, that sparked this aim?
In the past two decades, more scholarly literature has contributed to our understanding of the developments of Iran's nineteenth century. Yet, a glaring gap remains in this body of research: until recently, strikingly few works mapped out the lives and contributions of women or addressed issues of gender during this tremendously significant era.
This break in the scholarly record is all the more troubling because many Qajar-era women lived culturally rich lives. Women were among the period's skilled writers and poets, calligraphers, and painters; some had their own libraries and patronized women artists. Women educated in the religious sciences left behind manuscripts and a legacy of public religious leadership. The travelogues of a number of Qajar-era women provide us with first-person descriptions of their travel within Iran and pilgrimages to Mecca. We also have examples of social critique from the end of the nineteenth century. Finally, as the turn of the twentieth century heralded a time of constitutional fervor, the flourishing of a women's press and published writings accompanied urban women's participation in the Constitutional Revolution and their pursuit of reforms on their own behalf.
Prior to WWQI's launch, most primary source materials related to Qajar-era women's activities and accomplishments had been held in private family hands, inaccessible to researchers. Thus, it is not surprising that the vast majority of Qajar histories focused almost exclusively on the struggles, achievements, and day-to-day realities of men.
Once the idea for this collection was established, how did the process of collecting materials begin? In the video essay documenting the project's behind-the-scenes workflows, Farshideh Mirbaghdadabadi, the project manager in Iran, describes the process of meeting participants and building trust with them before being able to capture their stories and document their family artifacts. Can you detail what it was like to seek out participants, establish a rapport with them, and gain access to their stories and personal items?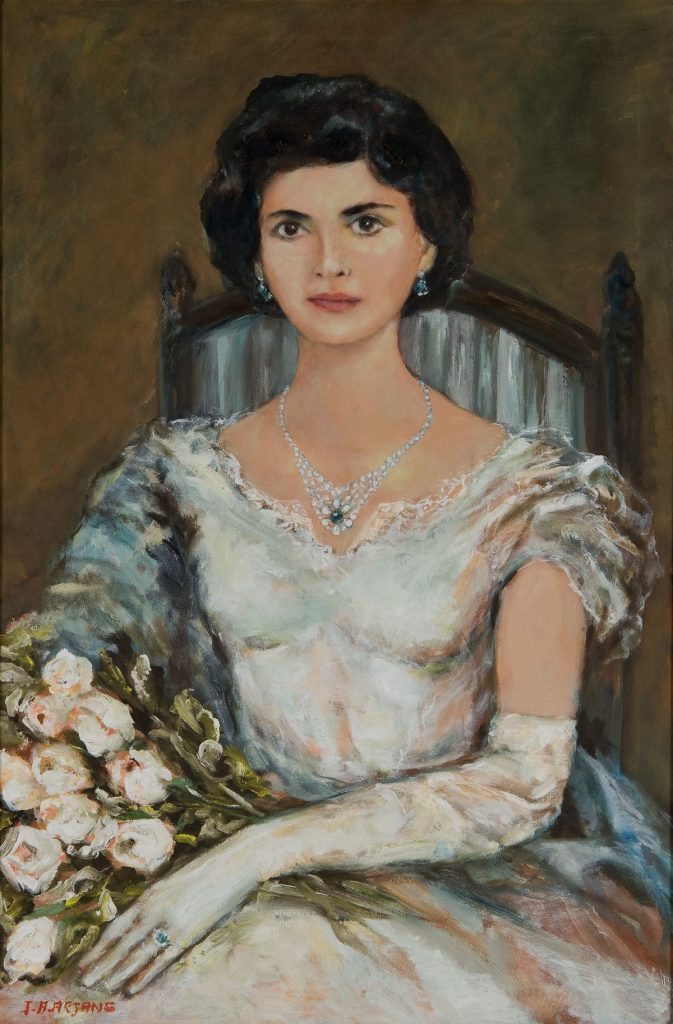 The WWQI project leveraged a new willingness on the part of Qajar families around the world to open their private holdings to researchers and the public view. In the beginning, discussing possible acquisitions with families and institutions, assessing the materials on offer, and arranging for the actual digitization of items selected was primarily the responsibility of a small group composed of the Principal Investigator (PI) and four scholars. The travel to assess the materials presented a huge challenge, since they were scattered widely across and within many countries around the globe.
In the subsequent years, WWQI had taken on life of its own in terms of the enthusiasm it generated among families and institutions with potentially relevant holdings; doors previously closed to us were now open.
As WWQI's project manager in Iran, Farshideh Mirbaghdadabadi coordinates and supervises all WWQI activities in the country. She meets with officials at various institutions to obtain their collaboration, pays preliminary visits to families to select what of their holdings would be of interest to the WWQI archive, organizes follow-up visits with our photographer and one of our assistants to measure, photograph, and obtain all needed information about selected material. She also supervises the work of five assistants who process all the obtained information and images and prepares the hard disks that are then brought to the United States.
The work of WWQI project manager and team members in Iran was crucial to build trust with the families, and they became quite successful in making these relationships and interview techniques. This helped the families to share their stories more openly and to think creatively about the possible connections of different materials in their holdings to life in the Qajar era and WWQI's mission.
While the collection contains writings, legal documents, photographs, and artworks, it also contains everyday objects and oral histories, with a focus on "materials that … illuminate women's relations to each other and to family members of various generations, their roles in life cycle rituals, their perceptions of women outside Iran … and the interconnections that women's activities, networks, and allegiances wove between various ethnic and religious communities." How did (or do) project researchers identify and select "relevant materials" for inclusion in the collection? Regarding the everyday objects specifically, what do these items reveal to us that might otherwise be lost among more formal or official items?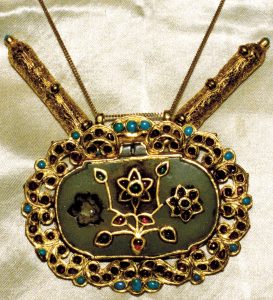 The range of everyday objects included in the WWQI archive include ceramics, textiles, furniture, jewelry and other personal items, and the interiors/exteriors of homes constructed during the Qajar era, including architectural details. Some of the objects are accompanied by audio clips generated from conversations with archive contributors.
In general, the family collections include items chosen for preservation by families, meaning they have already gone through a selection process. Everyday objects can reveal many aspects about the life of women in the period. Many of the items reveal the social status and religious and ritual aspects of their lives. For example, in our Zoroastrian collections (mainly from the city of Yazd) we have kitchenware inscribed with names and the vital information of the person the object belonged to. The families to whom these objects belonged had found them the safest way to preserve their histories.
In regard to private family holdings, our acquisition decisions were based on the ability of the private holdings on offer to increase the religious, socioeconomic, ethnic, and geographic diversity of the WWQI archive. Later in the project, we prioritized objects, specifically unique markings such as a date of production or the name of a craftsperson or manufacturer.
The video essay also briefly mentions the intersecting relationships between the objects documented, which entailed extensive tagging. Based on the glimpses into the work that took place behind the scenes, this was a massive undertaking. Can you tell me what the organization and digitization process was like? How long did the entire process take, from planning to completion?
A team of editorial assistants, in Tehran and Cambridge, worked in different stages of the workflow.
Acquisition information spreadsheets for the capture of all data were created at the project's start and used in the field for gathering the information to create complete catalog records.
We utilize two methods of digitization for family/private collections: either the owner lends materials to a local vendor selected by WWQI for digitization, or local vendors and/or WWQI project staff digitize materials on-site (i.e., in the owner's home). In general, institutions have their own facilities.
Cataloguing: Project staff gather detailed descriptive information for all digitized materials. Metadata needs vary, depending on whether the materials are visual images or textual works, and on whether the document is a single image or contains multiple images.
For all visual materials, the information gathered allows for the creation of catalog records according to HOLLIS Images metadata standards. This local standard is informed by existing guidelines and standards, including Cataloging Cultural Objects (CCO) and VRA Core. For all textual materials, the information gathered allows for the creation of a record in the local database describing the materials.
For published materials, information is used to create MARC records in the HOLLIS catalog. For multi-page objects, descriptive and structural information are also gathered to allow for the creation of the METS file necessary to deliver the object through the PDS. For all visual and textual materials, we also provide descriptions and, in some cases, transcriptions and translations.
Packaging and Delivery of Images and Metadata: Digital images and corresponding metadata are written to hard disks and delivered to the Imaging Services unit in the Harvard Library.
Creation of Catalog Records and Deposit and Storage of Digital Objects: The descriptive metadata gathered for the project and posted on the WWQI website for visual images and published materials are used to create records for the digital objects in the discovery systems of the Harvard Library. Digital images are deposited into the DRS (as individual images or page-turned objects). Following quality control review, links to the digital objects are added to the catalog records.
This collection lives entirely online, which must now seem an especially prescient decision given how the COVID-19 pandemic shut down many in-person operations over the past couple years. What led to the decision to make this a virtual archive?
In its initial conception, in 2009, WWQI was a novel idea. At the time, we imagined digitization as a technology for fabricating an archive that did not and never would exist in one physical location. Since then, WWQI has successfully forged new ground in using digital technology to overcome the challenges of geography, politics, and ownership that for so long compromised access to the primary source materials needed to piece together a richer, more complete picture of the Qajar era.
In sifting through and selecting so many pieces, is there a particular item or collection of items that struck you as a particularly special addition to the collection?
There are several examples:
Private letters written by women or family members, especially love letters, reveal invaluable information about domestic lives, family ties, networks and dynamics, and domestic issues and disputes.
The earliest audio files of women singers in Iran were added to the WWQI archive in 2015.
WWQI holds all relevant documents from an early newspaper, Iran-i naw, published in 1909–11. This Constitutionalist daily published numerous articles by and about women.
A group of local urban preservationists, engaged in generating architectural plans and photographs of Qajar-era homes in the Oudlajan neighborhood of Tehran, made their work available to WWQI. These photographs and architectural plans of the interiors of Qajar-era houses, comprising the "Oudlajan Project," are located within the "Old Houses" collection on the site, which offers insights into how daily life was structured. Moreover, the differences between Muslim and non-Muslim houses demonstrate differing daily life practices at play in Muslim and non-Muslim homes.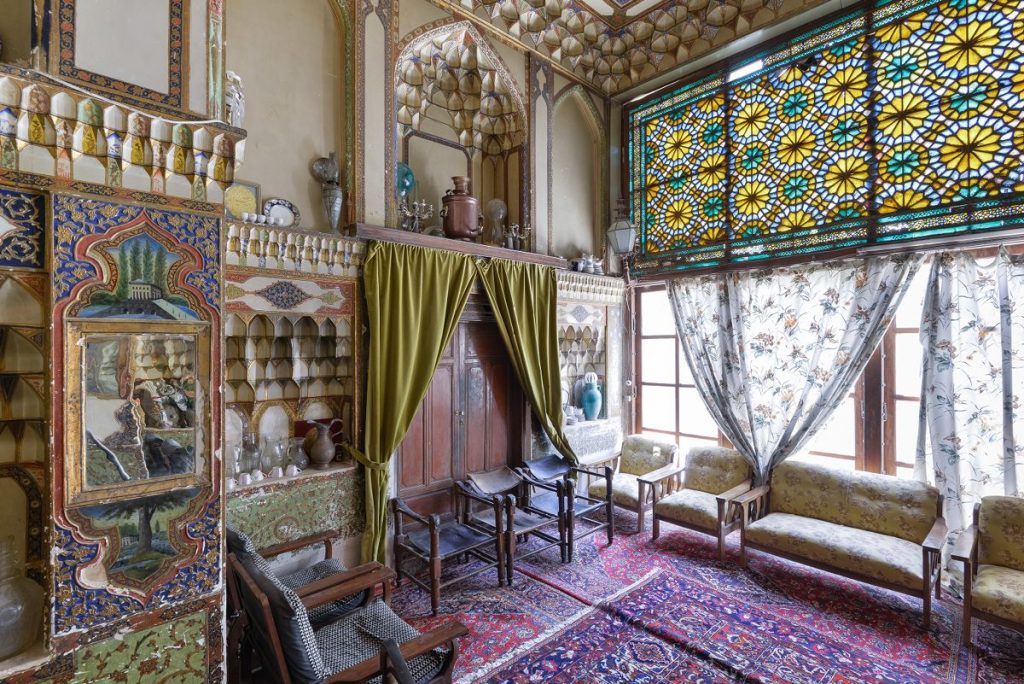 Many American audiences today have likely come to understand Iran through a very narrow lens, relating to alleged proxy wars for dominance in the Middle East. Many people may even be completely unfamiliar with the Qajar era and yet this was quite an influential period for Iran. What can WWQIhelp contemporary audiences better understand about Iran today?
The reign of the Qajar dynasty in Iran is widely recognized as a period of dynamic political, economic, and cultural transformations that continue to resonate even today. The Qajar era's last decades, for example, were marked by the Constitutional Revolution, which resulted in the formation of an elected parliament and a national constitution, features that still define Iran's government more than a century later.
More generally, the Qajar period is known for the flowering of many forms of artistic expression, a diversity of religious beliefs and practices, developments in urban planning and the material arts and crafts, and Iran's increasing interactions with other cultures, all of which brought with them lasting consequences. All of this vibrancy and change can be traced through the resources available to researchers in WWQI.
---
About the interviewee:
Azadeh Tajpour is a multidisciplinary artist and archival researcher. She holds an MFA in visual arts from Claremont Graduate University, California, and an MA in art history from California State University, Los Angeles.
---
To learn more about Women's Worlds in Qajar Iran, please visit: http://www.qajarwomen.org/en/.
This interview was conducted by Fatima Mohie-Eldin. She is the social science editor at Choice.
---
Related Posts