The Henry Darger Room Collection
A Conversation with Alison Amick, Christina Stavros, and Claire Renaud
Posted on October 28, 2022 in Ask an Archivist
In this Ask an Archivist, chief curator Alison Amick, registrar and curatorial assistant Christina Stavros, and assistant registrar Claire Renaud discuss the development, preservation, and value of Intuit's Henry Darger Room Collection. Founded in 1991, Intuit: The Center for Intuitive and Outsider Art is a premier museum of outsider and self-taught art, defined as work created by artists who faced marginalization, overcame personal odds to make their artwork, or who did not, or sometimes could not, follow a traditional path of art making, often using materials at hand to realize their artistic vision. Throughout this interview, Alison, Christina, and Claire provide background on Henry Darger, a Chicago-based outsider artist whose mixed media work has long defined outsider art. The interviewees describe Darger's experience as an outsider artist and consider what Darger's environment reveals about his artistic process. They also discuss the intricacies of cataloging and preserving a significant number of physical artifacts and the digitization and curation process for the collection.
---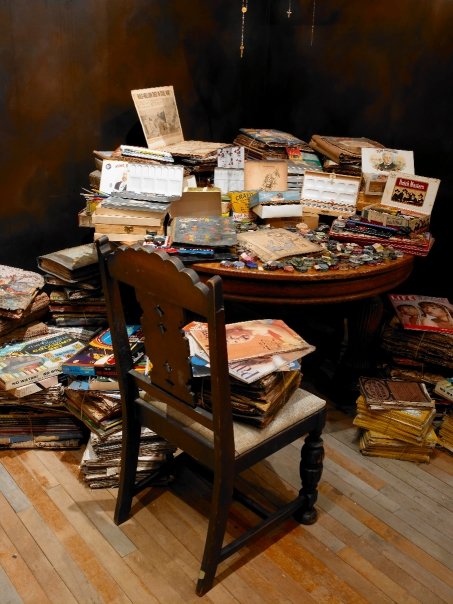 How would you describe this collection to a perfect stranger?
The Henry Darger Room Collection consists of contents from the Chicago author and artist's home and studio, including source materials for his illustrations (tracings, clippings from newspapers, magazines, coloring books, cartoons); scrapbooks (filled with comics and newspaper clippings); personal belongings (rosaries, bibles, portable radio, candle holders, small statues); and art-making supplies (paints, brushes, pencils). The total collection consists of around 1,660 objects.
What characterizes an outsider artist, and what freedoms or challenges do they face?
What characterizes an outsider artist is an ongoing topic of conversation in the field, as is the term "outsider art." The term "outsider art" dates from a 1972 publication of that name by Roger Cardinal, itself an attempted English-language translation of art brut (raw art). In the 1940s, French artist Jean Dubuffet applied the term art brut to describe the art he encountered in non-academic settings, such as asylums, and made by those traditionally viewed as on the fringes of society. Today there are many opinions about who and what belongs in this genre. Generally speaking, the term "outsider" refers to artists, such as Henry Darger, who are not formally trained in art school with the intent of pursuing an arts career in a traditional market-driven commercial setting. Intuit increasingly uses the term "self-taught" (also with its complexities and faults) as an alternate, recognizing the problematic and ethical concerns around using the term "outsider"—with its history of othering, white collectors applying the term to artists of color, and general lack of clarity about what the art is.
Can you provide some background on who Henry Darger was? How does his work fall under the definition of "outsider art"?
Henry Darger (1892–1973) was a Chicagoan who spent part of his youth consigned to the Asylum for Feeble-Minded Children in Lincoln, Ill. As a young adult, he returned to Chicago, got a job as a janitor, and lived a mostly reclusive life in a one-room apartment. At the time of Darger's death, his landlords discovered an extensive body of artwork and writings. Central to these was the novel In the Realms of the Unreal, accompanied by hundreds of illustrations made through a painstaking tracing process that taught him how to draw and paint. In 2000, former landlady Kiyoko Lerner donated the contents of Darger's living and working spaces to Intuit, which were installed in 2008. As a self-taught artist who developed his techniques away from the art world without public recognition, Henry Darger is considered one of the most noted outsider artists in the field. Today, his work is featured in the collections of major museums, including the Museum of Modern Art, Art Institute of Chicago, American Folk Art Museum, and Museé d'Art Moderne in Paris, among others.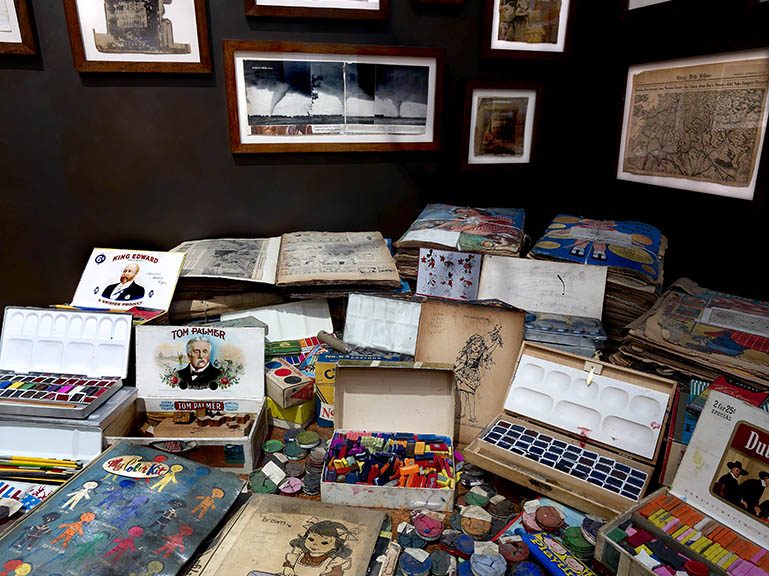 Intuit acquired Henry Darger's belongings in 2000, eventually opening a permanent exhibit in 2008. What did the curation process entail? What is the significance of the collection being housed in Chicago?
As a Chicago-based author and artist, Darger's story, circumstances, and influences are important to tell here in the city where he lived and worked. The original installation was an evocation of Darger's room curated by Lisa Stone and Jessica Moss and was on view until November 2021 (de-installation October 10–November 9, 2021). Over the past few years, Intuit has focused several strong efforts around the Henry Darger Room Collection. In 2018, Intuit received funding from the National Endowment for the Arts (NEA) for Phase 1 of the Henry Darger Preservation Project. This allowed the museum to re-inventory and rehouse the Darger materials in new archival storage. Phase 2 of this project was funded by the NEA to address the de-installation of the Henry Darger Room, which included cataloging, photographing, and rehousing objects in archival storage in preparation for the planned renovation of the museum's facility and plans for an updated Room.
As part of this project, and in preparation for the reinstallation of the Room, Intuit received funding from the Terra Foundation for American Art for Henry Darger: The Room Revealed, a series of three in-depth, transitioning exhibitions about Darger that took place in June through December 2021. Exhibitions explored Darger as "Reader, Writer and Bookmaker"; his artistic influences and techniques in "Methods and Manipulations"; and "Caring for a Chicago Legacy," which explored local connections to his writing and artworks, along with the physical de-installation of the Henry Darger Room. Alison Amick curated these exhibitions with contributions from Darger scholars Michael Bonesteel, Leisa Rundquist, and Mary Trent, who each provided in-depth explorations of materials in Intuit's Darger Archives around the curated themes. Those exhibitions, among others, can be viewed online here. The museum conducted guest surveys so that learnings could inform future design plans, written materials, etc. Unfortunately, Intuit does not have any of Darger's large-scale mixed-media artworks as part of our collection. What we can offer, however, is another entry point into his influences, techniques, artworks, and writings.
"Intuit's collection is important because it adds to our understanding of the artist, his creative environment, and the source materials and methodology he used to create his large-scale mixed-media works."
Who is the collection's intended audience? How does the Henry Darger Resource Kit for Educators fit in?
The intended audience for the collection is a general one, as well as Darger scholars and enthusiasts. About half our guests report that they were motivated to visit because they were interested in the Henry Darger Room. As a major Chicago artist and an important artist in our collection, Intuit developed the Henry Darger Resource Kit for Educators to expand understanding of the artist's life and work.
This collection is unique in its design, given that it's based on Darger's original home and studio space. What is the value of presenting the collection in this way? What does Darger's environment reveal about his creative process?
Seeing the artist's environment adds to our understanding of how he lived and made work—a unique window into his life and process. For example, there are also inventories of books (some of which he lifted sections for his own writings) and records that Darger owned. We can identify many of his sources that ultimately appear in his larger artworks, such as images of toy balls, umbrellas, and girls on swings, all found in coloring book pages.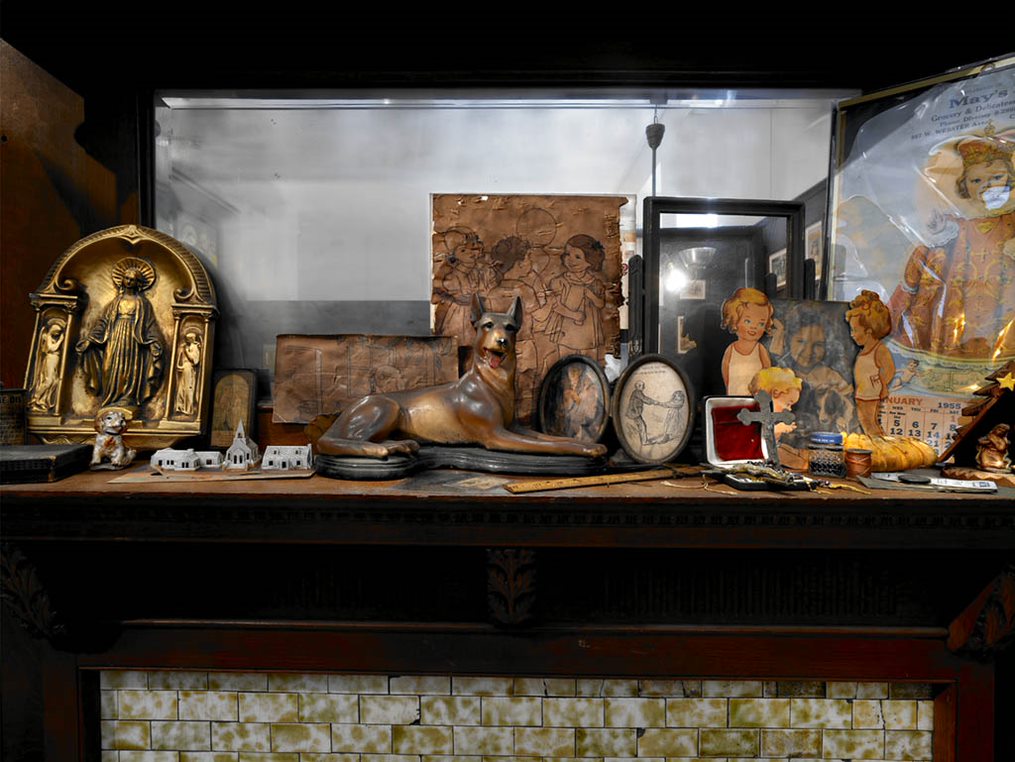 Many outsider artists utilize "materials at hand to realize their artistic vision." How does Darger's wide array of source material impact the breadth of this collection?
Darger scavenged for many of his materials—creating challenges for future conservators! The collection includes a variety of objects that were used or collected by Darger. For example, he used bundles of magazines, coloring book pages, twine, and rubber bands. The collection also includes objects such as a negative and its enlargement, which were used in his artistic process. Darger is the only artist in our collection for whom we have personal belongings, ephemera, and artistic source materials.
Given the undervaluing of outsider artists, what is the impact of this collection? How does Intuit reckon with the fact that many outsider artists don't intend for their work to be shared, as it is often created more for the individual than the public?
The mainstream art world is beginning to embrace this genre, as evidenced by recent major exhibitions at the Smithsonian American Art Museum, the National Gallery of Art, MoMA, and others. Discovered shortly before his death, Henry Darger's artwork and writings are now widely known and exhibited. Intuit's collection is important because it adds to our understanding of the artist, his creative environment, and the source materials and methodology he used to create his large-scale mixed-media works. In this field, there is the question of if or how work should be exhibited when the artist's intent is not known. There are many questions: Should we exhibit (or not) powerful work when we can't answer questions about display and the artist's intent? What if the work has already been largely exhibited at this point? These are important questions without easy answers. As an organization, we are moving toward a model of transparency around our decisions and increased thoughtfulness around our choices.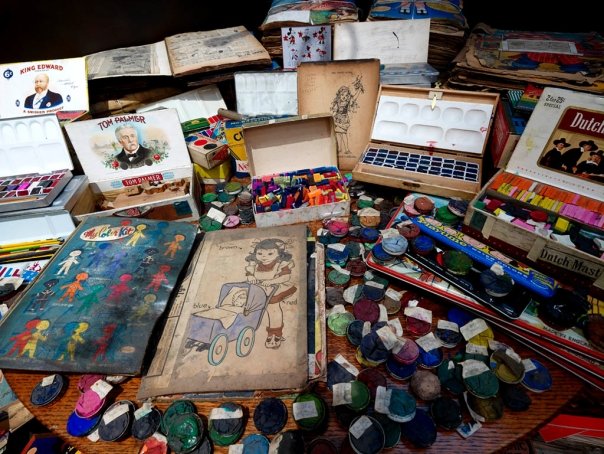 How are the physical artifacts in the collection preserved? Can you speak to the value of digitizing the collection and the specific efforts Intuit has taken?
Until October 2021, many of the artifacts were displayed in the Room. Despite a climate-controlled environment, they were subject to light exposure and dust over the years. Thirteen years after the opening of the Room, Intuit collection staff, with the help of an archivist, assessed and rehoused the objects for archival storage. Furnishings were dusted and left in the Room, and each object was inventoried, numbered, examined for conservation needs, photographed, and housed in custom-made archival packaging. Because of their high fragility, Intuit is considering new ways to exhibit Darger's objects using enclosed vitrines, facsimile, or media-based means in the future to avoid damaging the artifacts.
In terms of digitization, Intuit photographed and scanned the 1,660 objects to document the collection for preservation reasons and to make the collection available online. Digitizing the collection allows both wider dissemination of and accessibility to Darger's work, while keeping objects in safe storage. Intuit also digitized our microfilm copy of Henry Darger's writings, which are now accessible through the Illinois State Library website.
---
About the interviewees: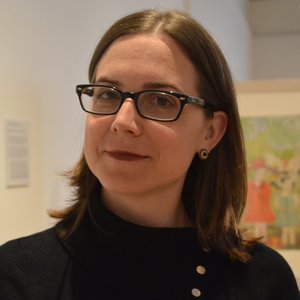 Alison Amick is the Senior Manager of Exhibitions and Development and Chief Curator at Intuit. She received her master's in art history from Indiana University in 2002. Amick's interest in outsider and self-taught art led her to Intuit, where she began as a volunteer. Prior to joining Intuit in 2016, she served as a curator at the Oklahoma City Museum of Art for more than a decade.
Christina Stavros is the Registrar and Curatorial Assistant at Intuit. She received a BFA in printmaking with a minor in art history from Pennsylvania State University in 2014. Christina's life-long passion for the arts led her to Intuit, where she began as an intern in the Collections and Exhibitions Department. Christina comes to Intuit with past gallery and events experience. She also continues to practice the arts through painting and mixed media works.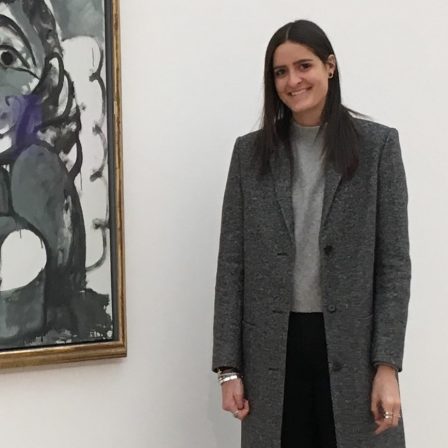 Claire Renaud is the Assistant Registrar at Intuit. Claire earned her bachelor's degrees in fine art from the University of Toulouse (France) in 2016 and art history from the University of Strasbourg (France) in 2018. She earned the first year of her master's degree in contemporary art history from Panthéon-Sorbonne University of Paris and completed her master's degree in collection management and collection care from the École du Louvre (Paris, France) in 2020. Her strong interest in the arts is centered around their conservation and exhibition. After experiencing the registrar's duties in other museums and galleries during college, Claire first joined Intuit as a collections and exhibitions intern, during which she became particularly invested in the care and diffusion of the museum's collection.
---
For more information about Intuit: The Center for Intuitive and Outsider Art, visit www.art.org and @IntuitArtCenter on Facebook, Instagram and Twitter.
This interview was conducted by Ashley Roy. She is the digital media assistant at Choice.
---
Related Posts