The A Is for Arab Exhibit
A Conversation with Amita Manghnani and Laura Chen-Schultz
Posted on October 7, 2021 in Ask an Archivist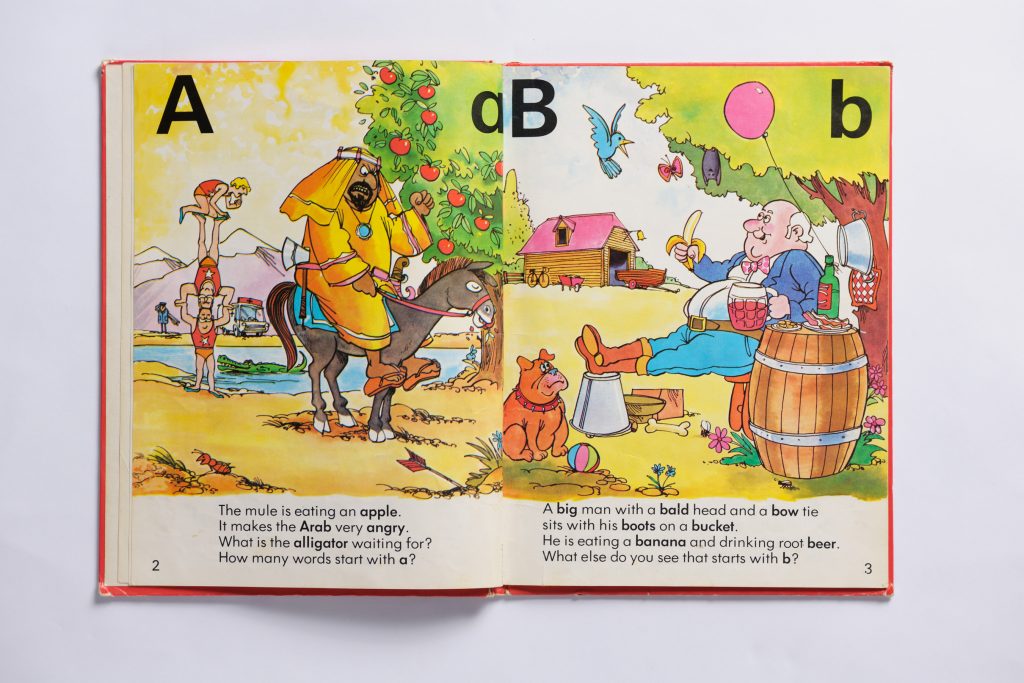 In this interview, Choice sits down with Amita Manghnani, associate director, Asian/Pacific/American Institute at NYU, and Laura Chen-Schultz, deputy director, Asian/Pacific/American Institute at NYU, to discuss A Is for Arab, a traveling exhibition showcasing pervasive stereotypes of Arabs and Muslims in US media.
---
How would you describe A Is for Arab to a perfect stranger?
A Is for Arab is a traveling exhibition and accompanying catalog that feature images from the Jack G. Shaheen Collection on Arabs in U.S. Film and Television. Both components contextualize and critique racist portrayals of Arabs and Muslims in US popular culture.
Who is the intended audience for A Is for Arab? How do you envision undergraduates, researchers, or even general audiences engaging with the exhibit?
The exhibition is meant to raise awareness about and encourage engagement with the Jack G. Shaheen Collection and to make accessible Dr. Jack G. Shaheen's research on US media portrayals of Arabs and Muslims. It was produced with an undergraduate audience in mind. We have felt encouraged that over 30 colleges, universities, libraries, and community centers have hosted the exhibition, and have planned related public programs (e.g., screenings, workshops, discussions) in order to provide opportunities for deeper engagement with the materials presented.
I understand that this exhibit is drawn from the Jack G. Shaheen Collection on Arabs in US Film and Television, which began as Dr. Shaheen's personal collection for his research on portrayals of Arabs and Muslims as the "other" in popular culture and mass media. How did that collection begin and how did it come to New York University's Tamiment Library & Robert F. Wagner Labor Archives via the Asian/Pacific/American (A/P/A) Institute and expand over the years? What sets it apart from other scholarly collections?
After noticing racist imagery in the books and television programs their children were reading and watching, Dr. Shaheen and his wife Bernice began their collecting efforts in the 1970s. Together, they dedicated their lives to cataloguing and documenting anti-Arab and anti-Muslim images in US popular culture. Dr. Shaheen once explained that, in the pre-internet era, he would scour issues of TV Guide for any references to Arabs and Muslims. He watched and recorded hours of television programs, movies, and commercials. He visited garage sales. People in his network began mailing him items. After amassing thousands of VHS tapes, toys, games, comic books, editorial cartoons, scripts, and other ephemera over the course of decades, Dr. Shaheen and Bernice began to look for a permanent home for the collection. The former director of the A/P/A Institute at NYU, Dr. John Kuo Wei Tchen, developed a close personal relationship with Dr. Shaheen, and it was through a series of conversations and the support of the NYU Hagop Kevorkian Center for Near Eastern Studies that the collection came to NYU. We have been honored to be a part of the team that has worked to preserve and make accessible this collection, and to have had the honor to collaborate with Dr. Shaheen until his passing in 2017.
One of the most incredible things about the Shaheen collection is how and what he and Bernice curated and saved. The amassing of these clips recorded on their VCR, cartoons cut out of the Sunday paper, toys and games purchased on eBay—all of these fragments—tell an incredibly powerful story and take on new meaning when put into conversation with one another. Contained within the collection is a 1978 television documentary on Palestinian resistance that, to our knowledge, exists nowhere else; drafts of film scripts with notes from Shaheen suggesting revisions (some of which were ultimately made); and miscellaneous racist ephemera (e.g., figurines, matchboxes, and masks)—we do not know of any other collection dedicated to the preservation of these materials as they relate to mass media images of Arabs and Muslims, and that is what makes it so unique.
How did the exhibit A Is for Arab grow out of the Jack G. Shaheen Collection and how does it speak to the work and legacy of Dr. Shaheen?
Soon after his collection came to NYU, Dr. Shaheen collaborated with A/P/A Institute staff to curate A Is for Arab, which highlights a handful of the stereotypes and tropes that he had identified through his career of research and archive building. His legacy of both critiquing and providing evidence of the persistence of racist portrayals of Arabs and Muslims in various forms of US popular media is made clear in this exhibition.
It is my understanding that a selection of films in the Jack G. Shaheen Collection has been digitized. Given the limitations to conducting in-person research brought on by the COVID-19 pandemic, are there any plans to digitize more of the collection or the exhibit? Has the pandemic initiated any changes to how you approach archiving and disseminating materials?
Our colleagues and collaborators at the NYU Tamiment Library & Robert F. Wagner Labor Archives, where most of the collection is housed, have done an incredible job of ensuring access to their collections throughout the pandemic. They have worked tirelessly to answer research questions via email and have scheduled virtual research visits to engage with people interested in the collection. They have also set up a virtual reading room to provide digitized materials to researchers, including the 2019-20 Jack G. Shaheen Research Grantees, whose plans were disrupted and postponed by the pandemic. It is quite remarkable. When resources allow, we would like to digitize additional items in the collection, particularly the editorial cartoons.
The overview page for A Is for Arab states that the "exhibition aims to educate and stimulate discussion about the impact of stereotypes on both individual perceptions and national policy." How can a project like A Is for Arab work to dismantle deeply held prejudices, even at the level of national policy, particularly in a post-9/11 world?
One critical intervention that Dr. Shaheen's research and collection makes is that these mass media images have an extended, persistent presence in the US, one that long precedes 9/11, which is no doubt a pivotal historical moment. But the bulk of the materials collected by Dr. Shaheen and Bernice were produced and disseminated pre-2001. This, we think, is what makes the collection so important: it documents and traces the history of US orientalism, and exposes the ideological and political work that it does. Dr. Shaheen maintained that the dehumanization of Arabs and Muslims excused violence against these communities—made it easier to explain and justify wars and occupations in the Middle East. The images that he collected both reflect and feed racist ideas that are deeply entrenched in our culture.
In the video trailer for the Jack G. Shaheen Collection, Professor John Kuo Wei Tchen, who founded the A/P/A Institute at NYU, links the collection to the work of Asian American collector Yoshio Kishi, who tracked stereotypes of Asian Americans in American cultural productions, as documented in the Yoshio Kishi and Irene Yah Ling Sun Collection, which is housed at the Fales Library at New York University. Though A Is for Arab focuses on representations of Arabs and Muslims in popular culture, how can it be used cross-culturally and in conversation with other collections to deepen discussions around prejudice, stereotypes, and discrimination, particularly at this moment in time when we are witnessing a rise in hate crimes against Asian American and Pacific Islander communities?
It was actually while researching images of Yellow Peril that Dr. Tchen first learned about Dr. Shaheen's work and his collection. As evidenced in the vilifying and dehumanizing images contained in both collections, there are indeed connections and parallels between the ways that racialized groups in the US have been portrayed. But there are of course very important particularities and histories to keep in mind.
In regard to what we are seeing today in relation to anti-Asian racism and violence, we have to think about US imperialism and militarism in Asia, and, in the case of the Atlanta mass shootings, misogyny and criminalization of sex work. What we are seeing and experiencing is connected to forms of white supremacist violence against other racial and religious groups, and that is also clear in the ways in which solidarities of resistance arise between movements and communities and diasporas. Both the Shaheen and Kishi collection illuminate the ways in which white supremacy is expressed and maintained as status quo via popular culture and mass media.
The Jack G. Shaheen Collection on Arabs in U.S. Film and Television is an academic archive housed at an academic institution, though it also seems intended for educating those outside the academy. Given that academia is often criticized for being siloed from the rest of society, do you see exhibits like A Is for Arab contributing to public discourse and breaking down that silo?
Through his books and his documentary Reel Bad Arabs (2006), Dr. Shaheen was able to reach a non-academic audience. Reaching students and a general audience was a priority when curating and designing the A Is for Arab exhibition. Venues like community centers, libraries, and other spaces that might not have a dedicated gallery space or a large budget to host an exhibition were at the forefront of our minds. The eight pop-up banners do not require large, blank wall space or an installation budget. The goal of the exhibition was to take the materials from the collection, housed at NYU, and bring them to the public. Each venue that has hosted A Is for Arab has planned accompanying programs to engage their audiences and community, and Dr. Shaheen's books and films have also been useful tools to provide additional context for the materials presented in each panel.
At the end of the trailer for the Jack G. Shaheen Collection, Dr. Shaheen poses a question to TV producers and media scholars, which is, "What have these films and images of Arabs taught us?" In that vein, what do you hope A Is for Arab teaches viewers?
The racist imagery that Dr. Shaheen collected is difficult to look at, and yet, the materials are invaluable. They trace and document the racialization of Arabs and Muslims in the US over the course of decades. Dr. Shaheen's collection teaches viewers and those that engage with it about the persistence and power of these images and encourages us all to think critically about the media and narratives we consume and produce.
*All captions have been reproduced with permission from the exhibition catalogue:
A Is for Arab: Archiving Stereotypes in U.S. Popular Culture. ed. by John Kuo Wei Tchen and Amita Manghnani. Asian/Pacific/American Institute, New York University, 2012. 71p, 9780615699691 $22.00
---
About the interviewees:
Amita Manghnani is associate director at the Asian/Pacific/American Institute at New York University, where she promotes and makes accessible the arts, research, and scholarship in interdisciplinary, innovative forums. She has over 10 years of experience in arts organizations and higher education, including roles at the Asian American Writers' Workshop, The Feminist Press at CUNY, South Asian American Women's Creative Collective, and International Coalition of Sites of Conscience, among other non-profit organizations. She earned an MA in public history and archives from NYU and a BA in American studies from Brown University.
Laura Chen-Schultz is deputy director at the Asian/Pacific/American Institute at New York University, where she oversees fundraising, development, talent and financial resources, archives building, student and community outreach, research administration, and special projects. A lifelong New Yorker, her entire professional career has been in higher education administration. She earned an MPA in nonprofit management from NYU and a BA in psychology from Binghamton University.
About Dr. Jack G. Shaheen:
Dr. Jack G. Shaheen (1935–2017) was an internationally recognized professor, author, and media critic who dedicated his career to identifying and contesting damaging stereotypes of Arabs and Muslims in US popular media. He wrote several books on this subject, including The TV Arab (1984), Guilty: Hollywood's Verdict on Arabs after 9/11 (2008), and the award-winning Reel Bad Arabs: How Hollywood Vilifies a People (2001, 2009), which the Media Education Foundation produced as a documentary in 2006. He even served as a consultant on films such as Syriana (2005) and Three Kings (1999) and for the Los Angeles Commission on Human Relations, the Justice Department's Civil Rights Division, and New York City's Commission on Civil Rights. Before his passing, Dr. Shaheen was a distinguished visiting scholar at New York University's Asian/Pacific/American Institute and the Hagop Kevorkian Center for Near Eastern Studies, as well as professor emeritus of mass communication at Southern Illinois University, Edwardsville.
---
For more information about the A/P/A Institute at NYU and its collecting mission, visit https://apa.nyu.edu/
This interview was conducted by Fatima Mohie-Eldin. She is the social science editor at Choice.
---
Related Posts