Golden Age of Black Radio
From the "Ask an Archivist" archives: A Conversation with Brenda Nelson-Strauss and William R. Vanden Dries, originally published November 2016
Posted on September 7, 2018 in Ask an Archivist
Brenda Nelson-Strauss, Head of Collections at the Indiana University Archives of African American Music and Culture, and William R. Vanden Dries, the AAAMC's Digital Archivist/Project Manager, talk with Choice about the exhibit "Golden Age of Black Radio" they co-curated for the Google Cultural Institute. The online multimedia exhibit traces the history and contributions of Black radio stations and disc jockeys from the 1920s through the early 1970s. The exhibit was profiled on Nation Public Radio's Weekend Edition in February 2016 during Black History Month.
How would you describe your exhibit, "Golden Age of Black Radio," to a perfect stranger?
Our four-part online multimedia exhibit traces the birth of Black-oriented radio programs in Chicago during the 1920s–1940s, through its transition to all-Black programming by stations around the country in the 1950s–1960s, to the first Black-owned and Black-operated stations. Along the way, viewers may explore: 1) the role of radio during the Civil Rights Movement; 2.) the ways Black radio connected with and shaped African American communities; 3) pioneering African American women in radio; 4) personality deejays who rapped and rhymed; and 5) the role of deejays in "breaking the hits" and promoting Black music.
The exhibit is illustrated with over 100 historic photographs documenting radio stations and disc jockeys in Chicago, Memphis, Houston, Atlanta, Louisville, Cincinnati, Detroit, Philadelphia, and New York. Excerpts from interviews with African American radio pioneers in these cities allow the story to unfold through first person narratives.
Where did this exhibit originate? How did the Indiana University Archives of African American Music and Culture come to collaborate with the Google Cultural Institute?
The AAAMC was one of 54 cultural organizations across the United States invited to partner with the Google Cultural Institute on the new Black History and Culture section of the GCI website. Premiered in February 2016 during Black History Month, the site allows virtual access to unique collections containing thousands of artworks, artifacts, and stories related to the African American experience. Each participating organization was also asked to curate an exhibit utilizing the images and media files in their GCI collections.
When we were initially contacted about contributing a music themed exhibit, we immediately decided on our Black radio collections due to the breadth of content and the amount of material that had already been digitized. We pitched the idea to the GCI team, who were excited about the topic since it complemented other exhibits while filling a gap in terms of the history of African American mass media, communication, and music.
The idea for our exhibit originated with one of the AAAMC's most popular collections, "Black Radio: Telling It Like It Was," which includes production materials for the 13-part radio documentary (of the same title) produced in 1996 by Jacquie Gales Webb for the Smithsonian. The AAAMC had partnered with Gales Webb on aspects of the research and production of "Black Radio," and as a result became the repository for the photographs collected from the disc jockeys as well as the interviews conducted by Gales Webb and her staff. These materials laid the foundation for our exhibit, while the script for the documentary provided guidance in terms of chapter headings and a logical sequence to the story.
How did radio personalities like Jack Gibson and Martha Steinberg create communities and forge strong relationships with Black audiences?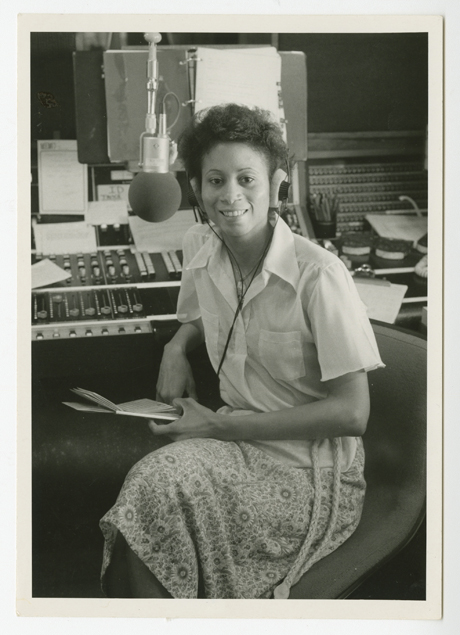 Jack Gibson (a.k.a. "Jockey Jack" and "Jack the Rapper") was an early pioneer who began his career as an actor in the first Black radio soap opera and went on to become an announcer, disc jockey, and station manager. Martha Jean "the Queen" Steinberg began her career in Memphis, but is perhaps best known for her tenure in Detroit. Both were affiliated with WDIA in Memphis, which in the early 1950s became the nation's first station with programming that specifically catered to the African American community. At that time, Black radio stations had little competition, so their deejays had a large, captive audience. They promoted Black-owned businesses, supported blue collar workers, emceed at concerts and community events, participated in fundraising campaigns, announced breaking news of importance to the community, and discussed local government and current events. As a result, they became local heroes who both informed and represented their communities.
How did Black radio innovate by employing the African American oral traditions of storytelling and improvisation?
The great personality deejays of the '50s and '60s, many of whom are included in the exhibit, addressed their audiences in a very personal style that spoke directly to their communities. As opposed to the straight announcing style of mainstream radio, the Black deejays drew on African American cultural expressions, idioms of speech, and oral traditions: they spoke in rhythms and rhymes; created new words and phrases (e.g., slang and "jive talk"); incorporated elements of toasting and signifying; and used a very animated mode of delivery. Many of these deejays also spoke in a proto-rap style; in fact, Doug "Jocko" Henderson released a rap single, "Everybody's Uptight (Tryin' to Get Their Money Right)," on Sugar Hill Records in 1983. These techniques allowed Black deejays to achieve a new level of verbal artistry on the airwaves, which influenced the style of many other disc jockeys—both black and white.
Can you explain the process of selecting recordings and interviews for the digital exhibit? How do these voices figure within a larger narrative arc?
One of our goals was to present both the triumphs and tribulations faced by radio station personnel during the transition to integrated airwaves. Thanks in large part to Indiana University's Media Digitization and Preservation Initiative, a videotaped interview with legendary deejay Jack Gibson was digitized just in time for inclusion in this exhibit. We used excerpts from this interview, conducted in 1981 by the AAAMC's director emeritus Dr. Portia K. Maultsby, to weave together the primary themes running through the exhibit. We then created a storyboard, and under each theme selected audio segments from interviews with radio pioneers, drawn from the "Black Radio: Telling It Like It Was" collection. There were many fascinating interviews to choose from, but we gradually narrowed the list to those we felt would have the greatest impact within the limitations of a two- to four-minute excerpt.
What challenges did you face in compiling the digital exhibit?
Selecting pertinent images, video, and audio for the exhibit proved challenging for several reasons, including rights, exhibit length, limitations of the exhibit platform, and a short time window to complete the exhibit. The first step was to negotiate the contract between Google and IU and to supply a list of digital objects that could potentially be cleared for worldwide online public access. Since Google's contract stipulated a minimum of 150 digital objects in our online "collection," the process of selecting items and clearing rights was very time-consuming. We were then required to create an online exhibit using an unspecified number of objects within in our collection.
Though the AAAMC holds many image collections related to Black radio, we selected only those for which rights were transferred to IU, or which could be substantially verified as public domain. The latter was accomplished by filtering the metadata to compile a list of publicity photographs widely disseminated prior to 1978 without copyright notice and with no identified photographer. The audio and video clips were less problematic since signed releases were on file, though we had to delete a few choice clips for which rights could not be cleared before the deadline.
Another challenge was the primarily visual nature of the Google exhibit platform, which did not lend itself to audio clips with no accompanying images. Since a significant number of audio clips in our exhibit fell into this category, we had to develop a workaround to this problem. Our solution was to embed the audio into a YouTube video, using a still image of a 1950s era radio as the background.
The last challenge centered on the exhibit length. We initially created a single exhibit on the GCI platform, but then realized it would take nearly two hours to view due to the number of audio and video clips. After consulting with the Google team, we all agreed it would be a more user-friendly experience to break up the exhibit into four parts. These four exhibits still traverse the same overarching narrative, but can be experienced in shorter chunks. The downside is that users may find it difficult to navigate between all four exhibits.
In "Part 4: Gender Inequality and Civil Rights," Natolyn Williams describes the "phony," stereotypical role of female radio personality, Willa Monroe. What role does gender play in this archive? How did Black women in radio subvert gender norms?
Following the conventional gender norms of the 1950s, most Black women on the radio at that time were relegated to shows about cooking and housekeeping, while others hosted gospel music programs. A number of white-owned stations with black-oriented programming also created stereotypical "franchise names" and personalities for their deejays, such as "Dizzy Lizzy," which would be passed on to the deejay's successor. But by the close of the decade, Black women began breaking down these barriers. They advocated for autonomy and the right to use their own names, personalities, and programming ideas. They expanded into different formats, including news broadcasts, and they became role models to their huge base of loyal fans.
The exhibit mentions white deejays imitating the style of popular Black deejays. How does this imitation relate to issues of appropriation?
The growing popularity of the "rapping and rhyming" Black deejays, as well as the expanding audience for Black popular music, began to exert more influence on white deejays and station owners seeking to expand their markets. By the '50s and early '60s it was not uncommon for white-owned stations, especially in the South, to hire white deejays who "sounded black" to host rhythm and blues programs, while maintaining a strict policy of segregation that excluded employment for Black deejays. As discussed throughout the exhibit narrative by Jack Gibson, this appropriation and segregation fueled the growth of Black radio, which Gibson defined as Black-owned and Black-operated—or in his words, "Black from the ground up."
How do you envision undergraduates using this exhibit?
We primarily envision students using the digital images, video, and audio items within the AAAMC's GCI "collection" in their class multimedia projects. The ability to bring up media objects online during a class presentation or discussion is a powerful tool, and we hope students will use this tool to share these materials in an educational setting. Students, like anyone else visiting the site, also have the ability to create and curate their own customized collections on the GCI website by combining digital objects in the AAAMC's collection with digital objects contributed by other institutions. We hope this opens up new creative opportunities for undergraduates to draw connections between multiple cultural heritage collections from around the world.
What role did Black radio play during the Civil Rights Movement?
It would be hard to overstate the importance of Black radio in connecting, representing, and eventually mobilizing the Black community during this time of struggle. Deejays not only discussed the needs of their communities, they also sought to be a part of the solution. In the fourth and final exhibit segment, "Gender Equality and Civil Rights," African American deejays relate personal stories about Dr. Martin Luther King, Jr., and the March on Washington, highlighting the ways Black radio served as a networking and mobilization tool for Black leaders during this era. In the words of Jack Gibson, "I would consider that to be the top, number one thing that Black radio did in the last thirty or forty years … the [efforts] that caused the Civil Rights [Movement] to happen."
---
About the interviewer:
Emma Raddatz is a publishing intern at Choice and a student at Wesleyan University.
Related Posts