Slaveholder Republic: Gerald Horne Unravels the Dark Roots of Texas's Statehood
Driven by the desire to maintain slavery, the Texas Revolution of 1836 ultimately led to the institution's expansion.
Posted on July 31, 2023 in Featured Review
By Joel Wendland-Liu
The Counter Revolution of 1836: Texas Slavery & Jim Crow and the Roots of U.S. Fascism, by Gerald Horne. International Publishers, 2022. 622p, 9780717800018 $24.99, 9780717809035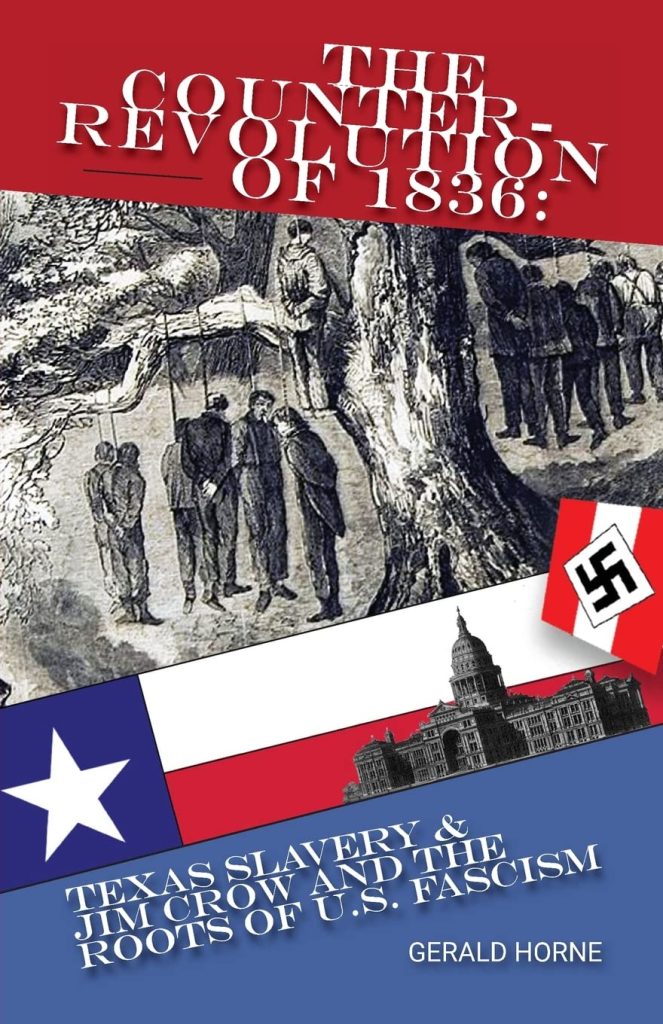 Prominent historian Gerald Horne (Univ. of Houston), whom Cornel West has referred to as "one of the great historians of our time," was a notable influence on the New York Times's popular "1619 Project." Following its publication, politically motivated backlash against "The 1619 Project" spawned a handful of conservative counter-projects. The Trump-endorsed "1776 project," for example, sanitized U.S. history, expunging references to the brutality of enslavement of Africans or the genocide of Indigenous peoples. In 2021, the Republican governor of Texas cultivated the "1836 project" with similar aims to counter so-called woke histories with revisions that hide the violence of white supremacy and U.S. capitalism. Horne's latest offering, The Counter-Revolution of 1836, aims to correct the falsifications rooted in common misunderstandings of that state's birth.
Across his nearly 40 scholarly books, Horne's research and narratives resist nationalist mythologies and standardized linearity. This holds true for the book under review as well, which situates Texas in the confluence of various historical actors and forces. European imperialist rivalries, abolitionism in the Americas (Mexico and Haiti), Indigenous struggles for sovereignty, and slave rebellions shaped and were shaped by the Euro-American drive to create Texas. Indeed, by placing the issue of slavery, slave rebellion, and settler-colonialism at the center of Texas history, The Counter-Revolution of 1836 reveals an oft-hidden motive for that republic and eventual state's creation: the preservation of slavery. Horne, whose earlier study of the American Revolution, The Counter-Revolution of 1776 (CH, Dec'14, 52-2169), drew similar conclusions, writes that parallels between the two events justly earned the latter the designation "the Second Counter-Revolution, both driven by the passion for slavery and land grabs" (pp. 6–7). A crucial consequence of this reality proved to be the bedrock of an exceptional American form of fascism that the author believes has seen a recent resurgence.
The local and international complexities leading up to the "counter-revolution" of 1836 began with Mexico's revolutionary break with Spain in 1821. Mexico's republicanism was accompanied by abolitionist sentiments, culminating in the 1829 anti-slavery law. Despite this, Mexico encouraged the migration of American enslavers to the Texas-Mexico borderlands. The future traitorous land speculator Stephen F. Austin, for example, used his control of a 70,000-acre land concession to facilitate migration and the growth of the slave population with special grants for every enslaved African brought into Mexico.
Land speculation and the slave trade fueled what Horne calls a violent dialectic. Migration propelled a demand for more land, threatening the sovereignty of Indigenous nations subjected to Euro-American extermination schemes. Lucrative cotton production lured more Euro-Americans, required more access to stolen Indigenous land, and created more demand for enslaved people. As a result, the enslaved African population grew from an estimated 3,500 at the time of secession by tenfold two years after the U.S. annexation. The total number of slaves on the eve of Texas's second secession in 1861 stood at more than 182,000. Mexico's abolition of slavery in 1829 pushed the question of Texas's secession to its conclusion, as Euro-American Texans sought independence to protect the institution of slavery and to control the process of extorting land from the region's Indigenous nations.
Euro-American settlers used a swirl of so-called race-war rhetoric that positioned them as victims simultaneously of Mexico's "mongrel Spanish-Indian and Negro race," as Austin wrote in an 1836 letter to Senator L. F. Linn of Missouri; the still-powerful Indigenous nations, such as the Comanche and the Caddo, believed to be allied with the Mexican army; and a potential uprising of enslaved Africans. For some in the Texas regime, race-war rhetoric cynically aimed to secure U.S. support; for others, such as the fledgling republic's second President Mirabeau Lamar, it served to legitimize Indigenous extermination and the expulsion of anyone with Mexican sympathies. Further, Lamar advocated Texas's continued independence, despite the early orientation of most Texans toward annexation.
Horne links Lamar's independent streak with the 1861 secessionists and his totalizing racial theory and demands for systematic genocide to the ideological and practical roots of twentieth-century fascism. Despite Lamar's bid to become a rival of the United States, by 1844, Sam Houston openly campaigned on annexation, handily winning a second presidential term. The ongoing and expensive conflicts with Indigenous nations, fear of slave insurrection, a growing number of runaway Africans to abolitionist Mexico, and the Mexican-British alliance convinced most, even Lamar, to accept annexation.
Obstacles to annexation, however, were numerous. First, anti-slavery and Northern capitalists feared that a large pro-slavery Texas would be divided into several smaller slave states, undermining the fragile congressional balance of power. Additionally, preparation for war with Mexico (a means to acquire California as a counter to Texas's inclusion as a slave state), a framework for extinguishing Indian title in Texas, and a reasonable handling of Texas's debt were necessary prerequisites to annexation in 1845. Annexation meant war. In the final half of the 19th century, it oriented the United States toward an imperialist project in the rest of the hemisphere.
During the lead-up to and throughout the Civil War, Texas continued its attempts to protect the abominable institution of racial slavery. As early as Lamar's drive for Indigenous extermination, race-war rhetoric permeated Texas politics. The paranoia was partly fueled by an "accumulation of bigotry [that] generated genocidal threats" (p. 146) rooted in the belief that if Anglo-Texans failed to exercise such violence, they would be replaced in power by their presumed racially inferior neighbors. By the late 1850s, in advance of the Civil War, prominent Texans, such as future Confederate General John Baylor, echoed this protofascist replacement theory and were complicit in the murder of a federal agent to prove it.
Horne shows that Texans were angry in the late 1850s. They accused Washington of being overly protective of Indigenous nations, preventing the push for extermination and more settler access to land. They wanted the central government to force Mexico to return runaway Africans and to unleash its military power against Mexico to capture more territory. Further, they insisted on overturning the constitutional prohibition on the international slave trade. Failing this, many Texans called for secession in advance of the sectional crisis signaled by Lincoln's election. In their rhetoric of supposed race war, Washington appeared to be on the wrong side.
As Texas sent military contingents east to fight, its own lengthy and insecure border became even more open to international intrigue. A severely weakened Mexico was subjected to French intervention, which installed Maximilian of Habsburg as Emperor of Mexico in 1864. French sympathy for the Southern cause, despite its abolitionism, enabled Texas to serve as a backdoor to the arms trade and human trafficking of the enslaved into the South via Tampico, Matamoros, and Monterrey. Despite this, the war began to wind toward its conclusion by 1864, and Texas became a safe harbor for fleeing rebels intent on maintaining control of enslaved humans.
After the April 1865 surrender, many rebels fled to Mexico in French-controlled and sympathetic territory, hoping for a chance to regroup and re-invade. In the closing decades of the nineteenth century, life in Texas featured rampant land speculation, criminality, and terrorism against African Americans, Indigenous people, and Mexican Americans. Despite ubiquitous armed federal forces, the U.S. military focused primarily on stabilizing the border with Mexico by conducting a proxy war with France over control of that country.
The story of Reconstruction, its limits, and the ultimate withdrawal of federal troops under the 1876 compromise will be familiar to readers of Eric Foner's Reconstruction (CH, Oct'88, 26-1104), Heather Cox Richardson's The Death of Reconstruction (CH, Apr'02, 39-4787), Mary Farmer-Kaiser's Freedwomen and the Freedmen's Bureau (CH, Oct'10, 48-1057), or W. E. B. Du Bois's seminal Black Reconstruction in America (1935). Initial attempts to enforce slave-like conditions under the Black codes preserved systemic violence against newly emancipated Black people.
Despite the onset of Radical Reconstruction enforced by military regiments, anti-Black terrorist violence continued. Schools and voting rights, as significant as those social institutions were, proved incapable of galvanizing full rights and equality by themselves. The refusal of military and political authorities to extend access to the confiscated property, capital, and land of former treasonous rebels to those who had suffered for so long under their brutality ensured the limits of those social institutions. By the late 1870s, the supposedly radical state constitution was overturned, followed by swift and nearly complete suppression of Black voters.
Systematic rhetoric that framed Texas as in a perpetual race war fueled a white supremacist culture of violence. This legacy produced the preconditions for a totalizing, far-right culture and ideology that caused the Ku Klux Klan, which supported racist lynch law and mob violence, to flourish in the 1920s. It fostered a political terrain that defended "genocide, mass dispossession, demagogy, chauvinism, wars of aggression, religion instrumentalized, runaway patriarchy, class collaboration especially in the Pan-European community, and as a direct result labor subdued along with its complement, the left-wing" (pp. 569–570).
That latter claim, as apparent as it seems given the carefully documented historical data produced by this sweeping narrative, demands additional historical research to demonstrate organizational connections across the generations. Horne's scholarship will prove a corrective remedy to politically motivated histories that deny the truth of the past and aid the resurrection of the reactionary political movement that these events fostered.
Summing Up: Recommended. General readers through faculty.
Interdisciplinary Subjects: African and African American Studies, Latin American & Latina/o Studies, Native American Studies, Racial Justice
Subject: Social & Behavioral Sciences – History, Geography & Area Studies – North America
---
Joel Wendland teaches in the School of Interdisciplinary Studies at Grand Valley State University and is the author of Mythologies: A Political Economy of U.S. Literature in the Long Nineteenth-Century (2022).
Related Posts