Internet Resources: September 2022
Selected reviews of digital reference resources from the August issue of Choice.
Posted on September 1, 2022 in Internet Resources
---
"Anthropology Plus provides access to Anthropological Index Online and Anthropological Literature indexes," offering "indexing of core and less well-known journals from the [18]th century to the present," as Ellen Barrow wrote for ccAdvisor. "As of 2022, [the] database contains 1.1 million records," covering such subjects as anthropology, art history, archaeology, ethnology, folklore, linguistics, material culture, primatology, and religious studies. Users can access "thousands of sources, including reports, commentaries, journal articles, and edited works … in a wide variety of languages." Given these features, Barrow determined that Anthropology Plus "is a powerful tool for researchers in … anthropology, archaeology[,] and related interdisciplinary fields."
There are three options for navigating the content: Basic, Advanced, and Index Search. "Basic [S]earch offers keyword, title, and author options" and search limiters for subject headings, year, and language. Using Advanced Search, users can limit results by "ISBN, ISSN Conference, geographic terms, people, peer reviewed, publication name, document type, article, book chapters, and electronic resources," as Barrow detailed. In addition, "the indexes … offer a basic browse search with the usual full text and peer review search options." As Barrow further noted, "the results pages provide … options to refine results with Boolean phrases," "the article page provides a link to the full text," and "subject terms related to the search are readily available in the item record and can assist users in narrowing their topics."
Anthrosource, produced by the American Anthropological Association (AAA) and Wiley, could be a competitor, "contain[ing] present, past, and future AAA publications." However, the strength of Anthropology Plus is its "access to millions of records and resources … not available in most other related products," including sources outside AAA. Summing Up: Highly recommended. All undergraduates.
This review is a summary of a longer review by Ellen Barrow, Georgia State University, Perimeter College, originally published in ccAdvisor.org. Copyright © 2022 by The Charleston Company. —Abstracted from, ccAdvisor
---
Benchmark Library Metrics and Trends. Association of College and Research Libraries (ACRL) Contact publisher for pricing.
https://librarybenchmark.org/Account/Login?ReturnUrl=%2F
Benchmark Library Metrics and Trends (hereafter Benchmark) "allows libraries to facilitate comparisons using Carnegie classes, national data, and customized peer groups," wrote Thomas J. Beck for ccAdvisor. The database offers two levels of access: free and by subscription. The free option "allows a library to manage its contact information and preferences," view and compare its Carnegie classification to other US libraries, and "view and complete open surveys," among other basic options. A subscription "offers several additional features, including interactive data dashboards with filters and visualizations, the means to create custom peer groups for benchmarking, and a custom report builder with longitudinal metrics," he added. Though the database is sure to "be of use to academic libraries [wanting] to compare their data with other institutions," it can be difficult to navigate as the platform has no obvious starting point.
The Benchmark landing page, which is fairly straightforward, includes six tabs at the top: Home, Surveys, Manage Peer Groups, Manage Institution, Survey Metrics Dashboard, and Resources; Survey Metrics Dashboard is the most detailed and multileveled. As Beck noted, "it takes some time to click on the various tabs and determine what functionality is available and how to use it." "Despite these complexities," Beck concluded, Benchmark "offers … a broad and varied range of data on the institutions covered therein," such as "total expenditures, circulation, information services, FTE staff, collections' institutional repositories, Interlibrary Loan, group presentations, hours open per week, weeks affected by COVID 19, student enrollment, gate count, and materials and operations expenditures."
Though EBSCO's Library Literature & Information Science Full Text and Library, Information Science & Technology Abstracts with Full Text "may provide some of the data available in Benchmark," there do not appear to be any direct competitors to this product. Summing Up: Recommended. Graduate students, faculty, and professionals.
This review is a summary of a longer review by Thomas J. Beck, University of Colorado, Denver, originally published in ccAdvisor.org. Copyright © 2022 by The Charleston Company. —Abstracted from, ccAdvisor
---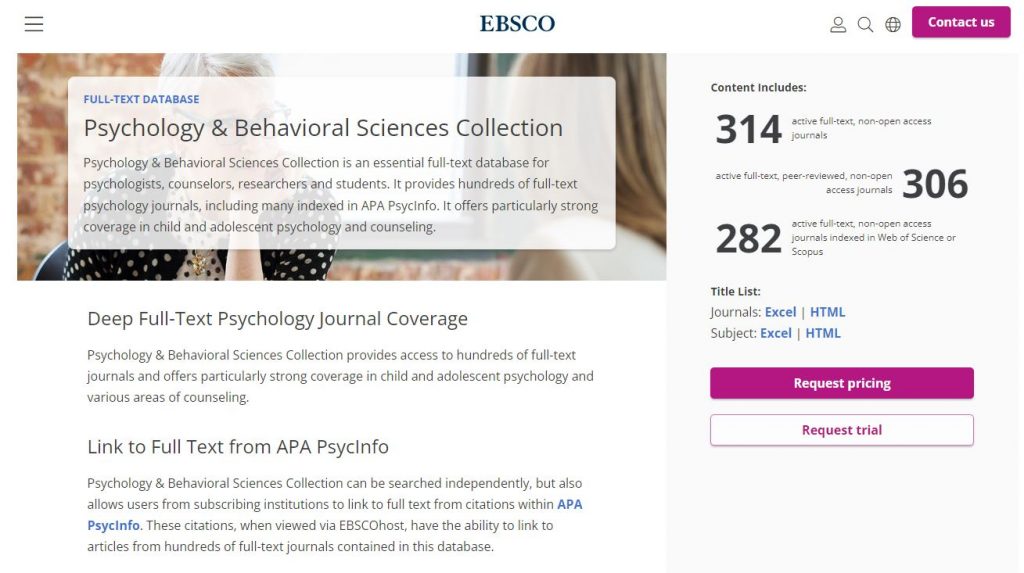 Psychology & Behavioral Sciences Collection is a full-text database for psychologists, counselors, researchers, and undergraduate and graduate students in relevant fields. As Dawn Behrend wrote for ccAdvisor, "this database is particularly strong in its coverage of child and adolescent psychology as well as counseling," covering "a breadth of subjects … with an emphasis on … psychology, anthropology, emotional and behavioral characteristics, cognitive processes, psychiatry, and observational and experimental research methods." The site includes nearly 600 journals, the majority of which are peer-reviewed and/or full-text. Of those, 290 full-text journals are indexed in APA PsycInfo and can be linked to results in PsycInfo for subscribing institutions.
As Behrend noted, "Psychology and Behavioral Sciences Collection is available on the user-friendly and easily navigable EBSCOhost platform, which has the capability of being cross-searched with other EBSCO products." Both Basic and Advanced Search options are available; the latter includes "additional search bars with Boolean operators and dropdown boxes to select fields such as author, title, subject terms, or journal name," Behrend added. Limiters further refine results by full text, peer review, publication, date, and/or document type. As she pointed out, the utility toolbar includes useful tabs such as Subjects, which provides a directory of subject terms, and Publications, which "displays a list of publications in alphabetical order with the alternative to display by subject and description or matching any words."
APA PsycArticles and ProQuest Psychology Database are two possible competitors. As Behrend noted, though, "Psychology & Behavioral Sciences Collection offers sufficient unique content and [a] number of full-text journals indexed in PsycInfo to justify its purchase either in addition to these products or as a standalone database." Summing Up: Highly recommended. Lower-division undergraduates through faculty.
This review is a summary of a longer review by Dawn Behrend, Lenoir-Rhyne University, originally published in ccAdvisor.org. Copyright © 2022 by The Charleston Company. —Abstracted from, ccAdvisor
---
Research Methods Primary Sources (RMPS) integrates digital case studies with learning tools to help pedagogues better teach students to evaluate, utilize, and interpret primary sources in academic research, as Michael DeNotto articulated in his review for ccAdvisor. It will be useful across the humanities, especially in history courses, with "ample material related to gender, disability, race, and other critical studies." RMPS can be used independently, though the database is enhanced when used in conjunction with other primary source collections from Adam Matthew. It will likely be best utilized by archivists, librarians, and conservators.
RMPS consists of five primary sections: Introduction, Learning Tools, Case Studies, Practice Sources, and User Guide. Under Learning Tools, users can access "video interviews with different scholars … describing how they use primary sources in their specific disciplines"; "videos that cover the history of archiving and archival practices"; and "well-crafted essays that discuss representation in archives, archival selection bias, general ethical concerns in archiving, as well as how to critically read a digital archive," DeNotto wrote. Navigating both Learning Tools and Case Studies is fairly easy, especially because content links to other relevant case studies, learning tools, and any related Adam Matthew Digital Collections an institution already subscribes to. Altogether, RMPS includes more than 100 diverse, high-quality case studies, representing an impressive depth and variety.
As DeNotto concluded, although "competitors like Brill, Newsbank/Readex, and Alexander Street Press certainly have many products that provide access to primary sources," they do not integrate primary sources with case studies and learning tools as RMPS does, making this database truly unique. The closest product may be Docsteach from the National Archives and National Archives Foundation. Summing Up: Highly recommended. Lower-division undergraduates through faculty.
This review is a summary of a longer review by Michael DeNotto, Hope College, originally published in ccAdvisor.org. Copyright © 2022 by The Charleston Company. —Abstracted from, ccAdvisor
Related Posts