Internet Resources: December 2022 Edition
Selected reviews of digital reference resources from Choice.
Posted on December 1, 2022 in Internet Resources
---
Arctic Science and Technology Information System (ASTIS). Arctic Institute of North America Contact publisher for pricing.
http://www.aina.ucalgary.ca/astis/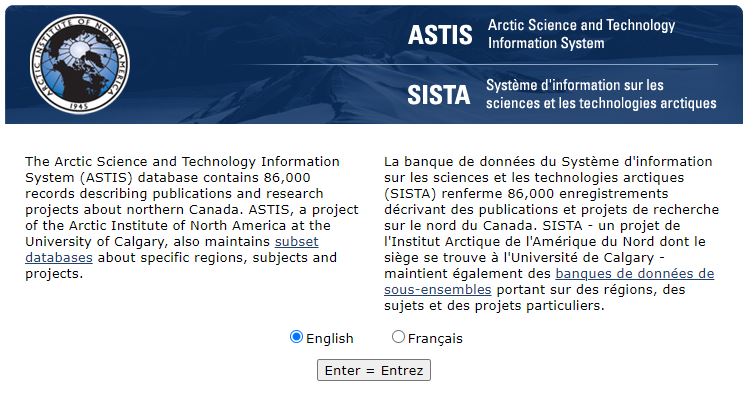 Arctic Science and Technology Information System (ASTIS) is "a unique information resource—more a repository than a database—[offering] over 83,000 records that provide [freely available] record-level access to publications, including research and research projects, about the Canadian North," wrote Jane C. Duffy for ccAdvisor. The site's primary purpose "is to provide extensive access to records, including grey literature and ephemera, exclusively about all facets of northern Canadian Arctic science and industry information," such as "earth and life sciences, engineering and technology, and mining and environmental sciences," she added. The geographic scope spans the southernmost limit of discontinuous permafrost and adjacent marine areas including James Bay, Davis Strait, and the waters of the Arctic Archipelago, focusing extensively on Yukon, Nunavut, and the Northwest Territories. As Duffy also importantly pointed out, "many Canadian institutes, agencies, and government bodies have donated their holdings in this subject area to this unique resource; they are publicly unavailable anywhere else."
The main page features a Simple Search interface, which "affords direct access [to] hyperlinks via personal and corporate author search terms, geographic terms, subject codes, geographic codes, and subject terms," Duffy wrote. As she went on to say, "the ability to search by subject code via a drop-down list" will be valuable to researchers, especially the search by geographic code feature, which will be particularly useful for physical geographers and other Northern Canadian specialists.
"Trade and grey literature in the area of Canada's North are underrepresented in larger science databases," but "ASTIS fills this gap as a primary resource for Canadian Arctic information," Duffy concluded. She added that the National Snow and Ice Database might be a useful supplementary tool for additional research and data specific to snow and ice. Ultimately, though, ASTIS is a unique database with no direct competitors. Summing Up: Highly recommended. General readers through faculty.
This review is a summary of a longer review by Jane C. Duffy, MacEwan University, originally published in ccAdvisor.org. Copyright © 2022 by The Charleston Company. —Abstracted from, ccAdvisor
---
Mindscape Commons. Coherent Digital, LLC Contact publisher for pricing.
https://mindscapecommons.net/
Mindscape Commons is the first online resource to provide "a platform for virtual reality (VR) content relating to the health sciences, counseling, psychology, and social work," wrote Kevin McDonough for ccAdvisor. Content is split across four categories: exclusive, commercial, open access, and research projects, and the VR experiences are available as 180/360 videos, visible through a browser screen or a dedicated head mounted display (HMD). Particularly helpful is the exclusive content: Virtual Microcases and Interactive Simulations, which were created with input from practitioners. The Virtual Microcases are short cases with limited interactivity designed to help users encounter clients dealing with issues such as anger, anxiety, depression, relationship issues, grief and loss, sexual trauma, substance use, and suicidal thoughts, accompanied by instructor guides and questions for self-reflection. The Interactive Simulations are longer and more interactive, designed to help tailor therapy to the specific client's characteristics. "Viewing content within HMDs is somewhat tricky," McDonough noted, "but the feeling of immersion and realism rewards the effort … and the number of experiences is expected to grow."
The home page features a central search bar, five featured experiences, and, further down, options to browse by subject, publisher, specific viewing devices, Virtual Microcases, or Interactive Simulations. "When viewing all titles[,] the left-hand navigation bar gives filtering options by subject, publishers, access type (membership, commercial, research project, and open access), release date, scenery type (e.g., 360 video, augmented reality, computer generated animation, etc.), target platform (Mac, Oculus Rift, etc.), immersion and interactivity factors, and demographics of the clients portrayed in the experiences," McDonough added. As he concluded, Mindscape Commons is a unique offering. While Embodied Labs offers similar simulations, Mindscape is the only website that serves as a portal to a wide variety of VR experiences related to mental health. Summing Up: Highly recommended. Lower-division undergraduates through faculty.
This review is a summary of a longer review by Kevin McDonough, Northern Michigan University, originally published in ccAdvisor.org. Copyright © 2022 by The Charleston Company.—Abstracted from, ccAdvisor
---
NewspaperArchive. World Archives, 2021. Contact publisher for pricing.
https://newspaperarchive.com/
NewspaperArchive "currently offers subscription-based, full-text, online access to 11,548 American and 3,878 international newspaper titles," with "strong coverage of the US from 1772 to the present and international content for more than 40 countries," as J. Coelho wrote for ccAdvisor. Coelho added that the database's "strength is [its] vast selection of small-town and short-run newspaper titles," which is sure to be of interest to "a broad range of users," from "students in higher grade-school levels through graduate school and beyond."
NewspaperArchive maintains a "simple and uncluttered" user interface, similar in style to Ancestry.com and FamilySearch.org, though "[t]he layout differs for personal and for institutional subscribers." As these sites aim to "help people 'discover their family's history," they also "prioritize name (first and last) searching over keyword searching," Coelho contended, though NewspaperArchive does also offer options for searching by keyword or publication title, in addition to Advanced Search options. In fact, searching overall is intuitive, though it is suggested that users "consult the Newspaper Titles Directory page," which can be accessed by selecting the Publications tab on the navigation bar, before searching, as "the selection of titles is not comprehensive, and gaps exist in geographic and date-range coverage," Coelho noted. The institutional site also offers functions for browsing publications by date or location and a feature titled "This Day in History … highlight[ing] a selection of events that happened on specific days in history," Coelho observed.
Possible alternatives to NewspaperArchive include Accessible Archives (focusing on colonial American history, African American history, and women's suffrage), America's Historical Newspapers (AHN) from Readex (offering access to about 7,500 newspaper titles, many of which are not included in NewspaperArchive), Chronicling America, 1789–1963 (freely available from the Library of Congress), Newspapers.com from Ancestry, and ProQuest Historical Newspapers (PHN). Summing Up: Recommended. General readers through faculty.
This review is a summary of a longer review by J. Coelho, Scottish Rite Masonic Museum & Library, originally published in ccAdvisor.org. Copyright © 2021 by The Charleston Company. —Abstracted from, ccAdvisor
---
Pivot-RP is a database that compiles "research funding opportunities [to facilitate] research collaborations and [offer] insight into the funding landscape as well as internal benchmarks," wrote Ellie Dworak for ccAdvisor, "address[ing] the needs of researchers and research development professionals alike." Dworak went on to note that "the site [also] includes a database of previously awarded grants, a directory of calls for conference papers, auto-generated (but customizable) researcher profiles, and communication and workflow tools for grant administrators and development professionals."
"To say that Pivot-RP's funding database is comprehensive is an understatement," Dworak contended. At the time of this review, the Funding section contained over 28,000 active funding opportunities (totaling over $116 billion), and the Awarded Grants section contained contributions from 46 funders, including the expected US agencies (e.g., the National Science Foundation), as well as funders from at least 10 other countries, including Australia, Canada, Denmark, Finland, the Netherlands, New Zealand, Sweden, Switzerland, and the UK.
As Dworak found, "navigating through the site [is] easy and intuitive." The home page features a large central search box, under which "three clearly defined content areas provide user-customized content and … other resources for getting started," and "the navigation bar [provides] links to the five main content sections (Funding, Profiles, Conferences, Awarded Grants, and News)." Ultimately, Pivot-RP "is a good resource that works as advertised," seeming to live up to "[its claim] to be the most comprehensive global source of funding opportunities."
"The only true competitor to Pivot-RP is Elsevier's Funding Institutional," Dworak concluded, though "it is not as comprehensive" as Pivot-RP. Other alternatives include GrantForward, GrantSelect, and SPIN Funding Opportunities. However, this platform's "commitment to quality … tips the balance in favor of Pivot-RP over its competitors." Summing Up: Highly recommended. Graduate students and faculty.
This review is a summary of a longer review by Ellie Dworak, Boise State University, originally published in ccAdvisor.org. Copyright © 2021 by The Charleston Company. —Abstracted from, ccAdvisor
Related Posts