Editors' Picks for November 2021
10 reviews handpicked from the latest issue of Choice.
Posted on November 18, 2021 in Editors' Picks
---
Brown, Steven Preston. Alabama justice: the cases and faces that changed a nation. Alabama, 2020. 280p bibl index ISBN 9780817320706, $49.95; ISBN 9780817393236 ebook, $49.95.
Numerous volumes have been written about the Civil Rights Movement and the legal history involved in the struggle. Like Tomiko Brown-Nagin's Courage to Dissent: Atlanta and the Long History of the Civil Rights Movement (2012), Brown's Alabama Justice adds a much-needed study of state-specific contributions to this "long history." Alabama, long identified with key action points in civil rights history, is again brought to the forefront of legal history. Covering a range of salient cases, from the well-known Powell v. Alabama (1932) decision regarding the Scottsboro Boys, which ended in a landmark ruling on the right to effective counsel, to the somewhat lesser-known Frontiero v. Richardson (1973), which dealt with equal protection and benefits, Brown (political science, Auburn Univ.) adds an important study to the civil rights canon. Examining not only the legacies of these cases but also the historical context in which each emerged, Alabama Justice is an excellent work that combines intense legal examination with a layman's attention to readability. Summing Up: Highly recommended. General readers through faculty. —B. Becker, University of Alabama at Birmingham (UAB)
---
Dandy style: 250 years of British men's fashion, ed. by Shaun Cole and Miles Lambert. Yale, 2020. 168p bibl index ISBN 9780300254136, $35.00.
Dandy Style is the catalogue for an upcoming exhibition at the Manchester Art Gallery, but it is also intended as a "stand alone collection of academic essays" (p. 11) on the history of British menswear. In addition to editing the volume, Cole (Winchester School of Art, Univ. of Southampton, UK) and Lambert (curator of costume, Manchester Art Gallery) are the primary authors: they coauthored the introduction, and one or both contributed to four of the eight essays. Five additional contributors author the remaining essays. Essays include "Creative Collecting: How Museums Acquire Men's Fashion," "The Devil Is in the Details: Why Men Still Wear Suits," "Painting Men's Style: Portraying an Image," "Casual Subversion" (about casual clothing), and "Contemporary British Menswear: Hybridity, Flux, and Globalization." All essays are rooted in a close analysis of extant garments and images from the period. The book is liberal in its definition of "dandy," so the subtitle seems a more apt description of the content. The volume is well illustrated in color, and includes notes and a select bibliography. Summing Up: Recommended. Lower-division undergraduates through professionals. —C. E. Berg, Museum of History and Industry
---
Greely, Henry T. CRISPR people: the science and ethics of editing humans. MIT, 2021. 400p index ISBN 9780262044431, $27.95; ISBN 9780262543880 pbk, $19.95; ISBN 9780262363563 ebook, contact publisher for price.
This text provides a detailed overview of the events and personalities surrounding the first children born after undergoing heritable human genome editing as embryos and a detailed analysis of the legal and ethical ramifications of CRISPR technology. Greely (Stanford Univ.) draws on his personal relationships and extensive legal and bioethics expertise to present a comprehensive narrative chronicling a notable lapse of ethical judgement and the criminal application of an immature medical technology. Introductory chapters describe work by Dr. He Jiankui, who in 2018 edited the CCR5 gene in twin girls to hypothetically "immunize" them against HIV. Greely then presents a well-researched history, including clear and concise examples framing the socially responsible advancement of scientific inquiry, accompanied by scathing critical analysis of pertinent legal and ethical policies that He's research ignored. Finally, Greely explores the scientific and ethical questions facing CRISPR technology and its inevitable use in medicine. Throughout, he employs a personal narration, storytelling style, laced with humorous quips, analogies, and informative biographies of participants. He deliberately builds his scientific, legal, and ethical arguments to inform novice and advanced readers from various disciplines and includes generous supporting citations. The result is a highly accessible text appropriate for all interested readers. Summing Up: Highly recommended. All readers. —D. L. Beach, Longwood University
---
Imaginative teaching through creative writing: a guide for secondary classrooms. Bloomsbury, 2021. 280p index ISBN 9781350152687, $115.00; ISBN 9781350152700 ebook, contact publisher for price.
Contributors to this volume prove beyond any doubt that creative writing belongs in the secondary classroom, offering research-based conceptual groundwork and mapping standards for inspiring activities and practices, presented by the teachers who developed them. Part 1 addresses the benefits of and obstacles to teaching creative writing in high schools, debunking myths with reference to recent pedagogical scholarship and looking at ways of satisfying Common Core and state or district standards that incorporate creative writing. Chapters offer ways to fine-tune practices like workshopping, revision, and assessment. Part 2 presents activities and assignments developed to leverage the momentum of student creativity to achieve pedagogical goals through modes such as flash fiction, worldbuilding, writing in multiple genres, and creative nonfiction. Poetry—writing it, interpreting it, and applying its heuristics to other texts—is a core inspiration to these teachers, and it shows in the beautifully crafted case studies. All the projects model ways of building and extending community through storytelling, careful reading, and listening to one another. Secondary teachers will find both inspiration for developing assignments and a solid theoretical framework for scaffolding, assessing, and reporting about them to administrators. Summing Up: Highly recommended. Advanced undergraduates, faculty, and professionals. —P. Finley, University of Nevada, Las Vegas
---
Lampert, Sara E. Starring women: celebrity, patriarchy, and American theater, 1790–1850. Illinois, 2020. 296p bibl index ISBN 9780252043352, $110.00; ISBN 9780252085260 pbk, $28.00; ISBN 9780252052231 ebook, $19.95.
Starring Women reclaims the great, neglected actresses of antebellum American theater and returns them center stage to take their long-awaited bows as performers and professional theater women in the annals of theater history. With her meticulous scholarship and keen reexamination of the historic record through a gendered lens, Lampert (history, Univ. of South Dakota) uncovers a rich history of women as craftworkers and capitalists, active participants and agents in the transformation of 19th-century American theater into a burgeoning industry, despite the constraints of patriarchal society and the pressure to publicly demonstrate "true womanhood." Lampert focuses on the 10-year period between the triumphant US tours of English dramatic actress Fanny Kemble (1832–34) and Viennese dancer Fanny Elssler (1840–42), both of whom were catalysts in promoting the American market and women's place within it. She also probes the effects of family politics and celebrity on the careers of Mary Ann Duff, Anne Brunton Merry Wignell, Ellen Tree, and Celeste Elliott (billed simply as Celeste), among many others, in a final chapter, "American Actress's Starring Playbook, 1831–57," featuring the strategies for success employed by Matilda Heron, Josephine Clifton, and Charlotte Cushman. Excellent notes and index complete the volume. Summing Up: Highly recommended. All readers. —M. S. LoMonaco, Fairfield University
---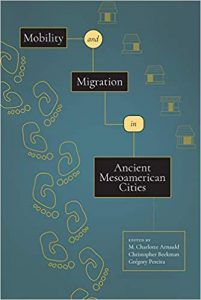 Mobility and migration in ancient Mesoamerican cities, ed. by M. Charlotte Arnauld, Christopher Beekman, and Grégory Pereira. University Press of Colorado, 2021. 392p bibl index ISBN 9781646420728, $92.00; ISBN 9781646420735 ebook, $74.00.
Population movements at different sociotemporal scales are a norm in human history. In this thought-provoking, data-packed volume, 26 contributors (mostly from the US, France, and Mexico) focus on archaeological signatures and ethnohistory to contrast human mobility versus migration, evidenced but understudied in Classic, Epiclassic, and Postclassic Mesoamerican cultures. A broad range of applications and analyses—isotopic and osteological, mortuary patterning, stratigraphic discontinuities, cultural heterogeneity, social hierarchies, paleodemography, and the use of historical documents—provide data on diachronic and synchronic human movement. A dozen archaeological case studies document familiar and lesser-known sites or regions. Three clusters of four chapters each are grouped under the headings "Bioanthropological Approaches," focusing on Belize, Yucatan, and the Central Mexican site Cholula; "Classic Lowland Maya Mobility," considering Guatemala, the Copan site in Honduras, and Southern Mexico; and "Late Mesoamerican Migrations," treating the Basin of Mexico, Tarascan West Mexico, and the Itza of Peten, Mexico. A single set of 877 references supports evidence for both urbanization and de-urbanization in Mesoamerica, a culture area notable for the relatively limited longevity of its main cities or capitals. A final chapter by Dominique Michelet assesses the authors' conclusions. A significant resource for demographic research. Summing Up: Highly recommended. Advanced undergraduates through faculty; professionals. —C. C. Kolb, independent scholar
---
Sixteen teachers teaching: perspectives from the two-year college, ed. by Patrick Sullivan. University Press of Colorado, 2020. 324p index ISBN 9781607329022, $36.95; ISBN 9781607329305 ebook, $30.95.
This collection from Sullivan (Manchester Community College) provides a thorough overview of the joys, and trials, of teaching English in two-year colleges. It should be essential reading for anyone considering community college teaching as a career. As one of the leading scholar/educators in two-year English teaching, Sullivan focuses this collection not only on the rigors of classroom English teaching but also on the composition theory that supports effective pedagogy. He provides student viewpoints, reflections from leading practitioners such as Peter Adams and Holly Hassel, and interviews with classroom teachers. This multimodal approach makes the book accessible to undergraduates just starting to think about their careers and to teaching veterans looking for a way to reinvigorate their curricula. It compares favorably with other volumes on community college teaching, such as Lisa Auslander's Creating Responsive Classroom Communities (CH, Dec'19, 57-1394); Talking Back (CH, Dec'20, 58-0949), edited by Norbert Elliot and Alice S. Horning; and Immigrant-Origin Students in Community College (CH, Mar'20, 57-2340), edited by Carola Suárez-Orosco and Olivia Osei-Twumasi. This text should be on every two-year English teacher's bookshelf. Summing Up: Essential. Advanced undergraduates through faculty. —M. Mutschelknaus, Rochester Community and Technical College
---
Space, taste and affect: atmospheres that shape how we eat, ed. by Emily Falconer. Routledge, 2020 (c2021). 196p bibl index ISBN 9781138234260, $160.00; ISBN 9781315307473 ebook, $48.95.
Space, Taste and Affect is an important contribution at the leading edges of scholarship on food and culture. It is decidedly interdisciplinary in its range of authors, several of whom draw on a range of disciplines in their individual chapters. The collection leans heavily toward the social sciences, but fields such as psychology, geography, nutrition, and food science find voice here as well. The book contributes to newer subjects in food scholarship, such as sensation and emotion, embodiment, performance, cultural aesthetics, identity, and meaning. The chapter topics range widely and at first glance seem disparate. However, this book does what interdisciplinary books pushing in new directions should do: it brings together disparate viewpoints and analytical approaches to a topic to initiate and foster new conversations. There are conceptual gaps between the chapters, but those spaces are a side effect of the newness of the territory being charted, and they invite further research. This slim volume includes excellent research and discussions and is suited for all upper-level undergraduate and graduate courses in related fields. Summing Up: Highly recommended. Advanced undergraduates and graduate students. —M. A. Lange, Champlain College
---
Sulzer, David. Music, math, and mind: the physics and neuroscience of music. Columbia, 2021. 304p bibl index ISBN 9780231193788, $120.00; ISBN 9780231193795 pbk, $28.00; ISBN 9780231550505 ebook, $27.99.
In a nota bene at the beginning of this text, Sulzer (Columbia Univ. Medical Center), who also performs and composes music as David Soldier, asserts that this is not a "pop science" book of the easy-reading variety. What readers come to discover, however, is that it is exactly the sort of book that science written for a general audience should be—accessible on multiple levels from the neophyte to the expert, engagingly written, and informative in a way that stimulates curiosity and prompts further investigation. In addition to his main text covering the mathematics and neuroscience of music (especially the mathematics of pitch, how the brain processes rhythm, etc.), Sulzer includes an array of textboxes throughout the book, exploring the actual mathematical equations involved in a way that is comparatively friendly even for those who find higher-order mathematics intimidating or inscrutable. The book also features a "playlist" of relevant examples, in which Sulzer playfully crosses a variety of genres and traditions. Thus, listening to some of the recommended sources may enhance the experience of reading the work. Summing Up: Highly recommended. Lower-division undergraduates. General readers. —L. Bernhardt, University of Southern Indiana
---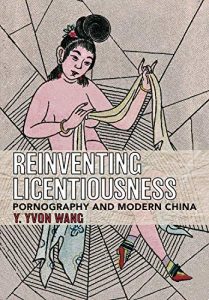 Wang, Y. Yvon. Reinventing licentiousness: pornography and modern China. Cornell, 2021. 306p bib index ISBN 9781501752971, $45.00; ISBN 9781501752988 ebook, $21.99.
Wang's thought-provoking study of erotic media markets in Beijing from the 1880s to the 1930s breaks new ground by effectively bridging elite discourses and mass consumption and grounding the discussion within the context of indigenous practices and technologies. Much has been written about debates on ideas of sex and desire by a minority of multilingual, avant-garde, male Chinese cultural celebrities in fin-de-siècle Chinese cities. Wang (Univ. of Toronto, Canada), however, shifts the focus from ideas to the marketplace. By creatively mining police records, book advertisements, banned or pirated books, titillating products confiscated by the police, and much more, he uncovers how non-elites (still mostly men) sold, bought, perceived, and lived with pornography in their everyday settings. Engaging the role of the elite and questions of hierarchy and legitimacy in erotic consumption, Wang also examines how a globalized, mass-based erotic economy both destabilized and perpetuated hierarchies and prejudices, resulting in a reinvention of licentiousness. The tangling effects of elitism and market forces are well illustrated through in-depth discussions of folklore movements and the "business" of nude art and sexology. Very useful for students of China, global history of sex, and media studies. Summing Up: Highly recommended. Lower-division undergraduates through faculty. —L. Ma, SUNY Geneseo
Related Posts