Decentering Whiteness and Uplifting Black Voices: "The 1619 Project" Reclaims American History
Based on the newspaper project, this new book reimagines the standard American history curriculum by reexploring pivotal historical events from the perspective of Black Americans.
Posted on February 24, 2022 in Featured Review
By Leslie T. Grover
The 1619 Project: A New Origin Story, ed. by Nikole Hannah-Jones et al. One World, 2021. 624p bibl index, 9780593230572 $38.00, 9780593230589
Ed. Note: Choice considers racial justice a cornerstone of its mandate to support academic study. Accordingly, Choice is highlighting select racial justice titles through the creation of long-form reviews such as the one featured here. Though the scope of these reviews will be broader than those applied to the standard 190-word Choice reviews, many of the guidelines regarding what to focus on will remain the same, with additional consideration for how the text under review sheds light on racist systems and racial inequities or proposes means of dismantling them. The intent is to feature important works on racial justice that will be useful to undergraduates and faculty researching racism and racial inequalities from new perspectives.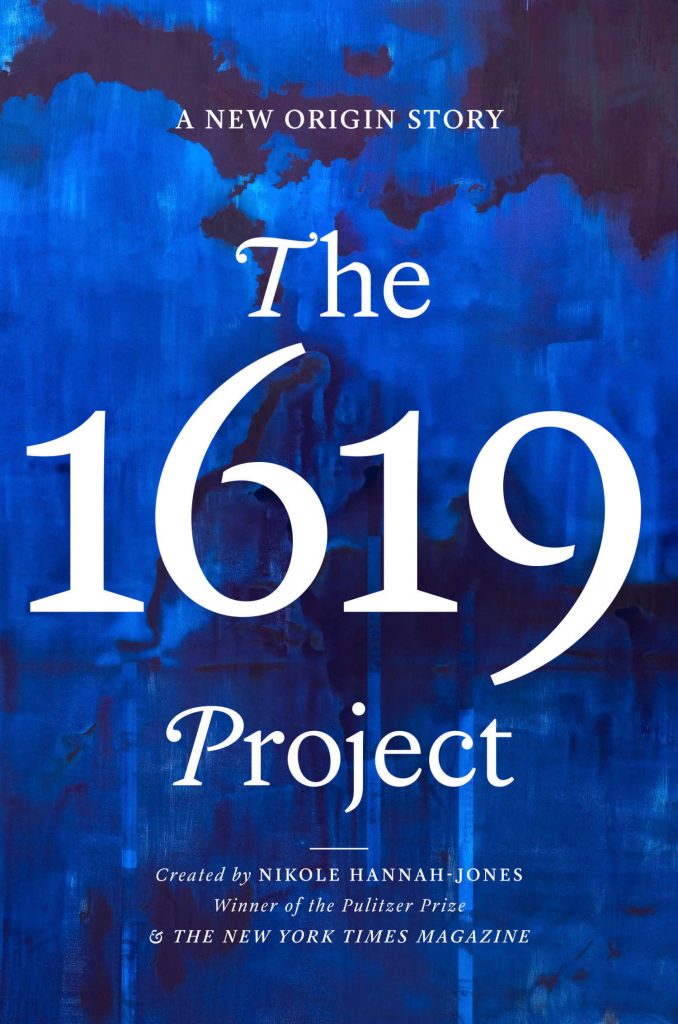 The 1619 Project: A New Origin Story is a reimagining of the standardized American history curriculum taught in mainstream public schools, based on "The 1619 Project," created and published by The New York Times Magazine. Both the original project and the book are crafted by Pulitzer Prize–winning journalist Nikole Hannah-Jones, who began this undertaking in 2019 in commemoration of the 400th year of the start of American slavery. Hannah-Jones, who joined Howard University as the inaugural Knight Chair in Race and Journalism in 2021, reports on issues pertaining to race for The New York Times Magazine and is well versed in matters of race, history, and disparity. Hannah-Jones is not the only expert to feature in this collection, however. She is joined by coeditors Caitlin Roper (former editor, The New York Times Magazine), Ilena Silverman (current story editor at the magazine), Jake Silverstein (editor in chief of the magazine), and a host of prominent contributing authors. Avid readers of history will take note of pieces by Martha S. Jones, Carol Anderson, Tiya Miles, Ibram X. Kendi, Dorothy Roberts, Khalil Gibran Muhammad, and Michelle Alexander. For those who enjoy poetry and fiction, heavyweights such as Clint Smith, Terrance Hayes, Terry McMillan, ZZ Packer, Claudia Rankine, and Sonia Sanchez make appearances as well. All together, the contributors boast a veritable bevy of Black thought leaders, scholars, artists, and social justice influencers.
The 1619 Project explores a central question: What if we look at 1619, when 20 to 30 Africans bound for enslavement arrived aboard the White Lion, as the year of the American founding, rather than 1620 when the Mayflower arrived? In other words, this collection asks readers to consider the history of the United States through a non-white lens. In 18 chapters, the book presents elements of American history through the eyes of those who are descendants of the enslaved Africans who arrived before the Pilgrims. Nevertheless, this project is not just a retelling of history. It is a time line of important events that centers enslavement, spanning 1619–2020. At each important milestone, the book discusses a topic that sprouts from the existence of enslavement, and readers are treated to poetry, images, and essays to underscore the historical narrative. Chapters address several issues at the heart of American history and politics such as democracy, race, citizenship, and capitalism and elements of the human experience, including fear, the church, dispossession, and justice. Like many books that explore the intersections of race, sociology, and history, this work is targeted toward a broad audience.
The 1619 Project sets out to decenter whiteness as the only American origin story and to highlight the contributions and experiences of oft-marginalized Black Americans, and it succeeds in doing so. It centers the Black experience through the voices of poets, essayists, historians, and writers. For example, in chapter 15 ("Healthcare"), author Jeneen Interlandi, a staff writer at The New York Times Magazine, connects current discussions of universal health care to policies that began with the end of the Civil War when newly freed Black people had no access to health care. As smallpox ravaged the population, Black bodies littered the streets. Hospitals at the time were scarce, and those that were available attended to the needs of white people only. Freed Black citizens asked for the same disease prevention, in terms of sanitation and vaccination, that the Union Army received. After much debate, the request was granted, but when Black people continued to die, they were branded as "unfit for citizenship." This stigma that deems Black Americans unworthy of citizenship is rooted in the same systemic racism that pervades the health care system today. The discussion that follows from this considers Black people's responses to being written off as "soon to be extinct," which has implications that simply addressing the history of American health care has never before captured. Each of the other 17 sections are given the same thoughtful, well-researched treatment. The essays, poetry, fiction, and photographs are combined in such a way that readers are taken on a journey through time. To be clear, the topics and stories in this project are not revisionist, negotiationist, or distortionist. Rather, they present research-based facts and time lines that coincide with white, mainstream history most often taught in high schools across the nation.
Despite these admirable aims and excellent execution, The 1619 Project, both the book and (particularly) the original magazine feature, has created a remarkable amount of controversy. Though proponents of the work appreciate its ability to be more inclusive of Black voices, opponents have derided the text and even questioned the integrity of The New York Times Magazine for so much as broaching the topic, much less taking up such a project. Criticism has been loud, public, and at times full of vitriol. A group of historians, for example, wrote a public letter claiming that there were numerous distortions and errors in the original project. Upon closer reflection, there were sentences in Hannah-Jones's original editorialization that drew fire, notably a passage in which she claims white colonizers wanted to come to America after growing dissatisfied with Britain's move toward abolishing enslavement. Though it is true that not all colonizers felt this way, a significant number did. The wording in the book was changed to convey this by clarifying that "some" colonizers felt this way. It is worth noting that after rigorous fact checking, the claims put forward in the book were found to be true. Even in disagreement, major scholars have warned that the book should not be discounted because of such debate. Nevertheless, the book has still been attacked by white scholars who have doubled down on 1620 as the year the United States began. Though these critics acknowledge that other white-centered events in years such as 1776 are viable ways to define the beginnings of the country, they still label Hannah-Jones's work "radical," calling it incomplete because it overlooks the contributions of multicultural and working-class families. Perhaps most jarringly, fringe groups have used the book to stir anger and retaliation. In all fairness, however, such wild claims made against the book are not true. At no point in this book do Hannah-Jones or any of the writers call for violence or retaliation against white Americans.
Even more recently, the book has been at the center of the critical race theory (CRT) debate. Right-wing detractors have described the text as an attempt to erase the contributions of white people to the United States as well as to shame those same Americans into denying their heritage. Conservative white scholars have even described the volume as racist and divisive and accused the creators of the project as socialists and tools of the left wing. Still, perhaps precisely because of this blowback, the book has been held up as an example of why CRT is needed in schools, as it features experiences of U.S. laws and public policies unknown to white Americans.
At its core, The 1619 Project is simply a view of American history, laws, and public policy from the viewpoint of Black Americans. The book does not deride, deface, or suggest that white Americans be erased from history. Further, it does not claim to discuss the contributions of other groups of Americans such as the general working poor, immigrants, or white women. Instead, the book is clearly grounded in the Black viewpoint and the mission to highlight that viewpoint as a starting place for understanding the origins of the United States, just as other books have done, from different vantage points.
Although this book contains high-level discussions well suited for higher education, practitioners, and general adult audiences, high school students will also benefit from many of the essays, poems, and short stories included here. Academic libraries will do well to include this title on their shelves. Controversy aside, this is a wonderful critical analysis of U.S. policy, law, and politics. Instructors will find the book an excellent resource for course discussions on race, justice, politics, progress, and other topics. For those looking to include supplemental work or highlight marginalized voices, this volume goes far to make this happen in a meaningful, enlightening way.
Summing Up: Highly recommended. All levels.
Interdisciplinary Subjects: African and African American Studies, Racial Justice
Subject: Social & Behavioral Sciences – History, Geography & Area Studies – North America
---
Leslie T. Grover is associate professor of public administration and public policy at Southern University and A&M College in Baton Rouge, Louisiana. She received her Ph.D. from Clemson University.
Related Posts