The Authority File Round-Up: December 2022
A quick overview of last month's episodes, in case you missed them
Posted on January 10, 2023 in Blog
Our final episode of 2022 marked The Authority File's 300th, closing the year with quite a milestone. Launched in 2017, the podcast has grown its reach, scope, and collaborators, covering topics like open access, library leadership, and exciting works across disciplines—all within the scope of academic librarianship and higher education. To celebrate the achievement, we put together 10 lists highlighting key themes and favorite episodes. But before we get too sentimental, we also had a great series to finish off the year. Sundhya Walther, Presidential Fellow in English at the University of Manchester, discussed her research on animal-human interactions in postcolonial literature. Sundhya explored animal representations in the real world and media, her focus on modern-day India, and the limits of postcolonial theory.
Here's a quick round-up of last month's episodes and the 300th celebration, in case you missed them. We hope you enjoy the conversations and trip down memory lane. Here's to 300 more!
---
Animal Studies, Postcolonial Literature, and Multispecies Modernity
---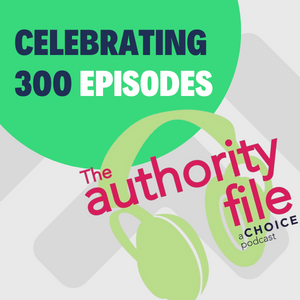 Celebrating 300 Episodes of The Authority File
In December, we reached 300 episodes of The Authority File. To mark the milestone, we put together several themed lists that bring together the episodes from over the years. Subjects range from primary sources and higher ed to DEIA, library technology, scholarly communication, and more. Take a look back at the episodes, themes, and guests from 2017 to 2022. Thanks for listening!
Check out a few of the lists below:
---
Missed November's episodes? We've got you covered.
In our first series, Rachel Friars, a PhD student in the Department of English Language and Literature at Queen's University, provided a deep dive into her research on lesbian literature. She explained the benefits of primary source digitization, how to walk students through the archives, and the significance of the diaries of Anne Lister—an English woman whose journal entries on her life, travels, and sapphic relationships contribute greatly to the queer historical canon. Listen to the first episode here.
Stephanie Espinoza Villamor and Kimberly Shotick, authors of Practical Marketing for the Academic Library, joined us for our second series of the month. They provided guidance on library marketing in today's digital environment, offering tips for crafting messaging and forming effective teams. They also highlighted how to integrate DEI into assessment and outreach efforts, and how library promotion has evolved over the years. You can find the first episode here.
---
You can find more episodes of the Authority File here on our website, Apple Podcasts, Spotify, or wherever you get your podcasts.
Thanks for listening! See you next month.
---
Subscribe to our monthly newsletter, Choice Podcast Updates!
Get each month's round-up sent directly to your inbox. Sign me up!
---
Related Posts